Twice Shy- Multi-room Epic Digital Map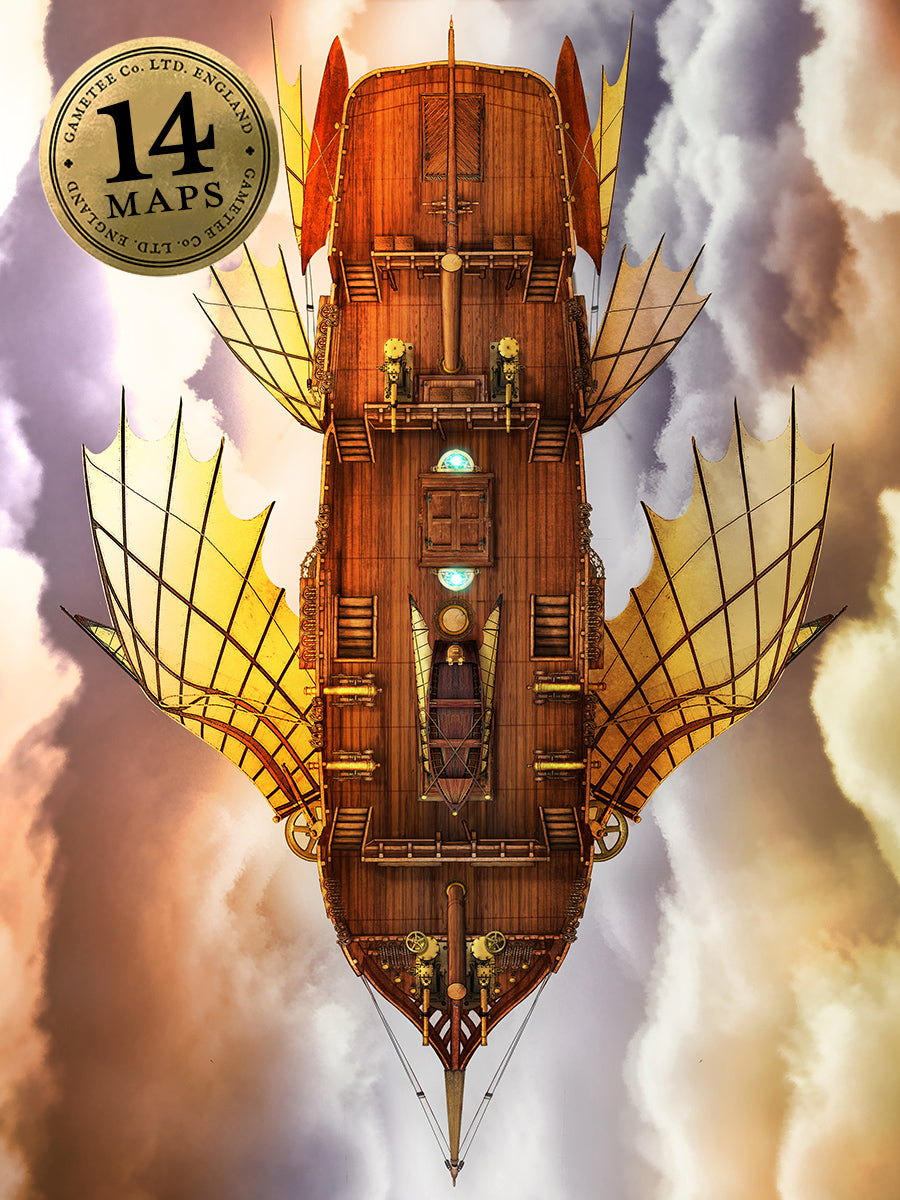 $3.00
International Customers benefit from 3-5 Day Flat-Rate International Shipping
Twice Shy- Multi-room Epic Digital Map
Gaming map - optimised for use on Digital Tabletops. 
Presented at 4k resolution.
"As your eyes turn skyward, you see an elegant airship nosing through the morning fogbank and pulling into the partially-constructed dry dock atop the plateau. Its hull is made of masterfully shaped oak, with a single ley-powered silken sail. Three sets of wings, shaped more like the fins of a sea serpent, keep it aloft, with clockwork components acting to steer the vessel into place." - Once Bitten, Twice Shy
While suitable to be used as a standalone map, this map was designed to be compatible with the module: Once Bitten, Twice Shy.
Instant Delivery - Package Includes
Fourteen Areas of 4K Resolution Map:
Forecastle, Captains Nacelle Layer, Clouddeck, Gundeck, Gundeck (Sky), Hold, Hold (Sky), Officers Cabins and Galley, Officers Gunroom, Skippers Cabin and Twice Shy (Transparent)
Clouddeck (Gridded), Gundeck (Gridded) and Hold (Gridded)
Note: You can add Digital Products and Physical items to your Cart at the same time! No need for different transactions. The Digital Products will be fulfilled instantly after check-out. The rest of your order will be subject to the normal delivery times.


How to Use Our Maps

Digitally
- Simply open the .JPG and use however you wish. Share with friends for online play or use in conjunction with websites such as Roll20.
For Printing
- Unzip Zip File using WinZip or similar
- Open JPG
- Use Printer Settings before Printing to ensure that relevant paper size is selected.
- Ensure Paper Size is set to 100%, or Actual Size. Do not scale to fit to the page.
- Print on paper of your choice. We recommend a quality cardstock in a quality printer for the best results.
- Please be aware that due to differences in different monitor calibrations and printer outputs, colours may differ slightly when printing.
Please ensure you are aware that this item is a digital file. You will receive no physical product. You will receive an immediate delivery to your email address.
Due to the nature of the file sales are final and therefore no refunds/cancellations can be offered.
By buying this item you confirm that you understand that this is not a physical product.

This Map is for Personal use only and may not be resold or redistributed in any way. Commercial reuse is strictly prohibited. No commercial use is permitted.
You may play with these maps on monetised streaming services. 
© Gametee Ltd