Once Bitten, Twice Shy- 5e Module Digital Adventure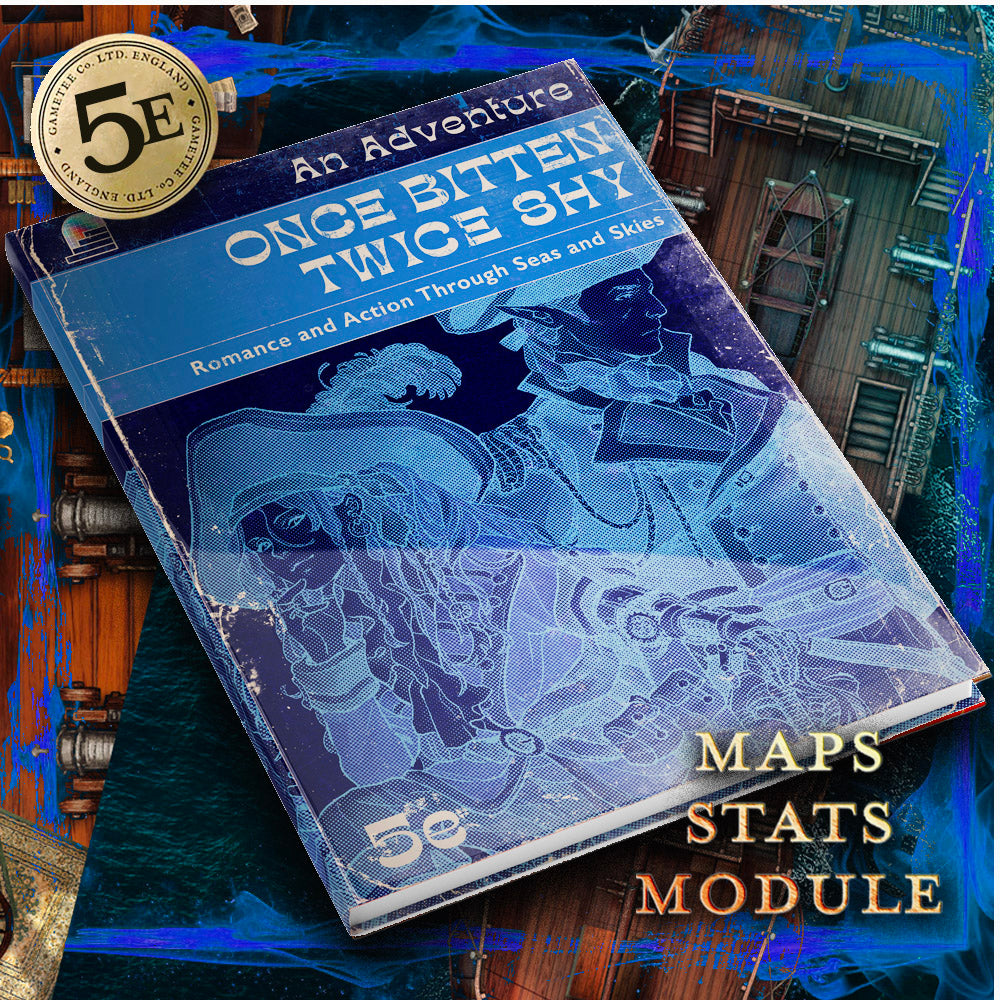 $6.00 $11.00
International Customers benefit from 3-5 Day Flat-Rate International Shipping
Once Bitten, Twice Shy - 5e Module Adventure - Not a Physical Item. Instant Delivery.
Maps presented at 4k resolution.
Amidst the tapestry of life in the Saltwhite Sea and the encircling isles, the year 1709 of the 4th Era stands as a time of opportunity and renewal. With a new century's dawn, a splendid era of innovation unfurls, spearheaded by the revolutionary use of Argoneering - a mode of intercontinental conveyance that binds distant shores in an intricate web of commerce. As gears of industry churn and aspirations ascend, the world stands at the threshold of an exhilarating chapter, the pages of which are inked by the fervour of the industrial revolution.
Within this tumultuous symphony of progress, the fates of two kindred spirits entwine. The valiant Captains of twin vessels, Once Bitten and Twice Shy, stand at odds. One is an Imperial Captain, the other a wild-hearted Airship Privateer. The maritime enclave of Port Olivia becomes the crucible wherein the tides of their destinies and yours will converge. Your adventurers must bring together the two opposing Captains and learn their secrets, if they wish to reclaim the treasure of the Saltwhite Sea.
In the recesses of an island town brimming with untold tales, the Captains' paths entangle, battered yet unyielding in the face of destiny's designs. Here, there are whispers that a hidden ship, lost to the currents of time for nearly half a century, lies dormant, awaiting reclamation. 
As the winds of change swirl around them, only by setting aside their enmity and rekindling the embers of their forgotten love may these Captains chart a course towards their shared ambitions. Your adventurers may choose to help reunite these star-vexed lovers, or drive them further apart in the service of seeking the greatest treasure of the new century. The shores of Port Olivia await, basking in sunlight and possibility, a place where treasure, love, and destiny collide.
Recommended for an average party level of 2- 4.
While suitable to be used as a standalone adventure, this module was designed to work with the supplement: Falsity Island.
Pack Contents
- 56 Page Multipage .PDF Booklet suitable for Printing, if you so wish.
- 4K Resolution Digital Maps, including;
4K Resolution Once Bitten Ship Maps;

Captains Cabin (Room), Forecastle, Captains Cabin Layer (Sea), Gundeck, Gundeck and Infirmary (Sea), Hold, Hold (Sea), Berths and Galley  (Sea), Gunroom, Once Bitten (Transparent), Weatherdeck (Sea), Infirmary (Gridded), Hold (Gridded) and Weatherdeck (Gridded)

4K Resolution Twice Shy Maps; 

Forecastle, Captains Nacelle Layer, Clouddeck, Gundeck, Gundeck (Sky), Hold, Hold (Sky), Officers Cabins and Galley, Officers Gunroom, Skippers Cabin and Twice Shy (Transparent), Clouddeck (Gridded), Gundeck (Gridded), Hold (Gridded) and Twice Shy Dry Dock

4K Resolution Adventure Maps (Plain and Gridded);
Ballroom Day, Ballroom night, Olivian Streets and Turtle Island
4K Resolution

 Twice Shy Dry Dock

 

(4096x3072px Animated MP4)


Once Bitten, Twice Shy Resources- Olivian Isles Map, Port Oliva Map and Wedding Invitation
Note: You can add Digital Products and Physical items to your Cart at the same time! No need for different transactions. The Digital Products will be fulfilled instantly after check-out. The rest of your order will be subject to the normal delivery times.


How to Use Our Gaming Maps & Printables
Digitally
- Simply unzip the containing Zip Folder and use however you wish, as an on-the-go resource or an editable base for use in your favourite editing software. Share with friends for online play or use in conjunction with websites such as Roll20.
For Printing
- Unzip Zip File using WinZip or similar
- Open JPG
- Use Printer Settings before Printing to ensure that relevant paper size is selected.
- Ensure Paper Size is set to 100%, or Actual Size. Do not scale to fit to the page.
- Print on paper of your choice. We recommend a quality cardstock in a quality printer for the best results
- Please be aware that due to differences in different monitor calibrations and printer outputs, colours may differ slightly when printing.
Please ensure you are aware that this item is a digital file. You will receive no physical product. You will receive an immediate delivery to your email address.
Due to the nature of the file sales are final and therefore no refunds/cancellations can be offered.
By buying this item you confirm that you understand that this is not a physical product.

This Adventure Pack is for Personal use only and may not be resold or redistributed in any way. Commercial reuse is strictly prohibited.

© Gametee Ltd