Falsity Island- 5e Module Digital Adventure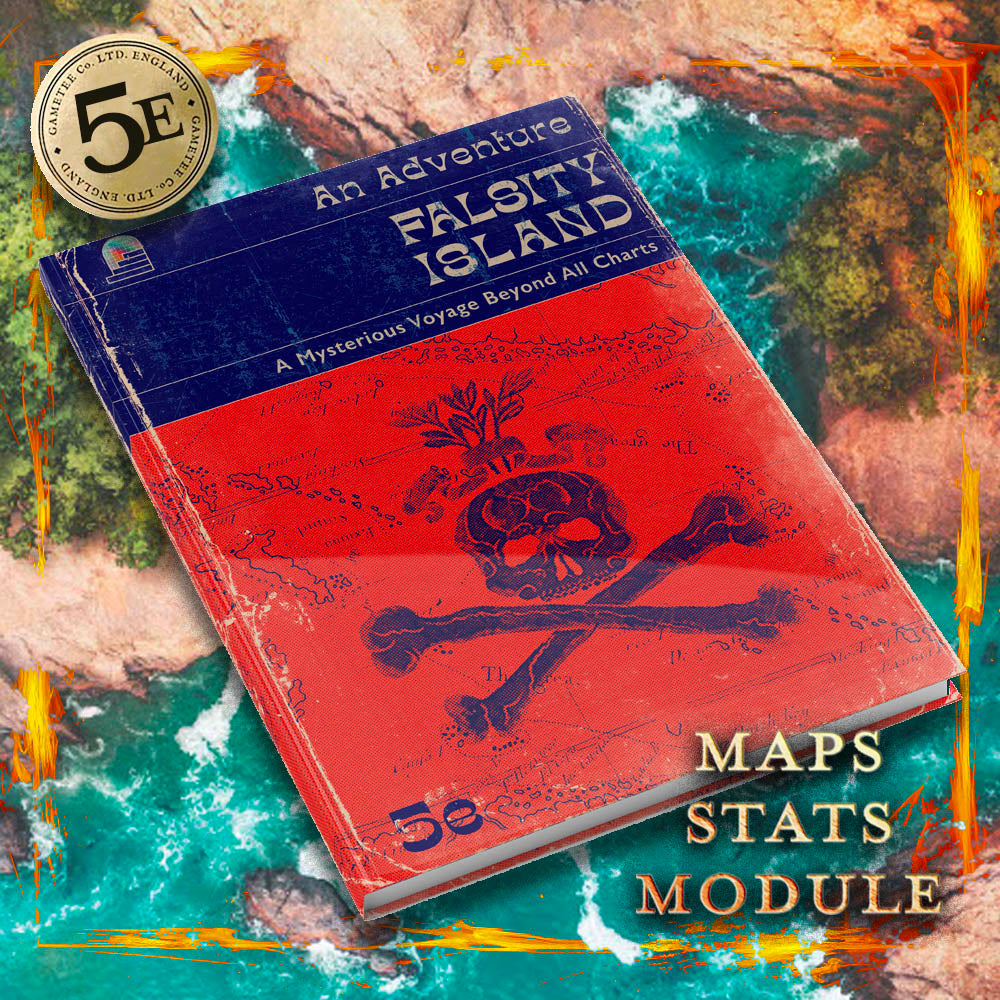 $6.00 $11.00
International Customers benefit from 3-5 Day Flat-Rate International Shipping
Falsity Island - 5e Module Adventure - Not a Physical Item. Instant Delivery.
Maps presented at 4k resolution.
As your valiant heroes step onto this uncharted land, they will be thrust into a realm of unparalleled challenges and mysteries. Puzzling mermaids beckon from the depths, while flora and fauna of an otherworldly nature conspire against the intruders... But that is just the beginning.
Venturing further, your party will unearth the grim tales of long-deceased crews, their ships now twisted into vessels of corruption. Against this eerie backdrop, your heroes' resolute path leads them ever upward, scaling the heights of the island's hollowed peak. Here, the heart of the mystery awaits - a crystalline airship's engine of unparalleled power, known as the 'Argostone.' Its very essence seeps into the surrounding waters, bestowing upon them an arcane potency that defies understanding.
Within the cavernous depths beneath the mountain's surface, a convergence of magic and malevolence stirs an ancient deity from its slumber. A deity long forgotten, resting dormant in the annals of time, until the intrusion of the Argostone's influence awakened its wrath.
The stage is set for a harrowing odyssey as your party grapples with the ethereal, the eldritch, and the eternal. From the captivating depths of mermaid enchantments to the sinister machinations of ancient artificers, every step forward unearths new enigmas. As your heroes stand poised on the precipice of destiny, they must summon their prowess and fortitude to quell the awakening god's fury.
Recommended for an average party level of 3- 4.
While suitable to be used as a standalone adventure, this module was designed to be a supplement to the module: Once Bitten, Twice Shy.
Pack Contents
- 43 Page Multipage .PDF Booklet suitable for Printing, if you so wish.
- 14 4K Resolution Digital Maps, including;
4K Resolution Lost Island with Seven Areas of Map (Plain and Gridded): Infested Waters, Mermaid Cove, Jungle 1, Jungle 2, Summit, Quicksand Pit and Waterfall Bridge


4K Resolution Lost Island Epic Dungeon with Five Areas of Map (Plain and Gridded): Depths, Pulley Room, Waterfall Room (Flowing & Stopped), Winding Path and Wreck of The Thrice Damned


4K Resolution

 Wreck of the Thrice Damned

 

(4096x3072px Animated MP4)


Falsity Island Resources- Blank Captains Map and Filled Map
Note: You can add Digital Products and Physical items to your Cart at the same time! No need for different transactions. The Digital Products will be fulfilled instantly after check-out. The rest of your order will be subject to the normal delivery times.


How to Use Our Gaming Maps & Printables
Digitally
- Simply unzip the containing Zip Folder and use however you wish, as an on-the-go resource or an editable base for use in your favourite editing software. Share with friends for online play or use in conjunction with websites such as Roll20.
For Printing
- Unzip Zip File using WinZip or similar
- Open JPG
- Use Printer Settings before Printing to ensure that relevant paper size is selected.
- Ensure Paper Size is set to 100%, or Actual Size. Do not scale to fit to the page.
- Print on paper of your choice. We recommend a quality cardstock in a quality printer for the best results
- Please be aware that due to differences in different monitor calibrations and printer outputs, colours may differ slightly when printing.
Please ensure you are aware that this item is a digital file. You will receive no physical product. You will receive an immediate delivery to your email address.
Due to the nature of the file sales are final and therefore no refunds/cancellations can be offered.
By buying this item you confirm that you understand that this is not a physical product.

This Adventure Pack is for Personal use only and may not be resold or redistributed in any way. Commercial reuse is strictly prohibited.

© Gametee Ltd