Wrecker's Storm - Digital Map with Animations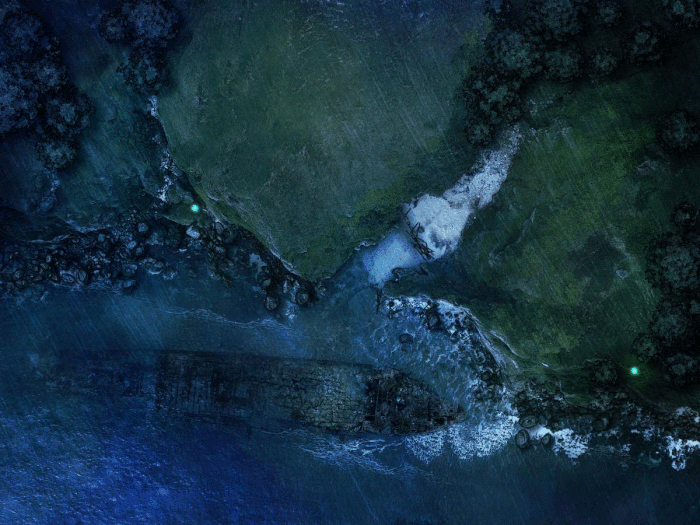 $1.00
International Customers benefit from 3-5 Day Flat-Rate International Shipping
Wrecker's Storm - Digital Map with Animations
Gaming map - optimised for use on Digital Tabletops. 
"Because of the poverty that was prevalent in all coastal areas, all classes of society benefited from the activities of smugglers. There was no national law agency and little law enforcement in those times. Under a statute of Edward I, no ship was a 'wreck' if any man, dog or cat escaped alive from it. If all died, it could be legally looted. Thus, in the poorer, more lawless parts of the country, 'wreckers' operated, trying to lure ships onto the rocks. It was in their interests that no-one survived, so that they could legitimately take a share of profits or salvage rights. 
Lighthouses were smashed, and false lights or beacons erected. In Cornwall, prayers were even said asking for ships to be drawn onto the rocks. Men would line the cliffs on stormy nights with false lights to encourage a ship into thinking that there was a harbour nearby. If a sailor then struggled to shore, he was killed, as was the case with Admiral Sir Cloudsley Shovell in the Scilly Isles in 1707."
- From Breverton's Nautical Curiosities, a Book of the Sea.
Instant Delivery - Package Includes:
- Wrecker's Storm - Digital Map .JPG (Gridless)

- Wrecker's Storm - Digital Map (with 18 x 24 Grid)

- Wrecker's Storm (Lightning Strike) - Digital Map .JPG (Gridless)

- Wrecker's Storm (Lightning Strike)- Digital Map (with 18 x 24 Grid)
- Wrecker's Storm (1200x900px 12 Frame Animated Gif)
Note: You can add Digital Products and Physical items to your Cart at the same time! No need for different transactions. The Digital Products will be fulfilled instantly after check-out. The rest of your order will be subject to the normal delivery times.


How to Use Our Maps

Digitally
- Simply open the .JPG and .GIF and use however you wish. Share with friends for online play or use in conjunction with websites such as Roll20.
For Printing
- Unzip Zip File using WinZip or similar
- Open JPG
- Use Printer Settings before Printing to ensure that relevant paper size is selected.
- Ensure Paper Size is set to 100%, or Actual Size. Do not scale to fit to the page.
- Print on paper of your choice. We recommend a quality cardstock in a quality printer for the best results.
- Please be aware that due to differences in different monitor calibrations and printer outputs, colours may differ slightly when printing.
Please ensure you are aware that this item is a digital file. You will receive no physical product. You will receive an immediate delivery to your email address.
Due to the nature of the file sales are final and therefore no refunds/cancellations can be offered.
By buying this item you confirm that you understand that this is not a physical product.

This Map is for Personal use only and may not be resold or redistributed in any way. Commercial reuse is strictly prohibited. No commercial use is permitted.
© Gametee Ltd