Spiderweb Jasper Gemstone Dice Set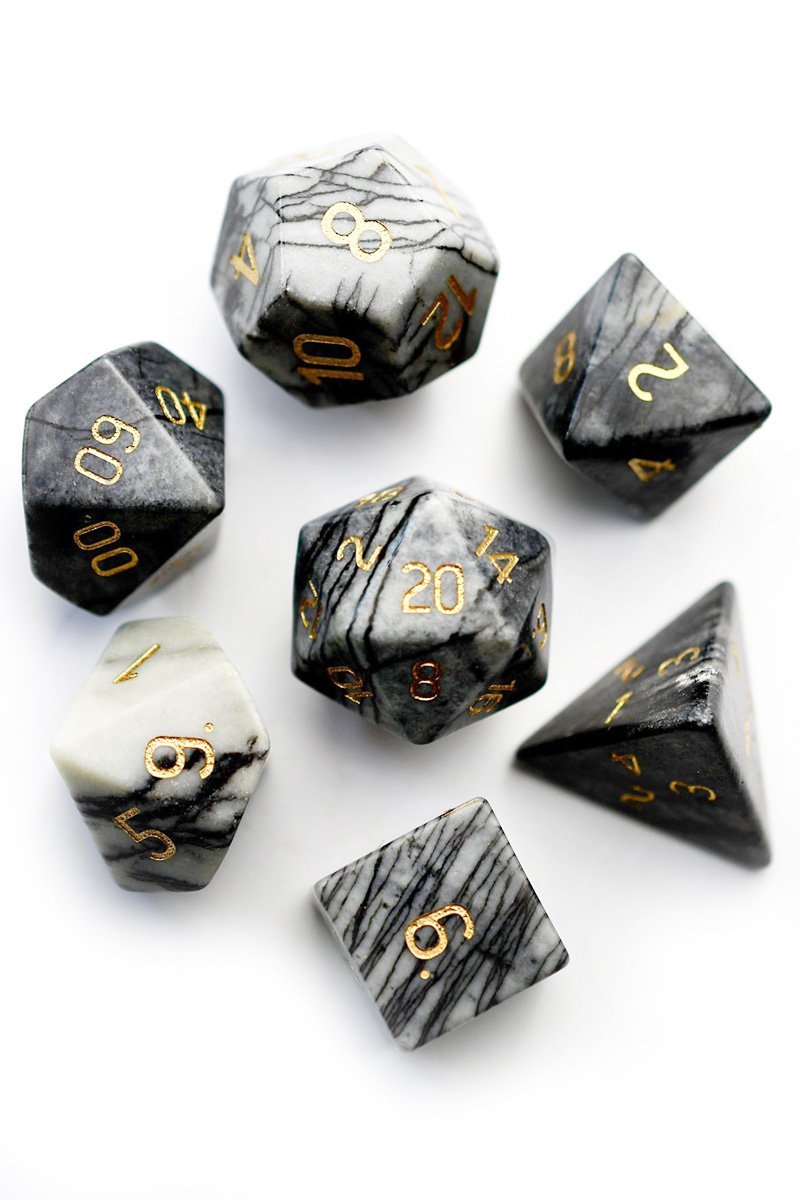 $85.00
International Customers benefit from 3-5 Day Flat-Rate International Shipping
The waystones had once been white, in a time when the forest delighted in the song of Elves. Spun together from the elements, their purpose was to give guidance – if not perfect clarity – to the Elven King.  But peace invariably gives way to chaos, sure as Summer's warmth yields to Winter's bite. Dark presences began to find shelter within the shadow of the impossibly tall trees. Twisted creations who feared the sun found holes for burrowing, branches for nesting, and an entire civilization upon which to feast. The creeping black tendrils scarring the waystones have almost completely consumed them. And yet some of the light shines through even to this day. Perhaps redemption is not a lost cause...

Spiderweb Jasper Gemstone Dice Set

Complete set of seven polyhedral dice hand-carved from spiderweb like jasper. Each dice is exquisitely shaped by hand, with glittering golden numbers finely engraved - not printed - into the stone itself. Due to the unique beauty of this gemstone, colour, translucency, lustre and finish will differ between each piece - no two sets will ever be alike. Truly, individually, forever your own.

An exquisitely latticed stone, woven with lines and bands of colour. Jasper, an ancient gemstone, was prized in antiquity, and mentioned in ancient texts.

Reasons to Love this Set

With spidery ribbons of white and threads of dark colour, Spiderweb Jasper is a robust, natural, untreated gemstone which is striking on any table and has a place in most collections.
With the spider connection, the gemstone makes a elegant pairing with any Dark Elf character. 

Key Details


- Luxury Spiderweb Jasper Gemstone Dice
- Includes complimentary hand crafted Leather Dice Pouch with the Motto 'Amor Fati' - Love Thy Fate - Worth £5.99 and included freely
- Seven precious polyhedral dice
- Hand-made and hand-engraved
- Recommended for use in dice trays

Director's Notes
Due to the nature of natural minerals, your unique dice may feature differences in colour, texture, and translucency to the set pictures. Importantly, your natural mineral dice are hand-crafted, not machined, and so may have faces that are slightly different in size. Engraved numbers may be off-centre, depending on seams or facets of the stone. There may be small differences in balancing between sets, due to the weight of the gemstone. We encourage you to embrace the individual beauty of natural precious stones and the age-old process of hand-crafting. Hard surfaces may damage your stones; please consider this when rolling.
Narrative vignette by Micah Rodney