Unakite Gemstone Dice Set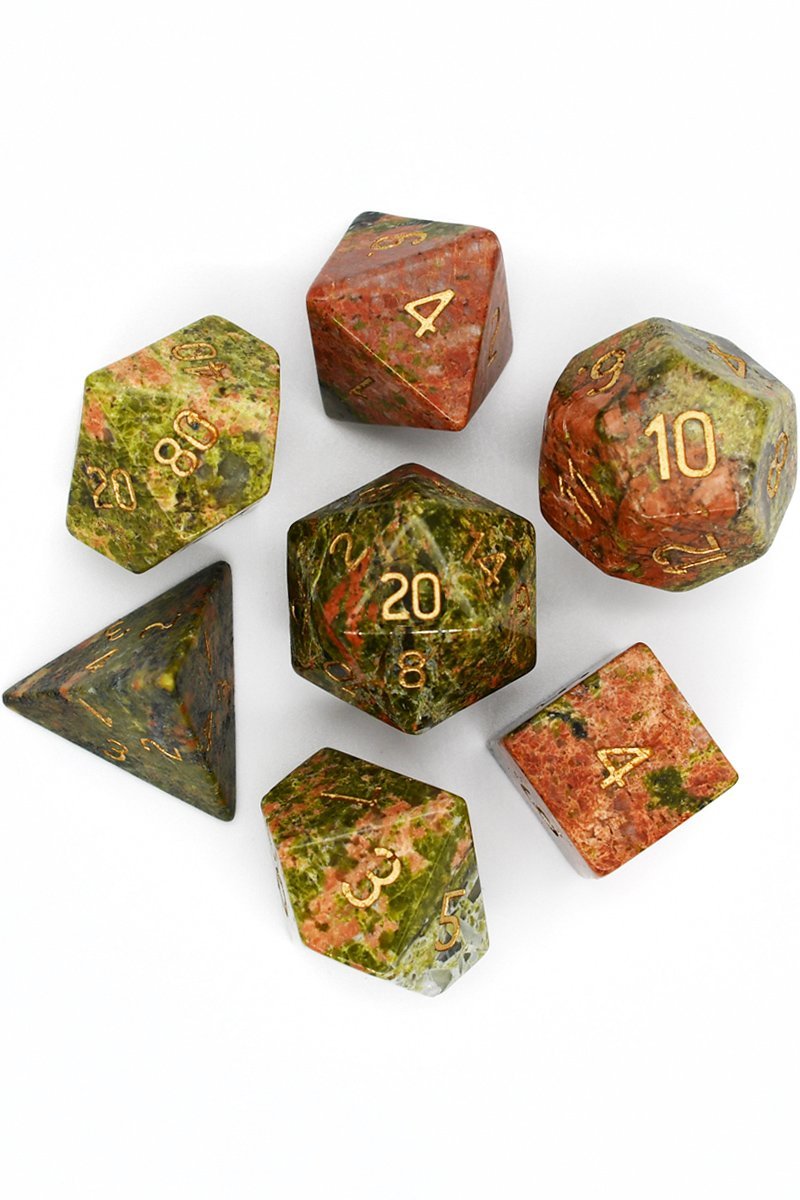 $84.00
International Customers benefit from 3-5 Day Flat-Rate International Shipping
Unakite Gemstone Dice Set

Complete set of seven polyhedral dice hand-carved from intense and earthy Unakite Jasper.

Hailing from the Unaka mountain range, the Blue Ridge Mountains and Roan Highlands of North Carolina, Unakite is a semiprecious stone that evokes wilderness, untamed geographies, deep folkloric tradition, and music. The greens are mossy, and the amber pinks gleaming. The stone is rugged, robust. As you turn each stone dice in your hand, you will see inclusions of red jasper running through the orthoclase feldspar, fiercely red-pink, the green epidote ranging from green to grey to nearly black, and the clear quartz of the mineral glittering with crystalline beauty in the surface of the stone.
Each dice is exquisitely shaped by hand, with glittering golden numbers finely engraved - not printed - into the stone itself. Due to the unique beauty of this gemstone, colour, translucency, lustre and finish will differ between each piece - no two sets will ever be alike. Truly, individually, forever your own.
Turnflask was too clever for his own good. The goblin alchemist made his trade on tinctures, tonics, potions and poisons. Yet no venom was ever so deadly as the mind behind them. A paranoid and vengeful sort, who loved few and trusted none, he was fearful that one day his own work would be used to furnish his demise. So he set to crafting a potion of true invulnerability. He mixed his reagents: basilisk heart, hydra scales, asp's fang. But no combination resulted in true invincibility. For weeks he toiled without sleep, until one night in a fit of madness, he added a drop of his own blood. "The perfect curative!" He exclaimed. However, like fire, uncontrolled blood is quite volatile. All that remained of the goblin's workshop were his arithmancy gems, stained with the results. In a way, Turnflask's labors were a success. Now nothing can ever harm him.


Reasons to Love this Set

Varied, rough, beautiful, Unakite seems to capture the character of its geographic origin. Washed down into river valleys from the mountains, or deposited by the timeless movement of prehistoric glacial drift, Unakite is a stone for those who admire nature and its wildness.
Due to the nature of this Gemstone, the dice have some rougher edges and natural uneven surfaces - these add to the beauty of each individual die and should not be seen as flaws.
Key Details
- Luxury Unakite Gemstone Dice
- Includes complimentary hand crafted Leather Dice Pouch with the Motto 'Amor Fati' - Love Thy Fate - Worth £5.99 and included freely
- Seven precious polyhedral dice
- Hand-made and hand-engraved
- Recommended for use in dice trays

Director's Notes
Due to the nature of natural minerals, your unique dice may feature differences in colour, texture, and translucency to the set pictures. Importantly, your natural mineral dice are hand-crafted, not machined, and so may have faces that are slightly different in size. Engraved numbers may be off-centre, depending on seams or facets of the stone. There may be small differences in balancing between sets, due to the weight of the gemstone. We encourage you to embrace the individual beauty of natural precious stones and the age-old process of hand-crafting. Hard surfaces may damage your stones; please consider this when rolling.