Turquoise Gemstone Dice Set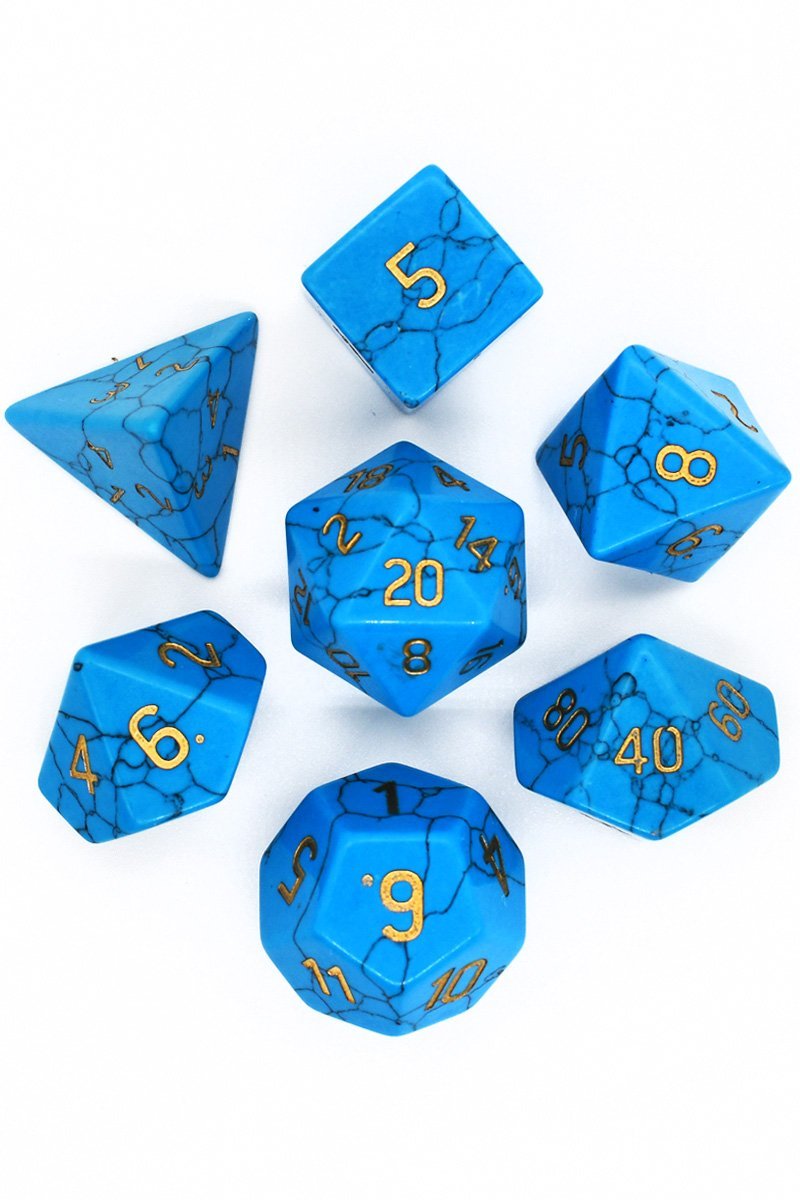 $85.00
International Customers benefit from 3-5 Day Flat-Rate International Shipping
The late afternoon sun shows little mercy as it casts its scorching heat across the desert plains. The brass chainmail pouch secured to your belt feels like a dead weight against your side, but its presence is comforting, and the precious objects that clack softly together inside a reassuring melody. And then you see it, a brilliant blue eye amidst the sea of beige, winking in the sunlight. You wonder whether it is an illusion, a wicked spell cast to lead you to your peril, but you can smell it – the sweet, clean scent of water, its turquoise hue so dazzling that it might have been the product of alchemy.
You approach the shore of the oasis with eager hands and mouth, and then you see something glistening beneath the water…
Turquoise Gemstone Dice Set
Complete set of seven polyhedral dice hand-carved from richly veined Turquoise. Each dice is exquisitely shaped by hand, with glittering golden numbers finely engraved - not printed - into the stone itself. Due to the unique beauty of this gemstone, colour, translucency, lustre and finish will differ between each piece - no two sets will ever be alike. Beautiful seams and marbling add exquisite patterns to each facet, enhancing the appearance of the shimmering gold numbers.

Reasons to Love this Set
The birthstone for the month of December, Turquoise is prized in many cultures due to its unique, robin's egg blue, with the pastel shade endearing to many peoples of antiquity. In these old worlds, turquoise was often used as a talisman against injury, and was worn to bring good fortune. Prized by Venetian and French traders, who bartered for the gemstones in Persian and Turkish bazaars, its name originating from the French turquois - meaning Turkish.
Treasure this dice set for its sky blue clarity, its ancient providence, and its attractive marble-like veins. Set into the protective amulets of Cleopatra, the sacred mosaic masks of Aztec fire Gods, and even inlaid into Russian backswords of the 17th century, Turquoise is a gemstone much cherished by mankind.


Key Details

- Luxury Turquoise Mineral Gemstone Dice
- Includes complimentary hand crafted Leather Dice Pouch with the Motto 'Amor Fati' - Love Thy Fate - Worth £5.99 and included freely

- Seven precious polyhedral dice

- Hand-made and hand-engraved

- Recommended for use in dice trays

Director's Notes
Due to the nature of natural minerals, your unique dice may feature differences in colour, texture, and translucency to the set pictures. Importantly, your natural mineral dice are hand-crafted, not machined, and so may have faces that are slightly different in size. Engraved numbers may be off-centre, depending on seams or facets of the stone. There may be small differences in balancing between sets, due to the weight of the gemstone. We encourage you to embrace the individual beauty of natural precious stones and the age-old process of hand-crafting. Hard surfaces may damage your stones; please consider this when rolling.