Tomb of the Scorpion King- 5e Module Digital Adventure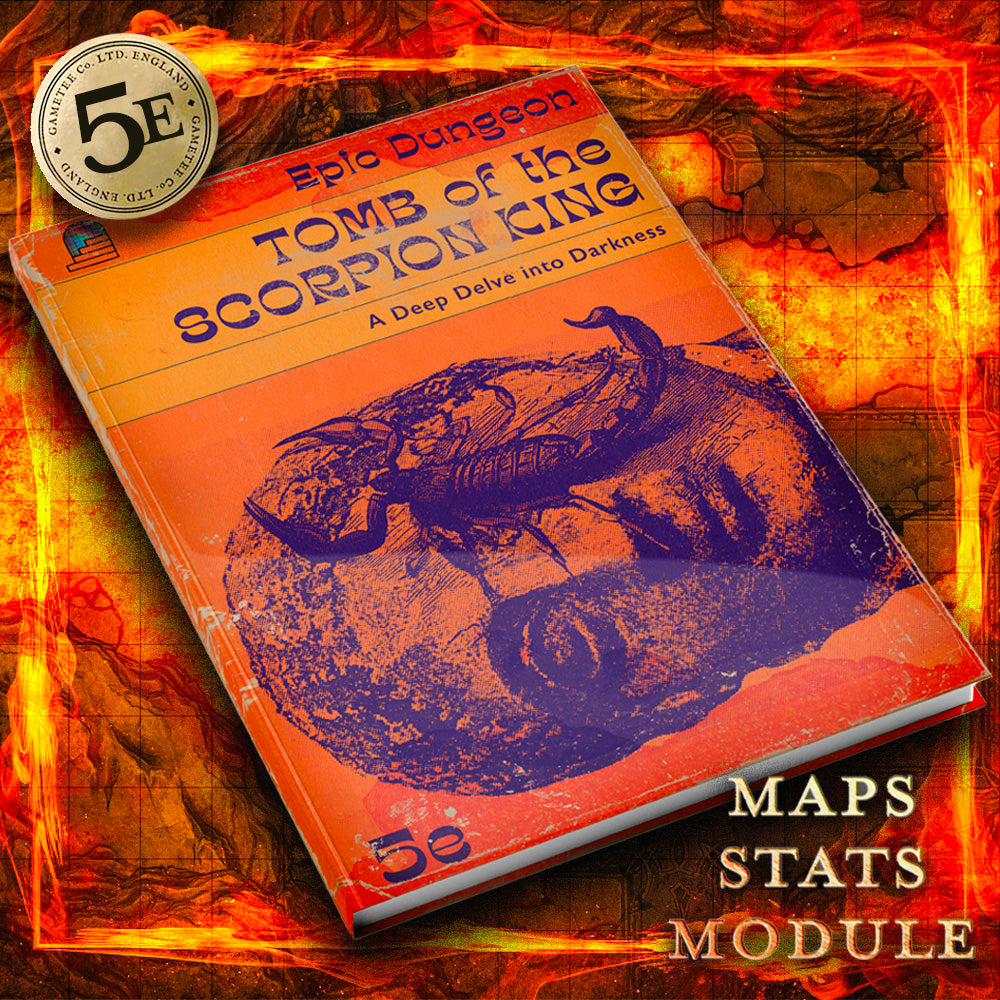 $6.00 $11.00
International Customers benefit from 3-5 Day Flat-Rate International Shipping
Tomb of the Scorpion King - 5e Module Adventure - Not a Physical Item. Instant Delivery.
Maps presented at 4k resolution.
Welcome to Dunecliff, a picturesque desert market town perched precariously on the brink of an immense chasm. A band of intrepid adventurers bask in the limelight, hailed as heroes for vanquishing a menacing cult that had been perilously close to invoking their dread deity, Azeg-Rael. The triumphant trio wears their accomplishment like a badge of honour, leaving you, the wandering wanderers, on the fringes of this tale.
Yet, as the sun rises the following day, an earth-shattering explosion shatters the tranquility, sending shockwaves through the dunes. In its wake, a horde of bewitched cultists emerges, transforming the town into a battleground of chaos and destruction. The once-celebrated heroes are now nowhere to be found. It becomes evident that a sinister twist has derailed their initial success, and Dunecliff is in terrible peril.
As the dust settles, a new narrative unfurls. You and your companions stand as the last bastion of hope amidst the ruins, poised to unearth the truth behind the cataclysmic turn of events. The town's destiny now rests in your hands, beckoning you to venture forth, untangle the enigma. To proceed, you will need to venture into the forbidden tomb of the Scorpion King, and pave the way for a new chapter in the chronicles of Dunecliff... Or else be consumed by the newly risen Azeg-Rael.
Recommended for an average party level of 2 - 4.
Pack Contents
- 40 Page Multipage .PDF Booklet suitable for Printing, if you so wish.
- 4K Resolution Digital Maps, including;
4K Resolution The Mirage Bazaar Day & Night (Plain & Gridded) and Chasm Bridge (Plain & Gridded)


4K Resolution Tomb of the Scorpion King Epic Dungeon with Eight Areas of Map (Plain and Gridded);
Desert Ruin, Boss Room, Entrance, Hub, Lava Room, Prison, Sphinx Room and Ziggurat


4K Resolution

 Desert Ruin

 

(4096x3072px Animated MP4)


Tomb of The Scorpion King Layout Guide
Note: You can add Digital Products and Physical items to your Cart at the same time! No need for different transactions. The Digital Products will be fulfilled instantly after check-out. The rest of your order will be subject to the normal delivery times.


How to Use Our Gaming Maps & Printables
Digitally
- Simply unzip the containing Zip Folder and use however you wish, as an on-the-go resource or an editable base for use in your favourite editing software. Share with friends for online play or use in conjunction with websites such as Roll20.
For Printing
- Unzip Zip File using WinZip or similar
- Open JPG
- Use Printer Settings before Printing to ensure that relevant paper size is selected.
- Ensure Paper Size is set to 100%, or Actual Size. Do not scale to fit to the page.
- Print on paper of your choice. We recommend a quality cardstock in a quality printer for the best results
- Please be aware that due to differences in different monitor calibrations and printer outputs, colours may differ slightly when printing.
Please ensure you are aware that this item is a digital file. You will receive no physical product. You will receive an immediate delivery to your email address.
Due to the nature of the file sales are final and therefore no refunds/cancellations can be offered.
By buying this item you confirm that you understand that this is not a physical product.

This Adventure Pack is for Personal use only and may not be resold or redistributed in any way. Commercial reuse is strictly prohibited.

© Gametee Ltd