Tiger's Eye Gemstone Dice Set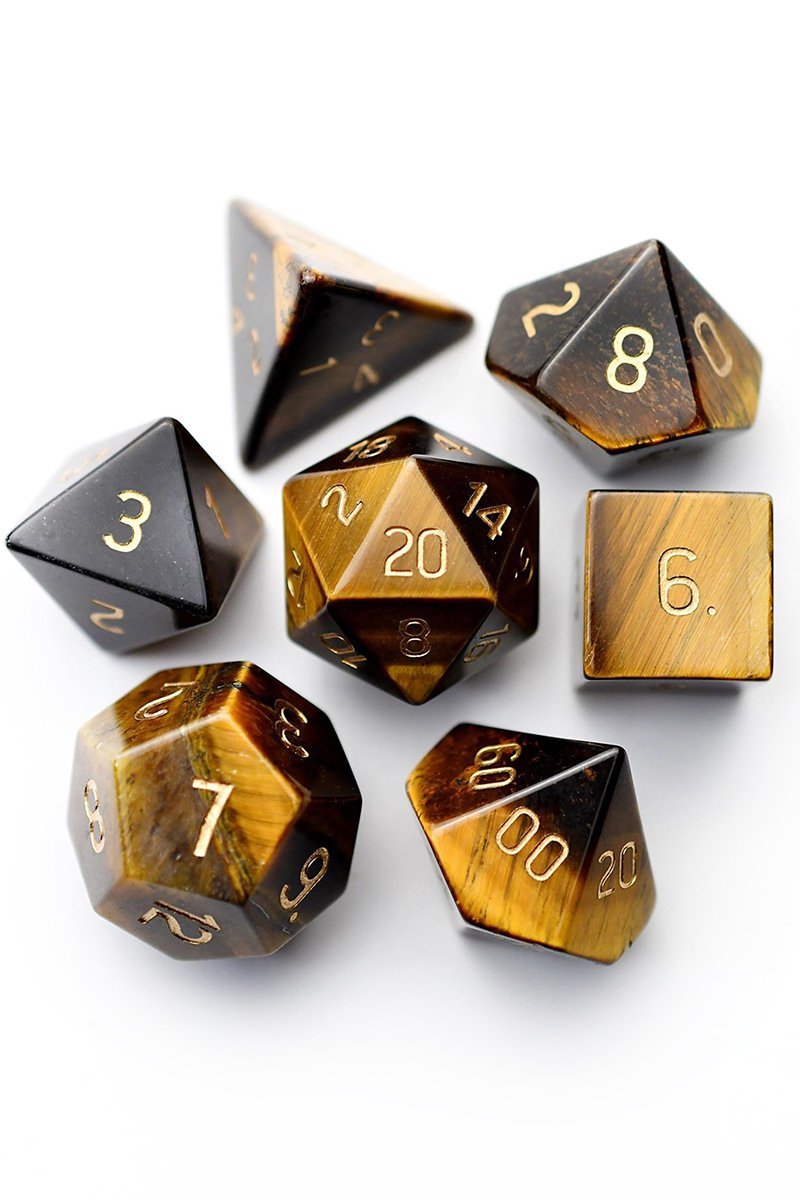 $84.00
International Customers benefit from 3-5 Day Flat-Rate International Shipping
Sparkling and seamed with scintillations of deepest gold, the dice glistered with unknowable magic as they were tossed and rolled in the alchemist's hands. Contained within each glittering stone were silken tones of every gold thing the alchemist had so diligently distilled; the essence of a jewelled yellow nightscape, crystallised riches of magical lustre, cat eyes, candlelight, and mellifluous words, a thread of lion's mane and the warm breeze of a harvest field… 'Gold is not made of gold; it is made of dreams, of alchemy, and all of the dark arts shining fair…'
Tiger's Eye Gemstone Dice Set
Complete set of seven polyhedral dice hand-carved from precious Tiger's Eye. Each dice is exquisitely shaped by hand, with glittering golden numbers finely engraved - not printed - into the stone itself. Due to the unique natural beauty of this gemstone, colour, translucency, lustre and finish will differ between each piece - no two sets will ever be alike. Truly, individually, forever your own.
Reasons to Love Tiger's Eye
Tiger's Eye is a stone of power and protection, and was traditionally carried as a talisman against evil. Worn by ancient Roman soldiers, for centuries, the stone has been associated with warriors, imparting strength of spirit and will, giving courage and confidence, and bringing balance and mental acuity.
Key Details
- Luxury Tiger's Eye Gemstone Dice
- Includes complimentary hand crafted Leather Dice Pouch with the Motto 'Amor Fati' - Love Thy Fate - Worth £5.99 and included freely
- Incredible gift for fans of Tabletop Games
- Seven precious polyhedral dice
- Hand-made and hand-engraved
- Recommended for use in dice trays
Director's Note
Please Note - Due to the nature of natural minerals, your unique dice may feature differences in colour, texture, and translucency to the set pictured. Importantly, your natural mineral dice are hand-crafted, not machined, and so may have faces that are slightly different in size. Engraved numbers may be off-centre, depending on seams or facets of the stone. There may be small differences in balancing between sets, due to the weight and density of the gemstone. We encourage you to embrace the individual beauty of natural precious stones and the age-old process of hand-crafting. Hard surfaces may damage your stones; please consider this when rolling.