The Witch of Bloodwood Grove- 5e Module Digital Adventure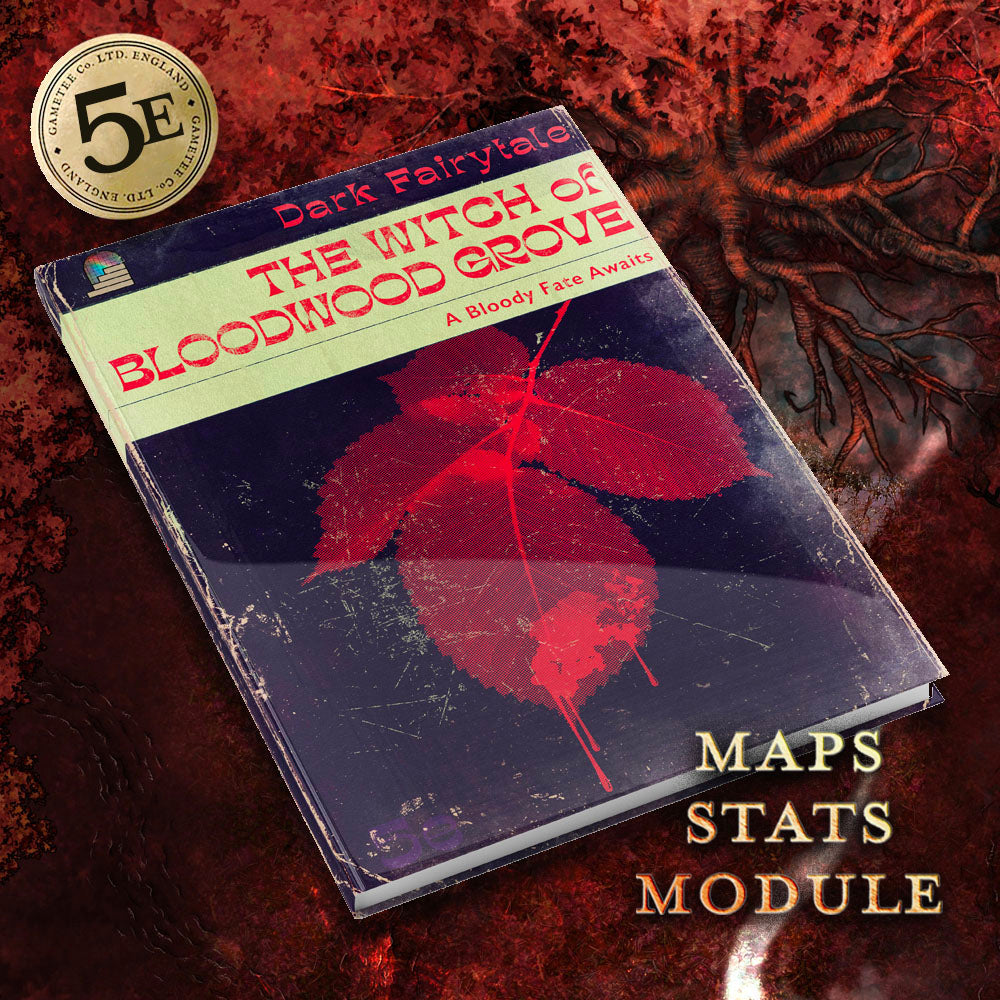 $6.00 $11.00
International Customers benefit from 3-5 Day Flat-Rate International Shipping
The Witch of Bloodwood Grove - 5e Module Adventure - Not a Physical Item. Instant Delivery.
Maps presented at 4k resolution.
Amidst the sprawling expanse of a blood-red forest, your intrepid party finds itself enveloped by the embrace of twilight. As the sun dips, a stroke of fate guides their weary steps to an unexpected haven - a quaint tavern, nestled within the heart of the woods. 
Stepping across its threshold, your heroes are greeted by a sight both intriguing and formidable. An assembly of knights congregates - The Order of the Crimson Ewer.
It is the plight of the village of Blackvine that binds the fates of your party and the Order. Dreadful tales of innocent children stolen from their homes have gripped the hearts of Blackvine's residents in an iron vice of fear. The beast that stalks Bloodwood Grove, a wolf that treads the line between man and monster, has prompted the knights' swift response. Led by the valiant Lady Greta and Ser Hans, these guardians are unyielding in their pursuit of justice.
Yet, as the silver moonlight casts an enigmatic glow upon the forest's depths, it becomes evident that the roots of this unfolding saga delve far deeper. The fabric of time conceals wounds that have yet to heal, wounds woven into the very land upon which Bloodwood Grove stands. In the heart of the crimson-tinged trees, the spirits of the past awaken, their spectral whispers a harbinger of a long-awaited reckoning...
Recommended for an average party level of 1 - 3.
Pack Contents
- 40 Page Multipage .PDF Booklet suitable for Printing, if you so wish.
- 4K Resolution Digital Maps, including;
4K Resolution Hunting Lodge Red (Plain & Gridded)


4K Resolution Bloodwood Grove Epic Dungeon with Nine Areas of Map (Plain and Gridded);
Brittlebone Pond, Driptimber Bend, Entrance, Forktounge Creek, Ghastly Source, Heartstop River, Outskirts, Spine Ridge and Wych Elm


4K Resolution

 Bloodwood Grove Wych Elm 

 

(4096x3072px Animated MP4)


Bloodwood Grove Layout Guide
Note: You can add Digital Products and Physical items to your Cart at the same time! No need for different transactions. The Digital Products will be fulfilled instantly after check-out. The rest of your order will be subject to the normal delivery times.


How to Use Our Gaming Maps & Printables
Digitally
- Simply unzip the containing Zip Folder and use however you wish, as an on-the-go resource or an editable base for use in your favourite editing software. Share with friends for online play or use in conjunction with websites such as Roll20.
For Printing
- Unzip Zip File using WinZip or similar
- Open JPG
- Use Printer Settings before Printing to ensure that relevant paper size is selected.
- Ensure Paper Size is set to 100%, or Actual Size. Do not scale to fit to the page.
- Print on paper of your choice. We recommend a quality cardstock in a quality printer for the best results
- Please be aware that due to differences in different monitor calibrations and printer outputs, colours may differ slightly when printing.
Please ensure you are aware that this item is a digital file. You will receive no physical product. You will receive an immediate delivery to your email address.
Due to the nature of the file sales are final and therefore no refunds/cancellations can be offered.
By buying this item you confirm that you understand that this is not a physical product.

This Adventure Pack is for Personal use only and may not be resold or redistributed in any way. Commercial reuse is strictly prohibited.

© Gametee Ltd