The Wishing Star Plaza- 5e Module Digital Adventure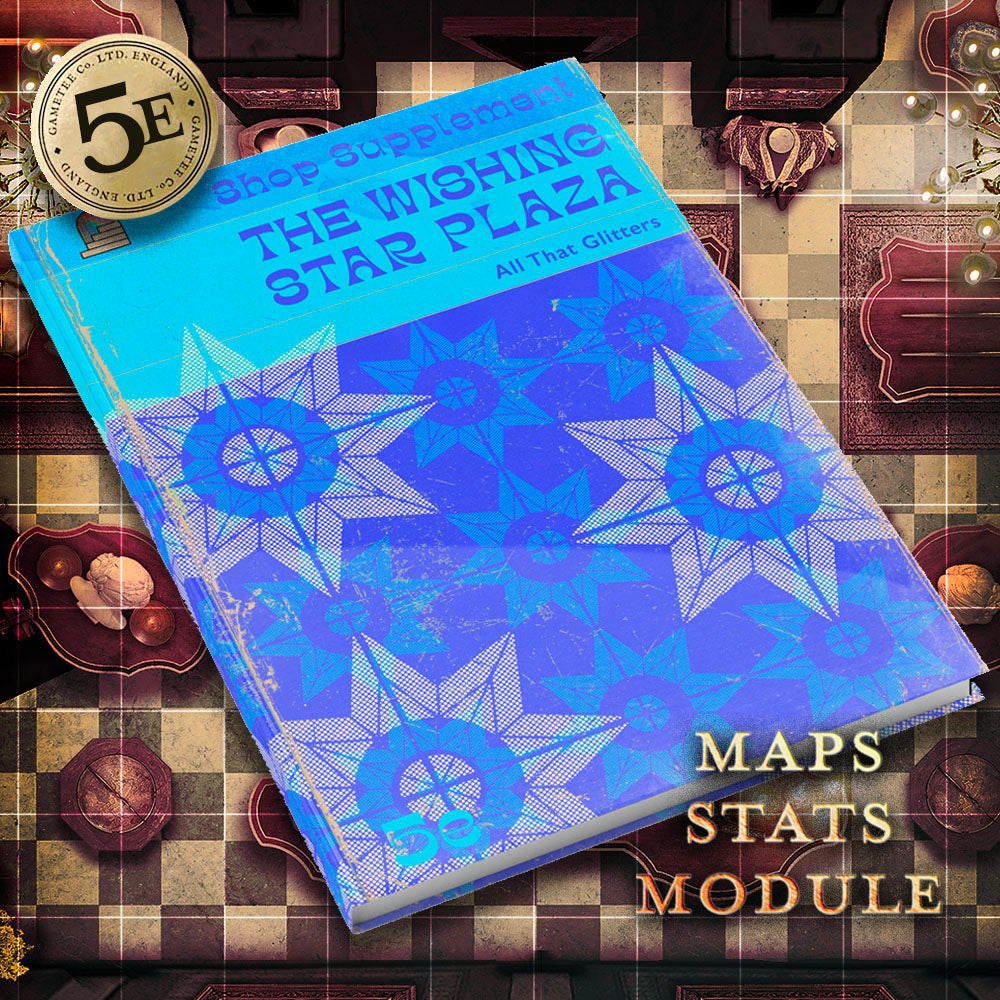 $3.00 $6.00
International Customers benefit from 3-5 Day Flat-Rate International Shipping
The Wishing Star Plaza - 5e Module Adventure - Not a Physical Item. Instant Delivery.
Maps presented at 4k resolution.
Step into a realm where the illustrious Wishing Star Plaza, once renowned far and wide, has encountered challenging times. Once standing as the jewel of our city, its grandeur has waned due to the struggles faced by our realm. Yet, a beacon of hope emerges in the form of Welka Pyredancer, the esteemed leader of the Merchant's Guild. With an audacious vision, Welka unveils a plan to breathe new life into the district.
Embark on a journey as valiant adventurers under Welka's guidance. Your mission: restore the vitality of the remaining shops within the plaza. Through your ingenuity and prowess, stabilise the area and infuse it with new energy. As success blooms, resources can be directed to the plaza's coffers, gradually expanding its offerings.
A grand reward awaits your unwavering dedication - the chance to establish and operate your own shop within the plaza, secured by the guild's protective embrace. Delve into a realm of enterprise and enchantment, where you shape the destiny of the Wishing Star Plaza. This town development supplement for 5e DnD offers a trove of items, stats, and playable maps, providing you with all the tools to breathe life back into the heart of your city. Develop, flourish, and revive the legacy of the Wishing Star Plaza.
Recommended for an average party level of 1- 5.
Pack Contents
- 37 Page Multipage .PDF Booklet suitable for Printing, if you so wish.
- 9 4K Resolution Digital Maps (Plain & Gridded), including;
Basment Bookshop, Gripflask's

 

Creaky Cabinet, Quercus Antiques, Wishing Star Plaza (Slow Trade), Wishing Star Plaza (Revived), Taxidermists (Day), Taxidermists (Night), Wych & Company Florist and Water Dungeon


4K Resolution

 Gripflask's  Creaky Cabinet

 

(4096x3072px Animated MP4)


4K Resolution

Wishing Star Plaza Revived

 

(4096x3072px Animated MP4)

Note: You can add Digital Products and Physical items to your Cart at the same time! No need for different transactions. The Digital Products will be fulfilled instantly after check-out. The rest of your order will be subject to the normal delivery times.


How to Use Our Gaming Maps & Printables
Digitally
- Simply unzip the containing Zip Folder and use however you wish, as an on-the-go resource or an editable base for use in your favourite editing software. Share with friends for online play or use in conjunction with websites such as Roll20.
For Printing
- Unzip Zip File using WinZip or similar
- Open JPG
- Use Printer Settings before Printing to ensure that relevant paper size is selected.
- Ensure Paper Size is set to 100%, or Actual Size. Do not scale to fit to the page.
- Print on paper of your choice. We recommend a quality cardstock in a quality printer for the best results
- Please be aware that due to differences in different monitor calibrations and printer outputs, colours may differ slightly when printing.
Please ensure you are aware that this item is a digital file. You will receive no physical product. You will receive an immediate delivery to your email address.
Due to the nature of the file sales are final and therefore no refunds/cancellations can be offered.
By buying this item you confirm that you understand that this is not a physical product.

This Adventure Pack is for Personal use only and may not be resold or redistributed in any way. Commercial reuse is strictly prohibited.

© Gametee Ltd