The Courtyard of Prisms - Mini-Module Adventure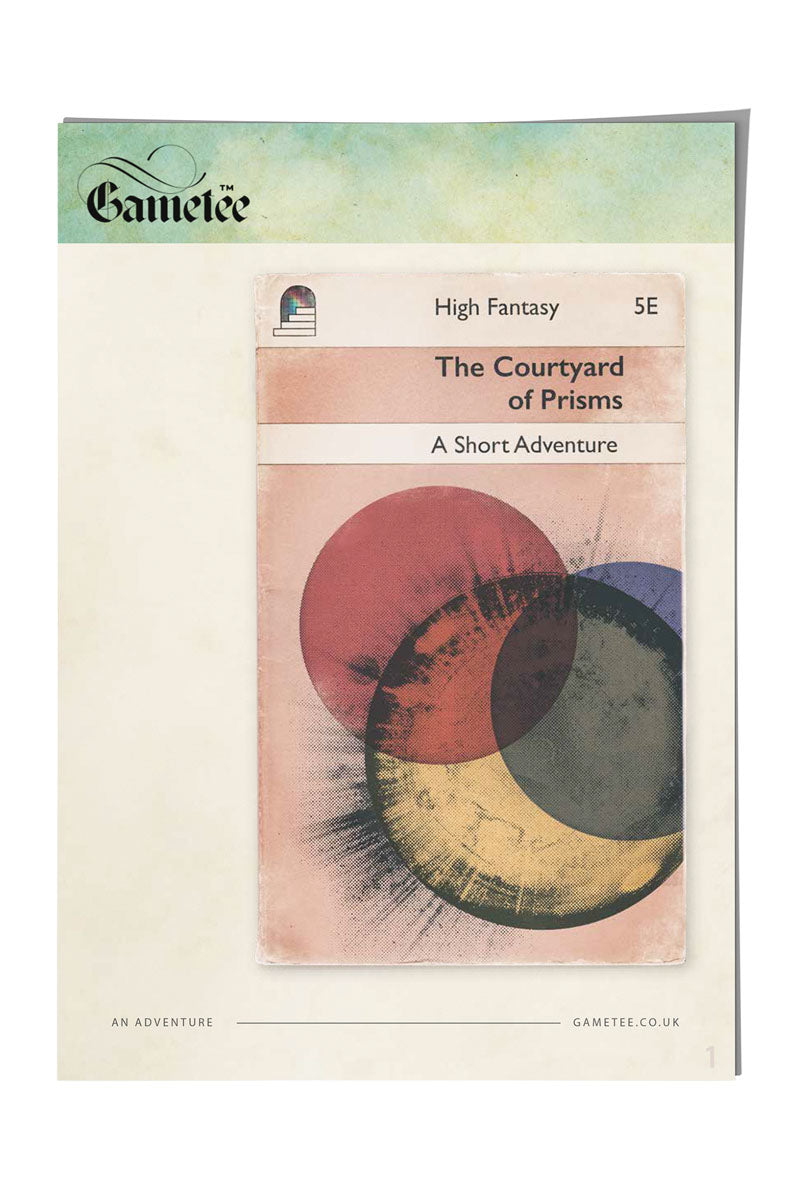 $0.00
International Customers benefit from 3-5 Day Flat-Rate International Shipping
The Courtyard of Prisms - Mini-Module Adventure - Not a Physical Item. Instant Delivery.
The Courtyard exists in a grey blight, where colour has been scrubbed clean from reality. Only by solving the riddles and obtaining the Staff of Prisms can one hope to return the colour and enter the Manor proper. As Helias understood, light is not merely a gift of the sun but an essential building block of reality.  Where there is no light, there is no colour.  And thus where there is no colour, there is naught but stone and ash. 
In celebration of Pride Month on Gametee, we present a rainbow-themed mini-module. This short adventure contains 15 pages of content, including descriptions, encounters, puzzles, two complete Digital Gaming Maps, a 3D sculpture and a unique item - The Staff of Prisms. You'll work to restore colour to the Courtyard, whilst dodging combat trials and solving riddles of adjustable difficulty.
For this project, we have focused on our LGBTQIA+ Talent, and your tip, should you wish to leave one, directly supports our LGBTQIA+ Artists and Creators.  
Pack Contents
- 17 Page Multipage .PDF Booklet suitable for Printing, if you so wish.
- 2 x JPG. Digital Gaming Maps in 4k Resolution 
- Link to Complimentary 3D Sculpture featured in the Adventure
- Our eternal thanks and love for supporting our LGBTQIA+ Owned Business!
Instant Delivery

- You will receive one Zip Folder containing the pack contents.
- All Digital Printables in your order will be delivered instantly. Physical goods in your order will be processed separately and be subject to normal delivery times.

How to Use Our Gaming Printables
Digitally
- Simply unzip the containing Zip Folder and use however you wish, as an on-the-go resource or an editable base for use in your favourite editing software.
Please ensure you are aware that this item is a digital file. You will receive no physical product. You will receive an immediate delivery to your email address.
Due to the nature of the file sales are final and therefore no refunds/cancellations can be offered.
By buying this item you confirm that you understand that this is not a physical product.

This Adventure Pack is for Personal use only and may not be resold or redistributed in any way. Commercial reuse is strictly prohibited.

© Gametee Ltd