Talisman of the Cleric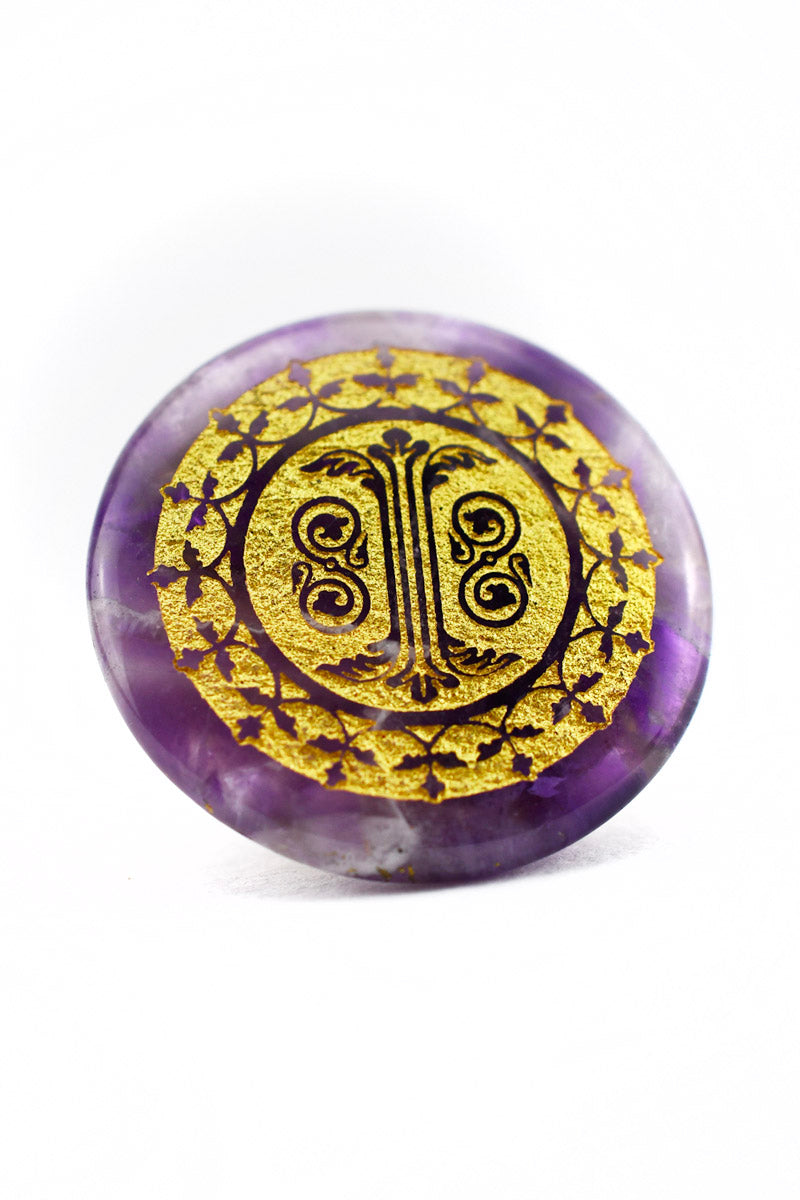 $17.00
International Customers benefit from 3-5 Day Flat-Rate International Shipping
OFFER AVAILABLE!
Purchase Three or More Crystal Talismans and Receive a FREE Velvet Talisman Pouch (Worth £6.99)
You must add a minimum of three Talismans to your cart. Offer can be combined with other automatic discounts. No need to add the Velvet Bag to your Cart. You will receive it automatically during shipping.
Talisman of the Cleric
Crafted from naturally varied Amethyst, the stone of nobility and spirituality.
Purple and gold, this design is based on shapes and motifs common in ecclesiastical architecture, and uncial lettering that illuminates the pages of the manuscripts of antiquity. The single pillar represents the 1 face of the D2, whilst the crossed pillars represent the 2.
The Latin phrase reads

 

acta deos numquam mortalia fallunt

 

- 'Mortal acts never deceive the Gods'
Crafted from naturally beautiful Amethyst.
Ranging from pale lilac to rich violet, and running from translucent to deep, rich imperial purples, amethyst is distinguished as a stone of nobility, once considered more precious than diamond. As the stone of bishops, it signifies great temperance and dignity. Holy to the ancient Egyptians, amethyst was carved into heart shaped amulets, and is credited with bringing great calm in the form of prayer beads. 
Ships with free Crystal brochure leaflet explaining the qualities of your Talisman.
The Crystal Talismans
The Crystal Talismans are jewellery-quality semi-precious gemstones designed to embody the qualities and characteristics of your chosen class. Carry them with you on every adventure!
Functional D2 dice engraved, not printed, on both sides.
Flip or spin them in-game to promote fast decision making and give a sense of urgency to action. 
Need an inspiration token?

 

 Use your Talisman.

 
They are appropriately sized to work as player characters on a standard inch-grid battlemat.
Compatible with the Talisman Keyring Holder
Compatible with the Captain's Coin Album
30mm Diameter
You can enjoy the Crystal Talismans in-game with our suggested rule sets, using them as playable items in your favourite TTRPG.