Red Ruby in Ziosite Gemstone Dice Set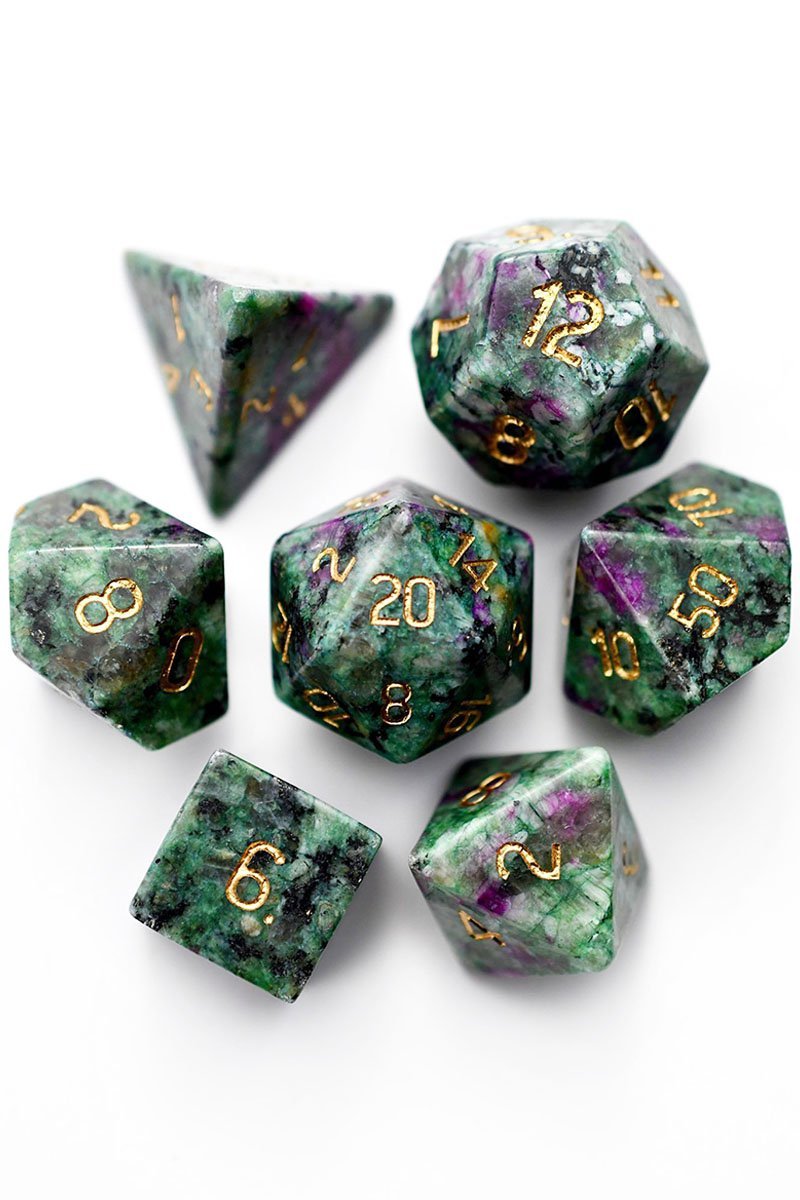 $84.00
International Customers benefit from 3-5 Day Flat-Rate International Shipping
Red Ruby in Zoisite

Complete set of seven polyhedral dice hand-carved from real Red Ruby in Zoisite.

From Tanzania, Ruby in Zoisite is an attractive combination of green Zoisite with inclusions of rough ruby. The magnificent differing colours of precious minerals is marked, and beautiful, with the shining ruby embedded throughout the black-flecked Zoisite.

Each dice is exquisitely shaped by hand, with glittering golden numbers finely engraved - not printed - into the stone itself. Due to the unique beauty of this gemstone, colour, translucency, lustre and finish will differ between each piece - no two sets will ever be alike. Truly, individually, forever your own.

Reasons to Love this Set

Historically, it was said that Ruby seemed to glow from an internal fire that could never be extinguished - if dropped into water, the gem would boil it, and if hidden, the inner light would shine out, revealing its concealment. Ruby is a stone of mystique and legends, known to many ancient cultures, called the stone of Kings, outstandingly valuable and desirable.

Limited numbers are available of this rare-to-market, jeweller-crafted dice set.
Due to the nature of this Gemstone, the dice have some rougher edges and natural uneven surfaces - these add to the beauty of each individual die and should not be seen as flaws.

Key Details

- Luxury Ruby in Zoisite  Gemstone Dice
- Includes complimentary hand crafted Leather Dice Pouch with the Motto 'Amor Fati' - Love Thy Fate - Worth £5.99 and included freely
- Seven precious polyhedral dice
- Hand-made and hand-engraved
- Recommended for use in dice trays

Director's Notes
Due to the nature of natural minerals, your unique dice may feature differences in colour, texture, and translucency to the set pictures. Importantly, your natural mineral dice are hand-crafted, not machined, and so may have faces that are slightly different in size. Engraved numbers may be off-centre, depending on seams or facets of the stone. There may be small differences in balancing between sets, due to the weight of the gemstone. We encourage you to embrace the individual beauty of natural precious stones and the age-old process of hand-crafting. Hard surfaces may damage your stones; please consider this when rolling.