Purple Twilight Cat's Eye - Gemstone Dice Set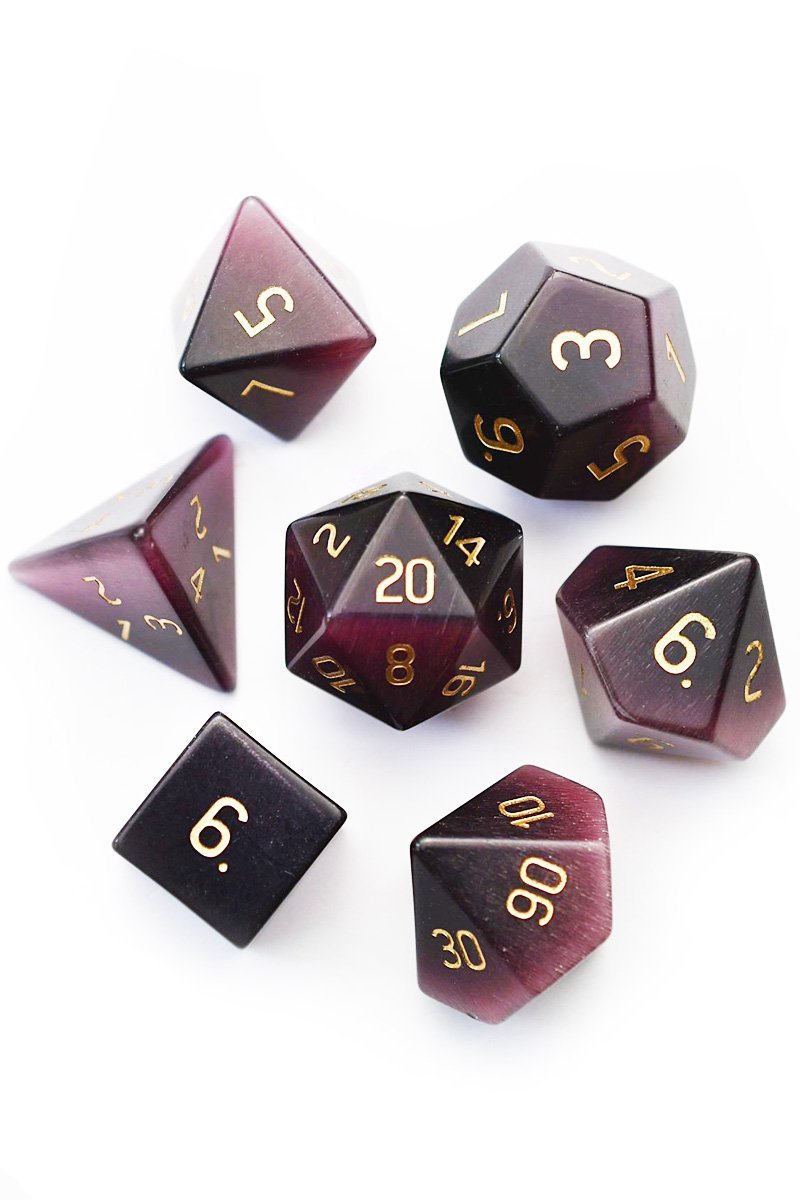 $85.00
International Customers benefit from 3-5 Day Flat-Rate International Shipping
Death was jealous. To preserve life was the calling of healers, and he begrudged them not. But necromancy cheated him, and one particular mortal had too long vexed him.  When the end came for the indigo-robed drow, an extension on his miserable existence was offered and foolishly accepted. With a vermillion flourish, the essence of the wizard was ripped from him and coalesced like blood droplets into seven stones. Twisting them about in bony fingers, the spectre smiled at his new prize. With each moment of fate, the sinner would slowly and surely repay a hundred-fold for his transgressions. And then, when the scales had been balanced, Death would finally claim the cheat as well. 

Purple Twilight Cat's Eye - Gemstone Dice Set

Complete set of seven polyhedral dice hand-carved from spiderweb like jasper. Each dice is exquisitely shaped by hand, with glittering golden numbers finely engraved - not printed - into the stone itself. Due to the unique beauty of this gemstone, colour, translucency, lustre and finish will differ between each piece - no two sets will ever be alike. Truly, individually, forever your own.

Cat's Eye - An astonishing stone, mesmerising and magical, displaying strong chatoyency - a quality in which a band of light almost seems to hover over the surface of the stone, creating an optical effect which resembles the eye of a cat.


Reasons to Love this Set
With purples like twilight, the fibrous nature of the Cat's Eye stone renders it capable of creating vivid lustre and striking colour. The stone exhibits excellent chatoyancy because of the microscopically thin needle-like inclusions which run parallel to each other.
See it moving in the hand under natural light for a captivating demonstration.
Key Details

- Purple Twilight Cat's Eye - Gemstone Dice Set

- Includes complimentary hand crafted Leather Dice Pouch with the Motto 'Amor Fati' - Love Thy Fate - Worth £5.99 and included freely
- Seven precious polyhedral dice
- Hand-made and hand-engraved
- Recommended for use in dice trays

Director's Notes
Due to the nature of natural minerals, your unique dice may feature differences in colour, texture, and translucency to the set pictures. Importantly, your natural mineral dice are hand-crafted, not machined, and so may have faces that are slightly different in size. Engraved numbers may be off-centre, depending on seams or facets of the stone. There may be small differences in balancing between sets, due to the weight of the gemstone. We encourage you to embrace the individual beauty of natural precious stones and the age-old process of hand-crafting. Hard surfaces may damage your stones; please consider this when rolling.
Narrative vignette written by Micah Rodney