Planetary - Sharp-Edged Resin Dice Set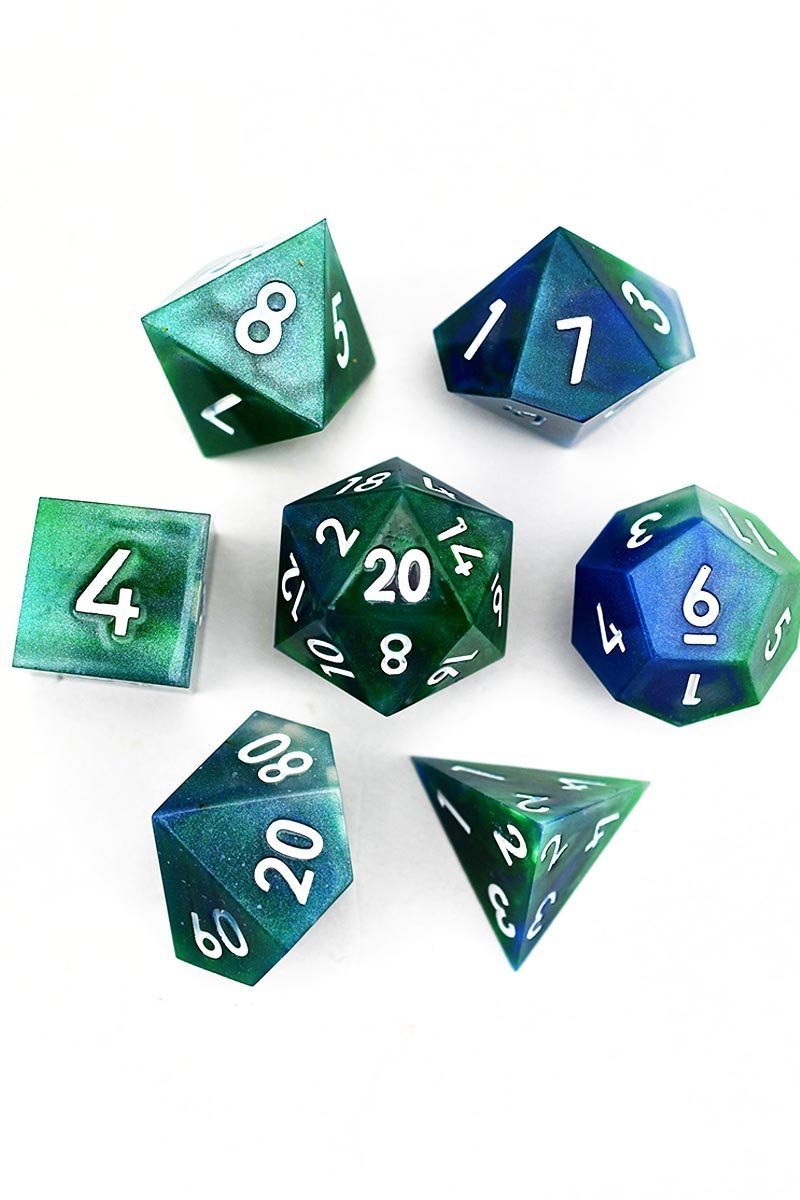 $33.00
International Customers benefit from 3-5 Day Flat-Rate International Shipping
In the northern snowfields lies a kingdom of eternal Winter. Beneath the aurora, by the light of a pale moon were two lovers bound together for eternity.  The groom, wanderer from the south, where fire and steel reign.  The bride, a noble of the kingdom, who gave the man shelter from the cold.  He taught her the handling of weapons of war, and she schooled him in the mystical arts.  From the solid ice around them did they forge the divining gems which would guide their hand and protect their land.  Even as evil encroached its way into their crystalline paradise did the couple stand together as one; their romance pure as snow.  May they guide ever the hand of those who fight for love, peace and harmony.

Pangaea - Sharp-Edged Resin Dice Set

Complete set of seven sharp-edged polyhedral dice, hand poured, polished and sanded to extraordinary fineness.
Reasons to Love this Set
Crafted from hand-poured resin, this is a set which captivatingly unites blues and greens in an planetary palette. The colours are jewel-like and entrancing, and each die is lovingly hand polished to wonderfully sharp angles. Exceptional quality.

Key Details


- Hand-made, hand-sanded, hand-polished sharp-edged dice.

- Seven polyhedral dice
- Hand-made and hand-engraved
- Recommended for use in dice trays

Director's Notes
Due to the nature of hand-pouring, hand-sanding, hand-inking and hand polishing, sharp-edged dice are as perfect as is achievable by human hands. Some dice might have tiny sprue marks. Unlike acrylic dice sets, which are tumbled and machined for smoothed and even edges, sharp edged dice must be finished by hand in a very demanding sanding process to achieve the very fine sharp planes. There is no means to mass produce these dice. Expect to see tiny variations in faces. They are similar to gemstone dice sets in that we only recommend them for use in a dice tray.

Resin can be delicate. Sharp edges are hazardous and these dice are collector's items unsuitable for children. Please consider this when playing.

Lore by Micah Rodney