Opalite Gemstone Dice Set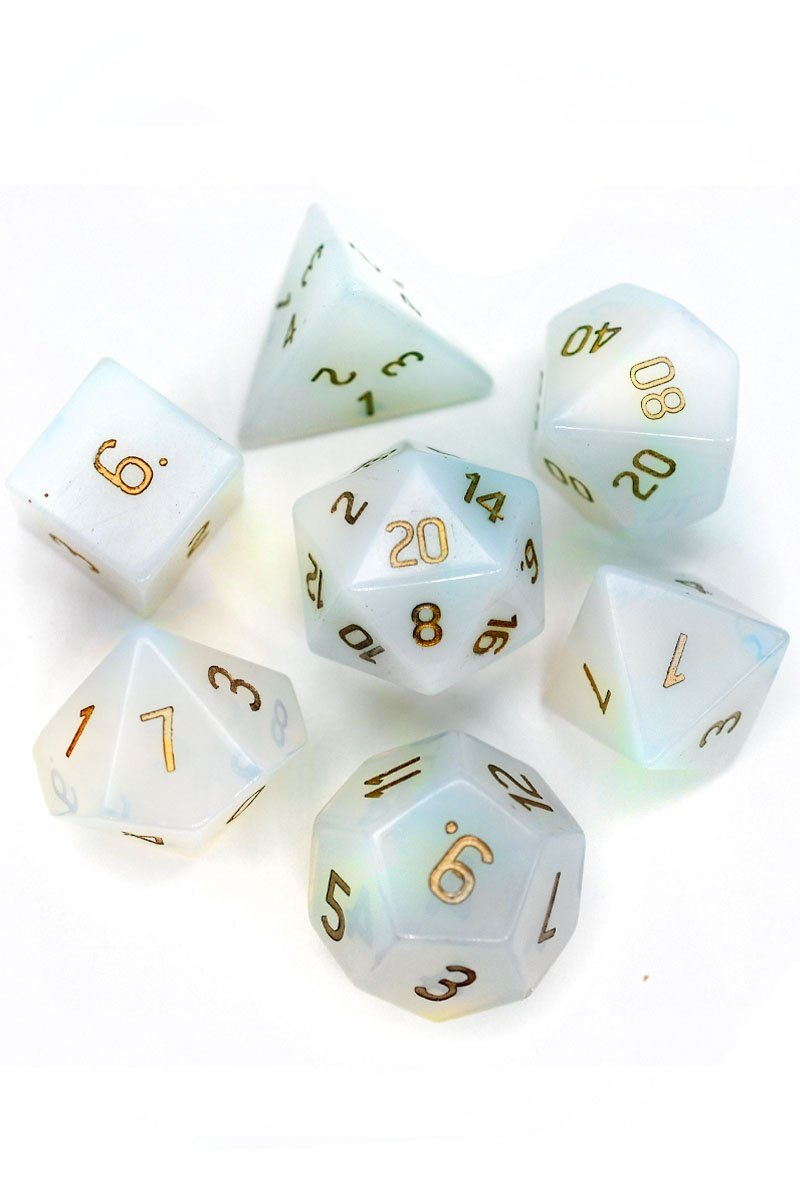 Sold Out
International Customers benefit from 3-5 Day Flat-Rate International Shipping
Serenity can be found wherever one dares to seek it.
It is in the rich earth that sinks beneath her bare feet, in the mighty trees that whisper softly to her. Porcelain skin draped in shimmering cloth and hair as white as moonstone. It is in the shift of light as the sun departs and darkness drenches the sky. Vibrant splashes of amber and gold. Blue and violet streaked with silver starlight.
She reaches out and takes the sky in her hands. All of the stars between her fingertips; the glow of the rising moon; flecks of golden light gifted by the departing sun. All contained in seven beautifully marked gemstones that glow and burn with ethereal light and magic. This is her serenity.
Opalite Gemstone Dice Set

Complete set of seven polyhedral dice hand-carved from luminous Opalite. Each dice is exquisitely shaped by hand, with glittering golden numbers finely engraved - not printed - into the stone itself. Due to the unique beauty of this gemstone, colour, translucency, lustre and finish will differ between each piece - no two sets will ever be alike. Truly, individually, forever your own. Opalite is a stone that seems to have unearthly glow - catching tones of moonstone blues, seagrass greens and bright ambers as it moves in the hand. Created by combining the mineral dolomite with particles of metal, each set seems to brim with magical potential.

Reasons to Love this Set

Opalite seems to glow and shimmer intensely, with a spectrum of differing colours. Catching and refracting the light, it is an exceptionally beautiful stone, associated traditionally with serenity. Translucent, with a pearl-like sheen, it is an apt choice for Paladins and Clerics, and other classes blessed by celestial light.

Key Details

- Luxury Opalite Gemstone Dice
- Includes complimentary hand crafted Leather Dice Pouch with the Motto 'Amor Fati' - Love Thy Fate - Worth £5.99 and included freely
- Seven precious polyhedral dice
- Hand-made and hand-engraved
- Recommended for use in dice trays

Director's Notes
Due to the nature of natural minerals, your unique dice may feature differences in colour, texture, and translucency to the set pictures. Importantly, your natural mineral dice are hand-crafted, not machined, and so may have faces that are slightly different in size. Engraved numbers may be off-centre, depending on seams or facets of the stone. There may be small differences in balancing between sets, due to the weight of the gemstone. We encourage you to embrace the individual beauty of natural precious stones and the age-old process of hand-crafting. Hard surfaces may damage your stones; please consider this when rolling.