Obsidian Dragon Glass Gemstone Dice Set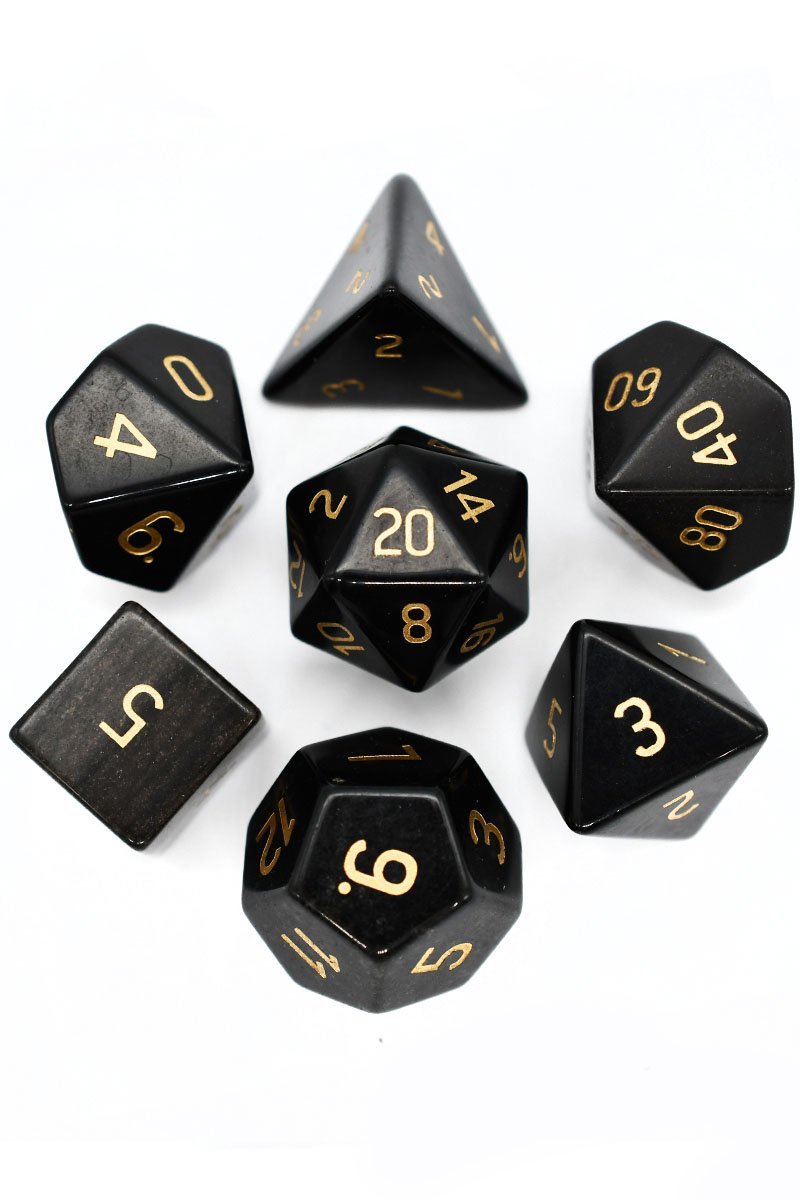 $84.00
International Customers benefit from 3-5 Day Flat-Rate International Shipping
Death is a game of chance, they say. Fate sealed inside seven gleaming objects as black as night, with an energy that pulses and skitters as the dice tumble across the table top. The darkness seduces you with promises of immortality, and the power to wield it – a way to win the game once and for all. You feel yourself falling, your face plunged into the scrying bowl. Claw-like hands grasp at your hair and your clothes; lost souls clinging to the radiance of life. You can give them a second chance. The dice come to a halt, glowing in the candlelight. The dark energy transforms into something more, something powerful.
Your eyes flicker across the table. You know what needs to be done.
Obsidian Gemstone Dice Set
Complete set of seven polyhedral dice hand-carved from precious Obsidian. Each dice is exquisitely shaped by hand, with glittering golden numbers finely engraved - not printed - into the stone itself.
Due to the unique natural beauty of this gemstone, colour, translucency, lustre and finish will differ between each piece - no two sets will ever be alike. Truly, individually, forever your own. Purest black, each mineraloid die is hand-shaped from volcanic felsic lava, which has cooled rapidly to form Obsidian. Remarkably dark, beautiful and powerful, each light-drinking stone has a glass-like finish.
Reasons to Love This Set
Obsidian was used by the ancients to make deadly arrowheads and swords. It is a gemstone said to bring truth to one's life. Forged in the fires of the earth, obsidian is a gemstone for those that know that without darkness, there can be no light. It is also known as Dragon Glass in Game of Thrones. 
Key Details

- Luxury Obsidian Gemstone Dice
- Includes complimentary hand crafted Leather Dice Pouch with the Motto 'Amor Fati' - Love Thy Fate - Worth £5.99 and included freely
- Seven precious polyhedral dice
- Hand-made and hand-engraved
- Recommended for use in dice trays
Director's Notes Regarding Gemstone Dice
Please Note - We use real minerals to create our dice. Striations, patterns, and differences in the mineral are natural and to be expected. Due to the nature of natural minerals, your unique dice may feature differences in colour, texture, and translucency to the set pictures. Importantly, your natural mineral dice are hand-crafted, not machined, and so may have faces that are slightly different in size. Engraved numbers may be off-centre, depending on seams or facets of the stone. There may be small differences in balancing between sets, due to the weight of the gemstone. We encourage you to embrace the individual beauty of natural precious stones and the age-old process of hand-crafting. Hard surfaces may damage your stones; please consider this when rolling.