Noble Traveller - Polished Titanium Mechanical Dice Pencil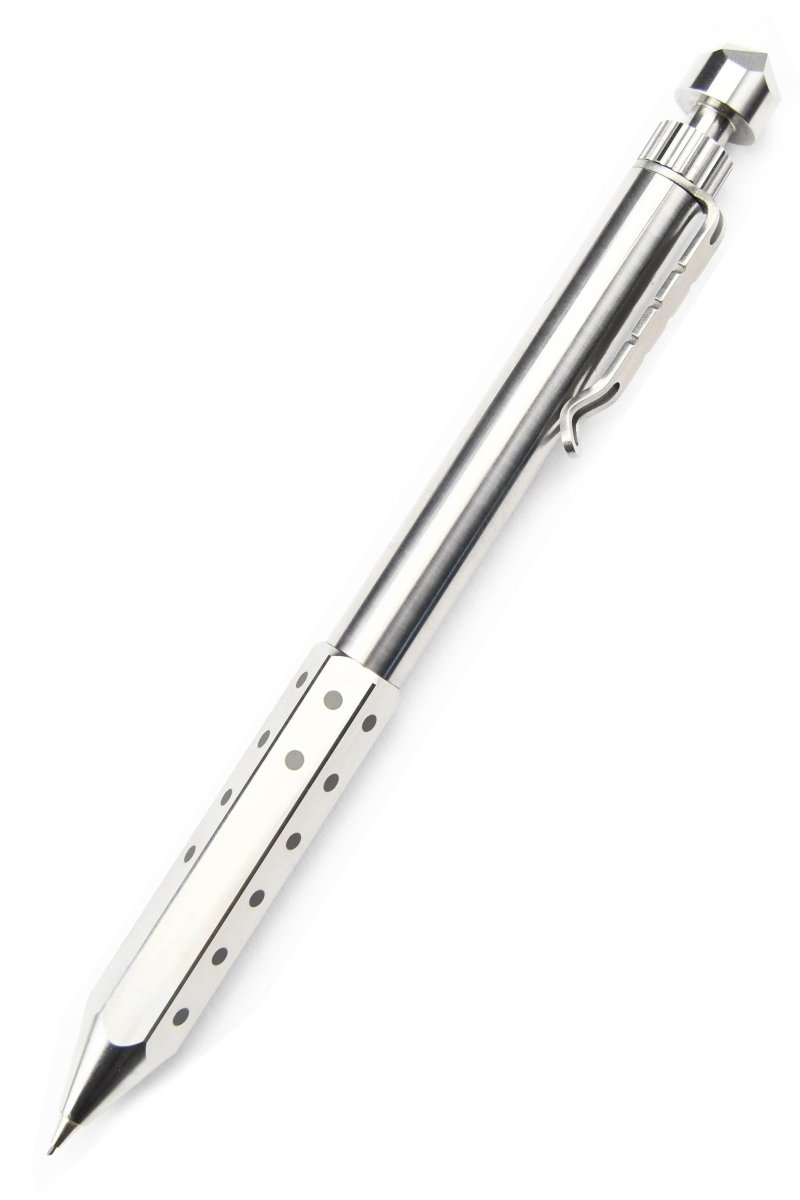 $78.00
International Customers benefit from 3-5 Day Flat-Rate International Shipping
The Only Mechanical Dice Pencil in the Entire World.
Enhance your gaming experience with an accessory designed to last a lifetime - in premium brushed Aluminium or precious, solid Titanium. No more novelty - Choose uncompromising standards of excellence in your writing instruments, from our trusted family business.

Our master designers have been inspired by the world of tabletop gaming and the rapidity of gameplay. Free your note taking. Focus on your worlds, whilst the smooth propelling pencil flows across the page without interruption. With a robust, detachable pure Titanium clip on each model, roll this distinctive propelling pencil and it functions as a dice, with pips subtly and permanently engraved on the body of the grip. Roll a D6? Instantaneous result.
Designed in England by Gametee's Master Product Designers
Featuring German Schmidt Technology® Propelling Pencil Mechanism
Premium Polished Commercially Pure Norwegian Titanium
Solid Titanium Detachable Clip
The Perfect Gift for the Beloved Gamer in Your Life.
Detach the Solid Titanium Clip and your Mechanical Pencil becomes a useful six-sided dice. Grade One commercially pure Titanium has been used to create the robust and highly durable detachable clip. First impressions matter, and polished Titanium shines beautifully whilst offering the ultimate performance and resilience of the metal.
The Noble Traveller - Polished Titanium - To Unpathed Roads and Undreamed Shores.

Created from a single rod of Norwegian titanium, this unbreakably strong Mechanical pencil offers seamless, corrosion-free construction. Each pencil is precisely balanced for excellent grip and overall control, allowing masterful finesse in writing and drawing. The high-grade titanium in our pencils is non-toxic, 45% lighter than stainless steel and virtually indestructible - titanium is used prolifically in military aerospace construction. Carry it on all of your travels.
Compatible with all 0.5mm lead refills.
Polished Titanium throughout
Pips are engraved, not printed, for permanence
Solid Titanium Clip
Roll it as a Dice
Mechanical Propellor based on D20 Shape
Featuring German Schmidt Technology® Propelling Pencil Mechanism
The Only Mechanical Dice Pencil in the World
Ergonomic grip and perfectly balanced for a superior writing/sketching experience