Nautical - Printables Collection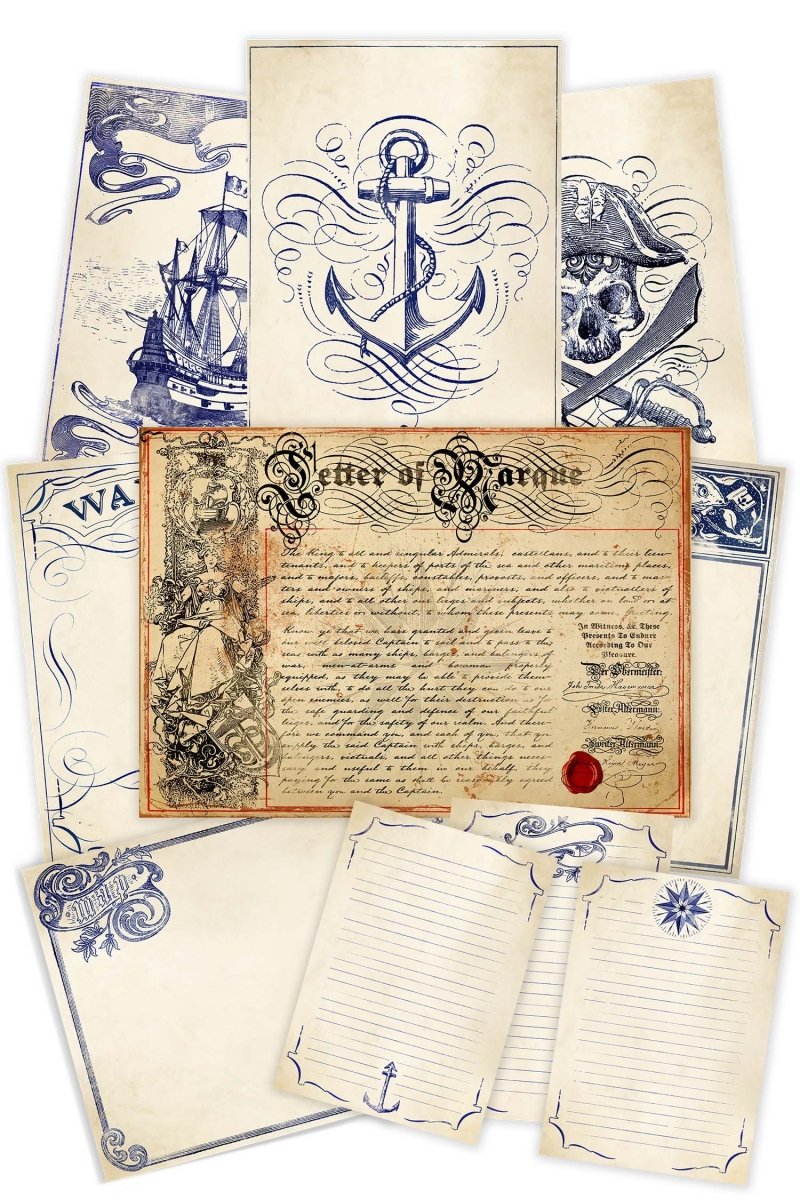 $2.00
International Customers benefit from 3-5 Day Flat-Rate International Shipping
DIGITAL PRINTABLE - Not a Physical Item. Instant Delivery.
Ahoy, shipmates! Take to the high seas! Recreate wanted posters and notices, decorate your Captain's cabin with sea-faring flair, or gain your Letter of Marque, with our beautiful selection of Nautical inspired printables. Featuring flourished artwork and compelling resources, these pieces are a worthy addition to any Ship of the Line.
Inspired by the sea-faring world, prepare props, accessories, notes and interesting pages to enrich your gaming and enhance your storytelling. Delve into the lore of pirates with a lavishly penned printable Letter of Marque - issued by royalty to piratical crews - and prepare posters and notices that would not look out of place in any sea-chest or Admiralty Offices!
Create notices, diaries, letters, useful lists and more, with beautifully hand-crafted artwork and historical resources to springboard your creativity. Decorate your Notebook, perhaps, or your refillable notebooks, and print unlimited copies of each resource to use in your crafts and gaming.
Pack Contents - Nautical Collection
- 10 Digital Printable Nautical themed Files of the Following:
- One Letter of Marque
- One Calligraphic Map Base
- Three Lined Paper sheets
- One Wanted Notice
- One Galleon Illustration
- One Pirate Skull Illustration
- One Anchor illustration
- One Fish-Bordered Letter Paper
Instant Delivery

- You will receive one Zip File containing High Resolution PDFs of all of the images detailed above. Scaled to A5 (14.8cm x 21cm) They can be adjusted to fit your requirements.
- All Digital Printables in your order will be delivered instantly. Physical goods in your order will be processed separately and be subject to normal delivery times.

How to Use Our Gaming Printables
For Printing
- Unzip Zip File using WinZip or similar
- Open PDF - All files are supplied as high resolution A5 14.8cm x 21cm dimensions, but can be scaled appropriately to your needs.
- Use Printer Settings before Printing to ensure that relevant paper size is selected.
- Ensure Paper Size is set to 100%, or Actual Size. Do not scale to fit to the page.
- Print on paper of your choice. We recommend a quality cardstock in a quality printer for the best results.
- Please be aware that due to differences in different monitor calibrations and printer outputs, colours may differ slightly when printing.

Digitally
- Simply open the PDF and use however you wish, as an on-the-go resource or an editable base for use in your favourite editing software.
Please ensure you are aware that this item is a digital file. You will receive no physical product. You will receive an immediate delivery to your email address.
Due to the nature of the file sales are final and therefore no refunds/cancellations can be offered.
By buying this item you confirm that you understand that this is not a physical product.

This Printables package is for Personal use only and may not be resold or redistributed in any way. Commercial reuse is strictly prohibited.

© Gametee Ltd