Merchant's Misfortune- 5e Module Digital Adventure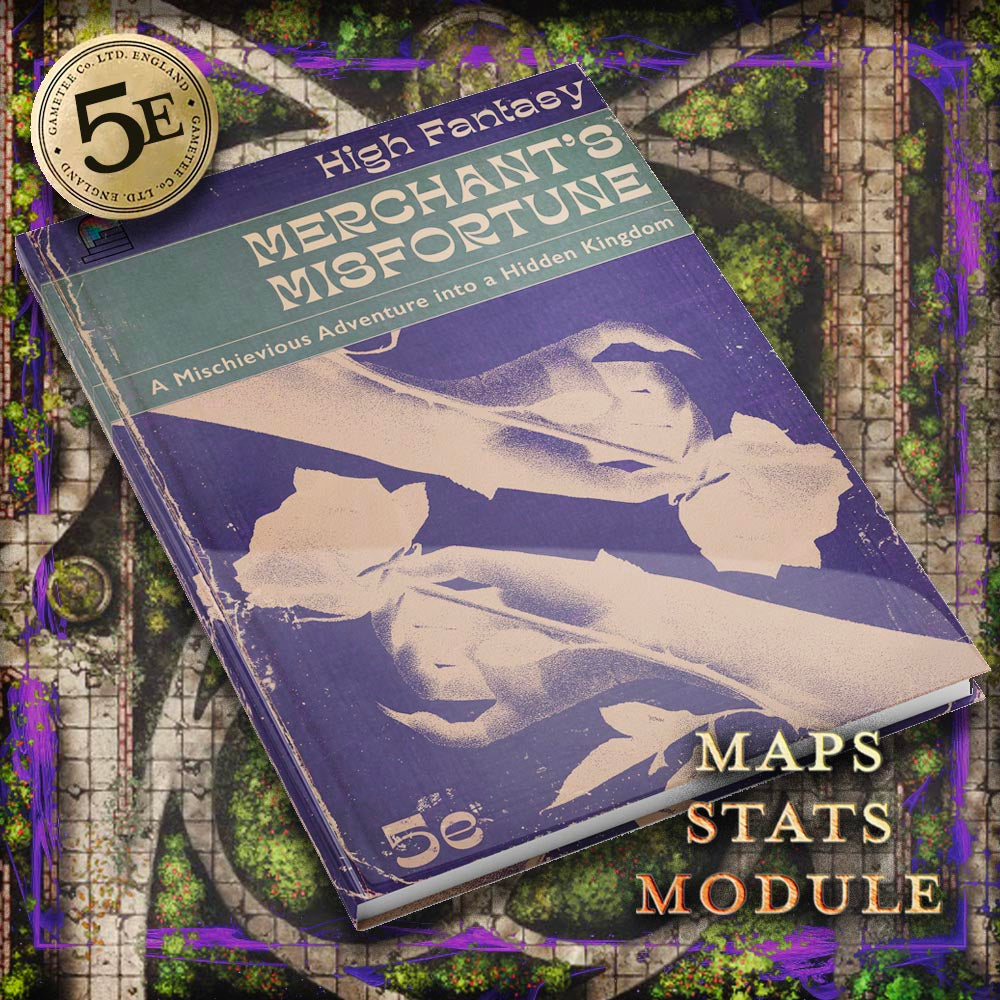 $6.00 $11.00
International Customers benefit from 3-5 Day Flat-Rate International Shipping
Merchant's Misfortune - 5e Module Adventure - Not a Physical Item. Instant Delivery.
Maps presented at 4k resolution.
In the heart of a rugged mountain pass, your adventurer stumbles upon a beleaguered merchant besieged by a ruthless band of marauding bandits. Swiftly rallying to the merchant's defense, the party thwarts the assailants and turns the tide of peril.
With the threat abated, the merchant reveals a shadow that hangs heavy over her existence - a curse woven from a stolen relic, an amulet of potent enchantment that once belonged to the great witch - Rose. A tale unfolds, painting a grim canvas of misfortune woven by the cursed artifact. To sever this malevolent thread of fate, the amulet must be returned to its origin.
Entwined with the merchant's fate, the party embarks on a quest of profound consequence. Through the veiled glades of Faewhisper Forest they tread, where the boundary between the mundane and the mystical is thin and fraught. Amidst this enigmatic realm, they encounter capricious fae, whose tests of wit and heart challenge the very fabric of reality.
Yet, the Faewhisper Forest holds more than whimsy; it conceals dark corners inhabited by those who thrive in shadow. Deals with the enigmatic and unscrupulous creatures become a necessity, as the path toward the removing the amulet's curse winds on. At every juncture, fate seems poised to cast its dice, the roll of which could herald fortune or calamity.
As the party presses forward, adversity mounts, and each step tests their resolve. Unlucky twists of fate challenge their mettle, casting doubt upon their purpose. Amidst the luminous fae and the labyrinthine shadows, alliances are formed, bonds are tested, and the true measure of your heroes is unveiled.
Recommended for an average party level of 1- 3.
Pack Contents
- 36 Page Multipage .PDF Booklet suitable for Printing, if you so wish.
- 4K Resolution Digital Maps, including;
4K Resolution XL Maps;
Ambush Valley (Plain and

 

Gridded), Garden Dungeon (Plain and

 

Gridded) and Roses Garden


4K Resolution Mandrake Cottage - 2- Level Digital Map (Plain and Gridded)


4K Resolution Faewhisper Forest - 2- Part Digital Map (Plain and Gridded)


4K Resolution

Faewhisper Forest - 2- Part Animated Map (4096x3072px Animated MP4)



Note: You can add Digital Products and Physical items to your Cart at the same time! No need for different transactions. The Digital Products will be fulfilled instantly after check-out. The rest of your order will be subject to the normal delivery times.


How to Use Our Gaming Maps & Printables
Digitally
- Simply unzip the containing Zip Folder and use however you wish, as an on-the-go resource or an editable base for use in your favourite editing software. Share with friends for online play or use in conjunction with websites such as Roll20.
For Printing
- Unzip Zip File using WinZip or similar
- Open JPG
- Use Printer Settings before Printing to ensure that relevant paper size is selected.
- Ensure Paper Size is set to 100%, or Actual Size. Do not scale to fit to the page.
- Print on paper of your choice. We recommend a quality cardstock in a quality printer for the best results
- Please be aware that due to differences in different monitor calibrations and printer outputs, colours may differ slightly when printing.
Please ensure you are aware that this item is a digital file. You will receive no physical product. You will receive an immediate delivery to your email address.
Due to the nature of the file sales are final and therefore no refunds/cancellations can be offered.
By buying this item you confirm that you understand that this is not a physical product.

This Adventure Pack is for Personal use only and may not be resold or redistributed in any way. Commercial reuse is strictly prohibited.

© Gametee Ltd