Malachite Gemstone Dice Set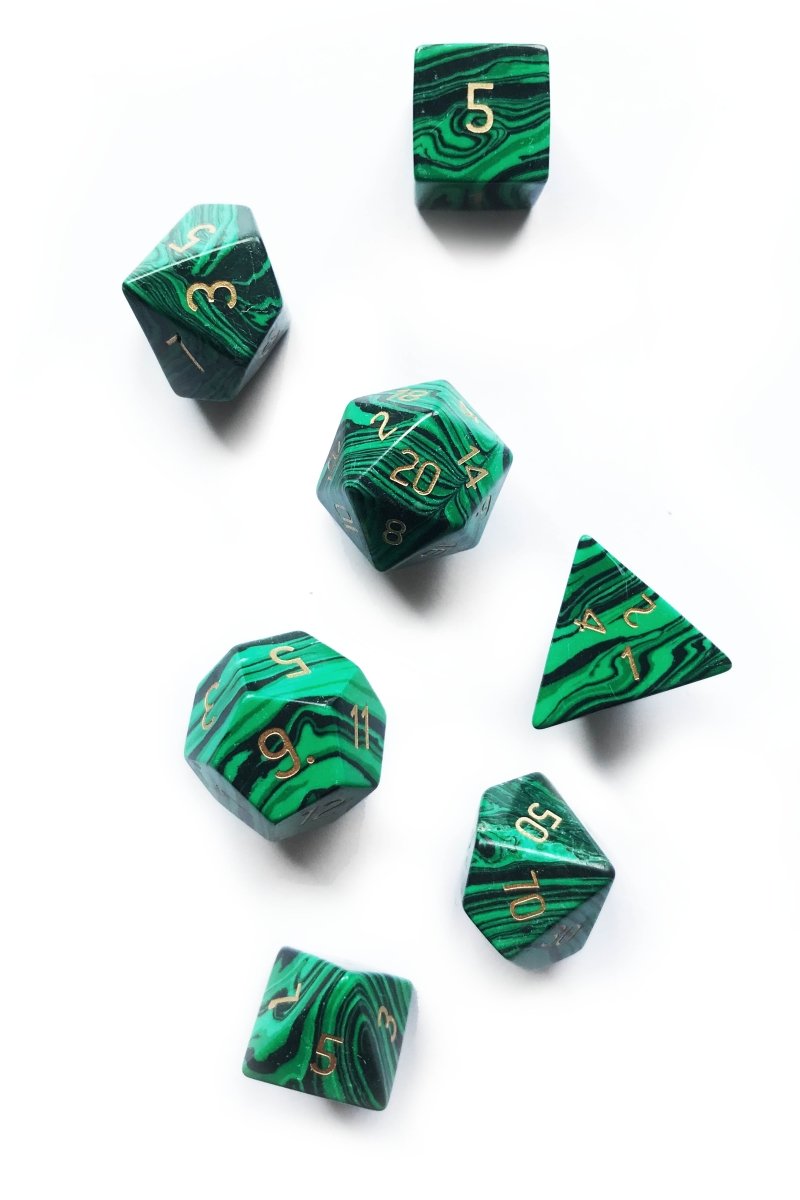 $85.00
International Customers benefit from 3-5 Day Flat-Rate International Shipping
Cast your eyes away from the creature emerging from the deep, sending green-tinged waves fleeing to the shore in a frantic crash. Resist the temptation to gaze upon his mighty form, greater than anything you have ever witnessed. Do so and your mind will at once be imprisoned in his claw-like grasp, never to be released again. Do not behold his gargantuan head, with eyes as red as embers, and the mass of curling tentacles protruding from every inch of his terrible face, and when his immense gargoyle wings uncoil and block out the withering light of the moon, any sane creature must run.
But you, brave adventurer, do not. Instead you scatter the dice in your hand across the pitch-black sand… and you make your choice.
Malachite Gemstone Dice Set
Complete set of seven polyhedral dice hand-carved from mesmerising Malachite. Each dice is exquisitely shaped by hand, with glittering golden numbers finely engraved - not printed - into the stone itself. Due to the unique natural beauty of this gemstone, colour, translucency, lustre and finish will differ between each piece - no two sets will ever be alike. Truly, individually, forever your own.
Reasons to Love This Set
Each malachite dice hosts dozens of swirling, eye-like patterns and striation - bands of colour that range from deepest green, to hypnotic black. Mined by humans for over 4000 years, the ancient Egyptians associated this strange stone with the afterlife, which contained a paradise they called the 'Field of Malachite.' Treasured by the Imperial Russian Tsars, the green mineral forms the central decorative features of the Malachite Room of the Winter Palace in St. Petersburg.
Key Details

- Luxury Malachite Gemstone Dice
- Includes complimentary hand crafted Leather Dice Pouch with the Motto 'Amor Fati' - Love Thy Fate - Worth £5.99 and included freely
- Seven precious polyhedral dice
- Hand-made and hand-engraved
- Recommended for use in dice trays
Director's Notes Regarding Gemstone Dice
Please Note - We use real gemstones to create our dice. Striations, patterns, and differences in the mineral are natural and to be expected. Due to the nature of natural minerals, your unique dice may feature differences in colour, texture, and translucency to the set pictures. Importantly, your natural mineral dice are hand-crafted, not machined, and so may have faces that are slightly different in size. Engraved numbers may be off-centre, depending on seams or facets of the stone. There may be small differences in balancing between sets, due to the weight of the gemstone. We encourage you to embrace the individual beauty of natural precious stones and the age-old process of hand-crafting. Hard surfaces may damage your stones; please consider this when rolling.