Lucky Socks - Dice Stacks Socks with Matching Dice Set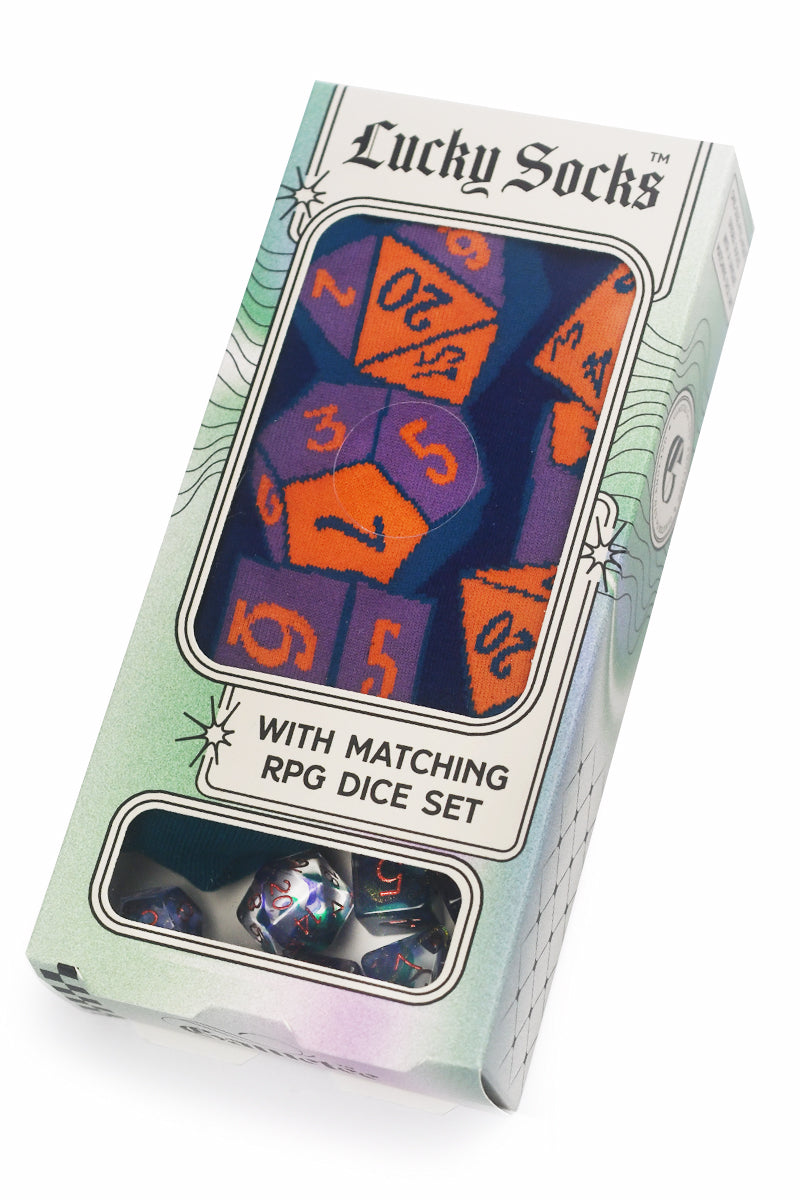 $25.00
International Customers benefit from 3-5 Day Flat-Rate International Shipping
Lucky Socks ™️ - Dice Stacks Socks with Matching Dice Set
Live your fan-toe-sy!

These socks feature vibrant, eye-catching stacks of polyhedral dice in vibrant colours. These dice are depicted as if they are neatly piled on top of one another, creating a sense of balance and order in the midst of their dazzling colours. The dice designs are detailed, showcasing the distinctive facets and numbering that make each polyhedral die unique! Even better? The polyhedral dice set included matches your Lucky Socks™️ perfectly! These socks look outstanding with a pair of Oxfords.
Indulge in ultimate comfort with our premium cotton socks. Crafted to meet the impeccable standards of renowned brands like Happy Socks, these luxurious socks boast a sumptuously thick texture, reinforced toe and heel, and extra length for unmatched cosiness.

Our designs are intricately woven into the fabric, ensuring long-lasting vibrancy that won't fade or peel like printed patterns. These socks are crafted from a blend of 80% combed cotton, 15% polyamide, and 5% elastane, guaranteeing both flexibility and durability for long-lasting wear.
Perfect for the discerning gamer in your life, each Lucky Socks box also includes a matching 7-piece polyhedral dice set. They're not just socks - they're your Lucky Socks!™️
Key Details
- One Size Fits Most
- Unisex
- Luxury 80% Combed Cotton, 15% Polyamide, 5% Elastane
- Includes matching polyhedral dice set

- Elegantly boxed
- Amazing gift for Tabletop Gamers

Size Information UK 5 - 11 / USA 6 - 11.5 / Euro 38 - 45