Lapis Lazuli Gemstone Dice Set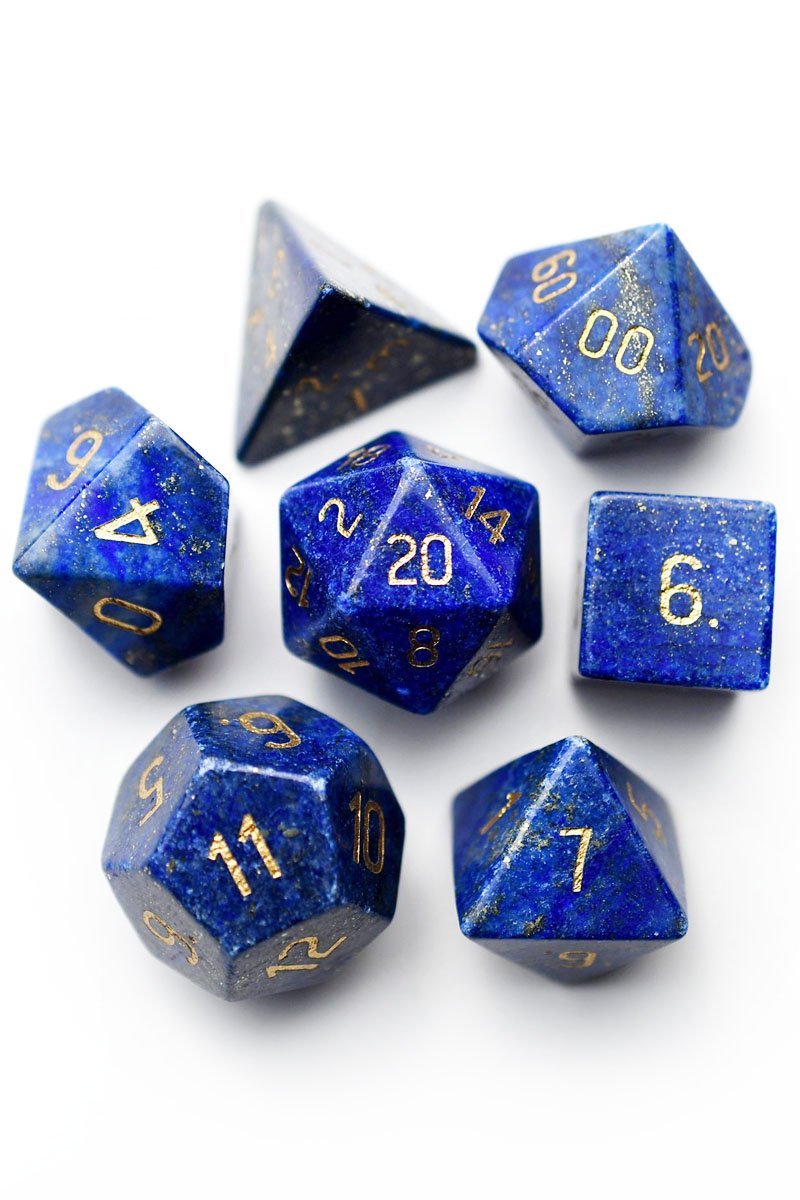 Sold Out
International Customers benefit from 3-5 Day Flat-Rate International Shipping
As darkness threatens to steal the sun from the sky and the waves begin to grow restless, a single light remains, pouring from the lighthouse in a spellbinding flurry that sets the sea alight so that is shimmers like lapis lazuli. Behind the cold, salt-worn walls, in a room lined with books is where you reside, hunched over ancient texts and scrolls that you ache to uncover, your mind as restive as the sea. One hand clutches seven small objects, their pointed edges pressing into your palm as you close your fingers around them, dashing them across the open pages of your books.
You stare at the celestial blue stones, their golden engravings glowing in the candlelight. Finally, you understand.
Lapis Lazuli Gemstone Dice Set
Complete set of seven polyhedral dice hand-carved from intensely coloured natural Lapis Lazuli. Each dice is exquisitely shaped by hand, with glittering golden numbers finely engraved - not printed - into the stone itself. Due to the unique natural beauty of this gemstone, colour, translucency, lustre and finish will differ between each piece - no two sets will ever be alike. Truly, individually, forever your own.
Reasons to Love This Set
Where does one begin, with Lapis Lazuli? A stone so ancient and so entwined with human destiny, that in many languages, its name forms the root of the very word for blue - Azul. Known to humanity for at least 6000 years, the gemstone was used as jewellery in ancient Mesopotamia, and decoated the funeral mask of Tutankhanum. It was ground for pigment known as ultramarine to paint some of the most famous pieces of artwork of all time - such as the heavenly blues of the Sistine Chapel. In the Renaissance, Lapis Lazuli was more expensive than gold - and to commission a work that specified its use as a pigment was a symbol of status and power.

Formed by cataclysmic earth events 60 million years ago, we have chosen to present our Lapis Lazuli dice unpolished. The raw finish is textured, rough-hewn, and each die is heavy as only pure stone can be.  This set looks as if it is already a thousand years old, and might last several thousand years to come...
Due to the nature of this Gemstone, the dice have some rougher edges and natural uneven surfaces - these add to the beauty of each individual die and should not be seen as flaws.
Key Details

- Luxury Lapis Lazuli Gemstone Dice
- Includes complimentary hand crafted Leather Dice Pouch with the Motto 'Amor Fati' - Love Thy Fate - Worth £5.99 and included freely
- Heavy, raw cut unpolished minerals
- Seven precious polyhedral dice
- Hand-made and hand-engraved
- Recommended for use in dice trays
Director's Notes Regarding Gemstone Dice
Please Note - We use real gemstones to create our dice. Striations, patterns, and differences in the mineral are natural and to be expected. Due to the nature of natural minerals, your unique dice may feature differences in colour, texture, and translucency to the set pictures. Importantly, your natural mineral dice are hand-crafted, not machined, and so may have faces that are slightly different in size. Engraved numbers may be off-centre, depending on seams or facets of the stone. There may be small differences in balancing between sets, due to the weight of the gemstone. We encourage you to embrace the individual beauty of natural precious stones and the age-old process of hand-crafting. Hard surfaces may damage your stones; please consider this when rolling.