Into The Labyrinth- 5e Mini-Module Digital Adventure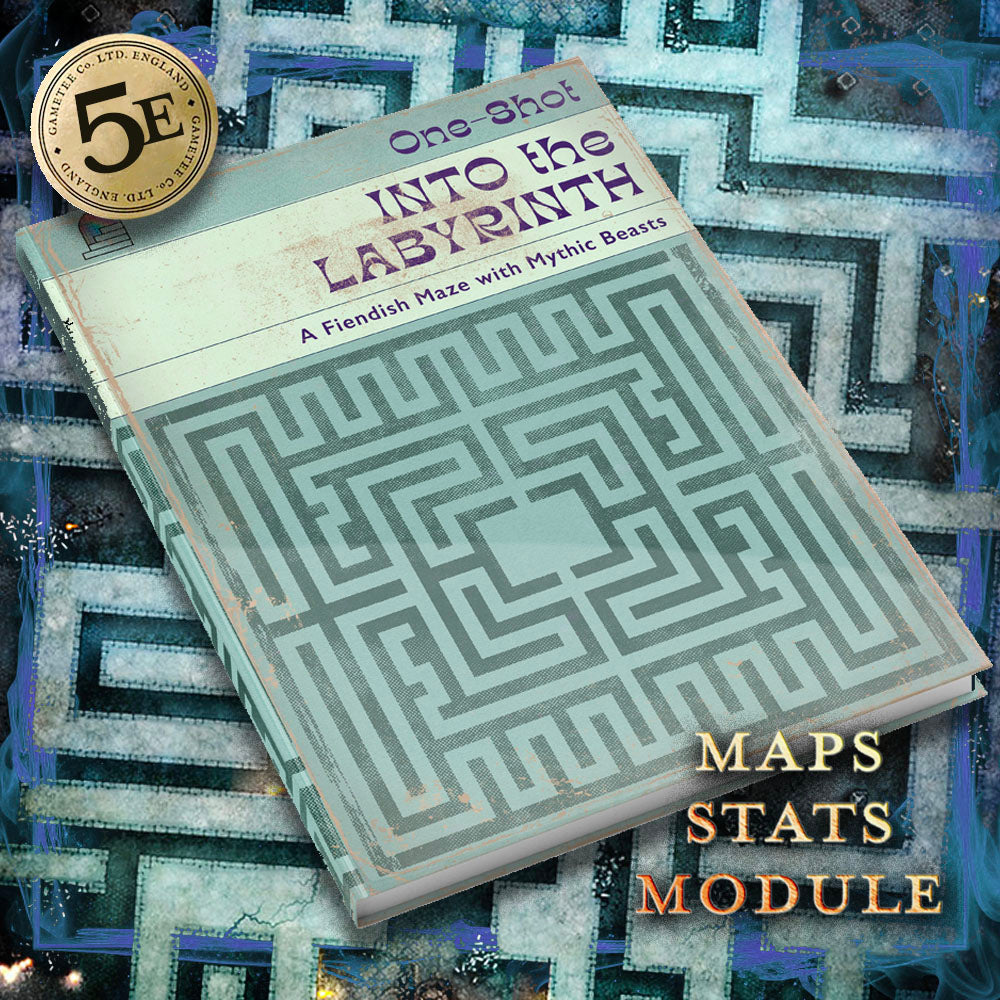 $3.00 $6.00
International Customers benefit from 3-5 Day Flat-Rate International Shipping
Into The Labyrinth - 5e Mini-Module Adventure - Not a Physical Item. Instant Delivery.
Maps presented at 4k resolution.
Unravel the labyrinth's riddles, tread the path illuminated by the endeavours of lost adventurers, and bring to light the fate that befell a lost archaelogist and his companions. 

The great archaeologist Thayer Halwell has a passion for the past. This particular interest often sends him delving deep into the bleakest dungeons. Ordinarily his hired hands have been able to protect him in his work. But they've been gone nearly two weeks now and the local townsfolk are growing concerned. Your adventurers seem a capable bunch, and they have nobody else to turn to. Last they heard, he was heading to The Labyrinth of Aestus, a forgotten citadel on the Isle Gorganna...
Recommended for an average party level of 5.
Pack Contents
- 20 Page Multipage .PDF Booklet suitable for Printing, if you so wish.
-  4K Resolution Labyrinth XL Digital Map
- 4K Resolution Labyrinth XL Digital Map (36x27 Gridded)
Note: You can add Digital Products and Physical items to your Cart at the same time! No need for different transactions. The Digital Products will be fulfilled instantly after check-out. The rest of your order will be subject to the normal delivery times.


How to Use Our Gaming Maps & Printables
Digitally
- Simply unzip the containing Zip Folder and use however you wish, as an on-the-go resource or an editable base for use in your favourite editing software. Share with friends for online play or use in conjunction with websites such as Roll20.
For Printing
- Unzip Zip File using WinZip or similar
- Open JPG
- Use Printer Settings before Printing to ensure that relevant paper size is selected.
- Ensure Paper Size is set to 100%, or Actual Size. Do not scale to fit to the page.
- Print on paper of your choice. We recommend a quality cardstock in a quality printer for the best results
- Please be aware that due to differences in different monitor calibrations and printer outputs, colours may differ slightly when printing.
Please ensure you are aware that this item is a digital file. You will receive no physical product. You will receive an immediate delivery to your email address.
Due to the nature of the file sales are final and therefore no refunds/cancellations can be offered.
By buying this item you confirm that you understand that this is not a physical product.

This Adventure Pack is for Personal use only and may not be resold or redistributed in any way. Commercial reuse is strictly prohibited.

© Gametee Ltd