Indian Agate Gemstone Dice Set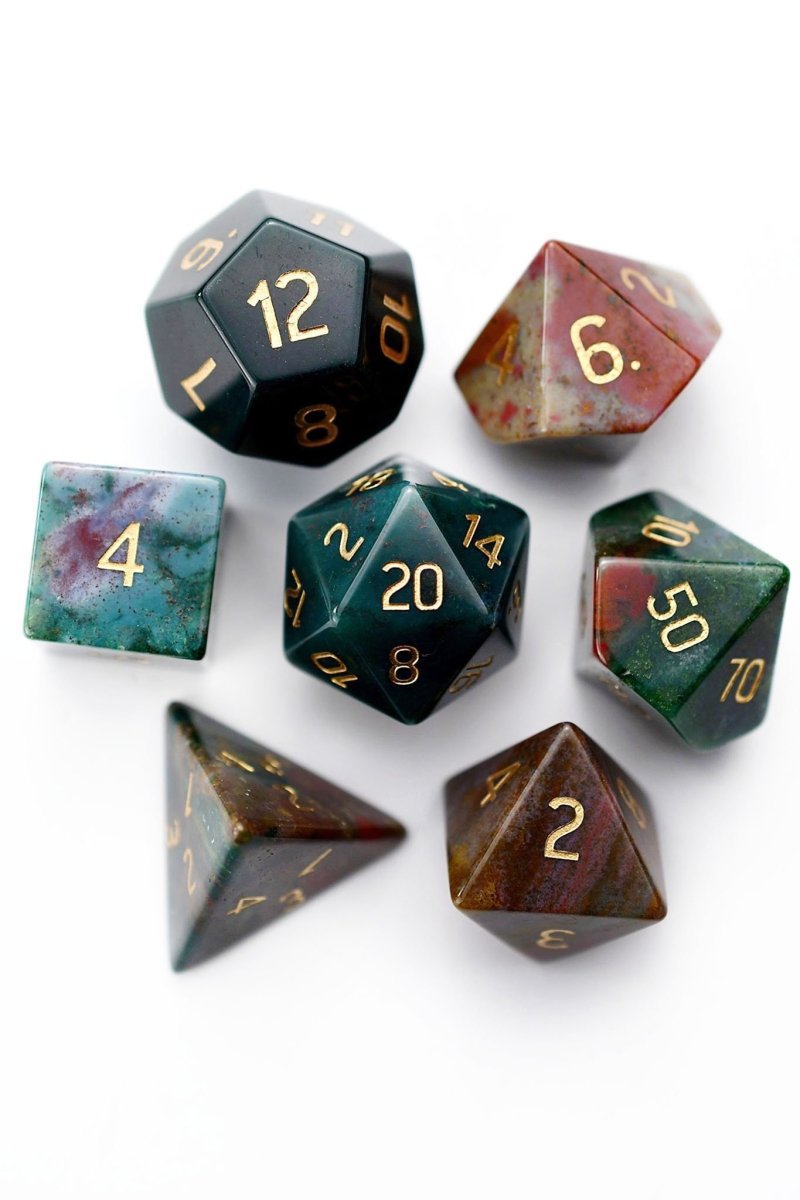 $85.00
International Customers benefit from 3-5 Day Flat-Rate International Shipping
INDIAN AGATE

Director's Choice - Our Favourites, Curated Personally.

Complete set of seven polyhedral dice hand-carved from remarkably varied Indian Agate - Multi-Coloured Jasper.

Characterised by the true uniqueness of every set, marbled, striped, banded and swirled with veins of earthy hues, Indian Agate is a variety of Jasper, each a unique small masterpiece of colour and form. The primal colours suggest the deep green of night-time forests, the red of canyons and sands, even the blue of a starlit firmament.
Each dice is exquisitely shaped by hand, with glittering golden numbers finely engraved - not printed - into the stone itself. Due to the unique beauty of this gemstone, colour, translucency, lustre and finish will differ between each piece - no two sets will ever be alike. Truly, individually, forever your own.

Reasons to Love this Set

Indian Agate is for those that wish to be delighted by variance and natural difference. Whilst no two sets of gemstone dice can be said to be truly alike, it is Indian Agate that dramatically surprises and inspires with its variety of colours. Gold, tan, ivory, brick red and green, are all present, and may be so in any of your dice. The wonderful contrasts of banding mean that you will receive a set which will be truly unrepeatable. Be bold; allow yourself to be surprised and astonished by this stone.

Historically, Indian Agate was worn by both shamans and kings, and considered a stone of power and protection, useful in the creation of talismans.

Key Details
- Luxury Indian Agate Gemstone Dice
- Includes complimentary hand crafted Leather Dice Pouch with the Motto 'Amor Fati' - Love Thy Fate - Worth £5.99 and included freely
- Seven precious polyhedral dice
- Hand-made and hand-engraved
- Recommended for use in dice trays

Director's Notes
Due to the nature of natural minerals, your unique dice may feature differences in colour, texture, and translucency to the set pictures. Importantly, your natural mineral dice are hand-crafted, not machined, and so may have faces that are slightly different in size. Engraved numbers may be off-centre, depending on seams or facets of the stone. There may be small differences in balancing between sets, due to the weight of the gemstone. We encourage you to embrace the individual beauty of natural precious stones and the age-old process of hand-crafting. Hard surfaces may damage your stones; please consider this when rolling.