Haematite Gemstone Dice Set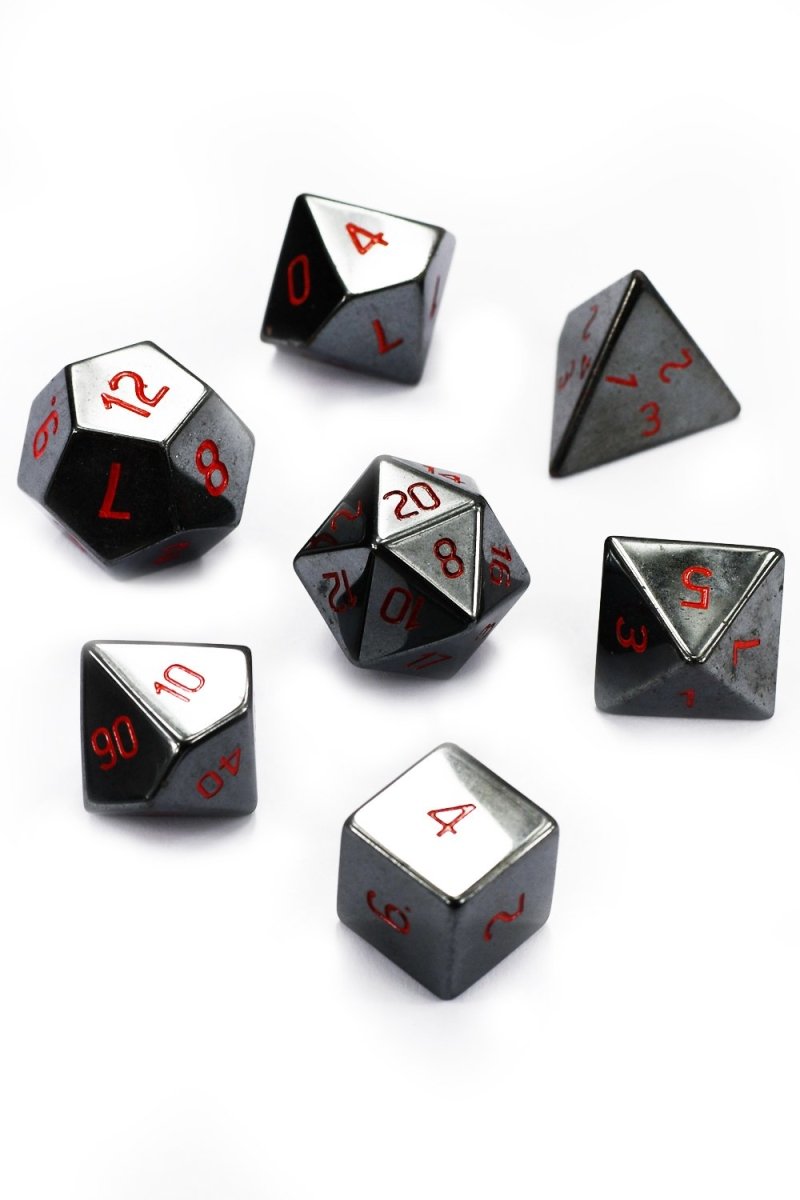 $84.00
International Customers benefit from 3-5 Day Flat-Rate International Shipping
The halfling had the luck of a demon, or so it was said in gambling halls all across the realm. None knew who had forged those chance stones of theirs. Numerous inspections had found them to roll fair in the hands of any other. Yet when cast from the red-eyed youth, they shone like a mirror and burned a path to victory.  The faces of the onlookers danced in the reflection; haunting shades of their true selves enthralled by the tune. And when the mysterious stranger had taken every last coin on the table, they left only hollow men in their wake, souls tucked neatly within jangling gold-lined pockets. They had not been players: they had been the game.

Haematite Gemstone Dice Set
Complete set of seven polyhedral dice hand-carved from Haematite. Each dice is exquisitely shaped by hand, with deep red numbers finely engraved - not printed - into the stone itself.
Due to the unique natural beauty of this mineral lustre and finish will differ between each piece - no two sets will ever be alike. Truly, individually, forever your own.
Reasons to Love This Set
Pure Haematite ore - its dazzling metallic lustre is brilliant in the hand. Named for Blood itself, the mineral ore when discovered naturally is deepest red and covered with iron oxide, but when polished, the Haematite takes on a deep, dark, intimidating mirror-shine.

Discovered to be the most abundant mineral on Mars, and the origin of the planet's striking red colour, Haematite has been used since ancient times for the creation of red pigment. Indeed, cave painting pictographs over 40,000 years old were created using Haematite. These mineral dice are carved from deposits over 2.4 billion years old. Feeling incredibly weighty in the hand, this beautiful, powerful ore evokes all the strength of iron and blood.
Please note, natural Haematite is non-magnetic.

Key Details

- Luxury Haematite Gemstone Dice
- Includes complimentary hand crafted Leather Dice Pouch with the Motto 'Amor Fati' - Love Thy Fate - Worth £5.99 and included freely
- Heavy polished minerals
- Seven precious polyhedral dice
- Hand-made and hand-engraved
- Recommended for use in dice trays
Director's Notes Regarding Gemstone Dice
Please Note - We use real gemstones to create our dice. Striations, patterns, and differences in the mineral are natural and to be expected. Due to the nature of natural minerals, your unique dice may feature differences in colour, texture, and translucency to the set pictures. Importantly, your natural mineral dice are hand-crafted, not machined, and so may have faces that are slightly different in size. Engraved numbers may be off-centre, depending on seams or facets of the stone. There may be small differences in balancing between sets, due to the weight of the gemstone. We encourage you to embrace the individual beauty of natural precious stones and the age-old process of hand-crafting. Hard surfaces may damage your stones; please consider this when rolling.
Narrative vignette written by Micah Rodney