Grimoire of Spells - Dark Edition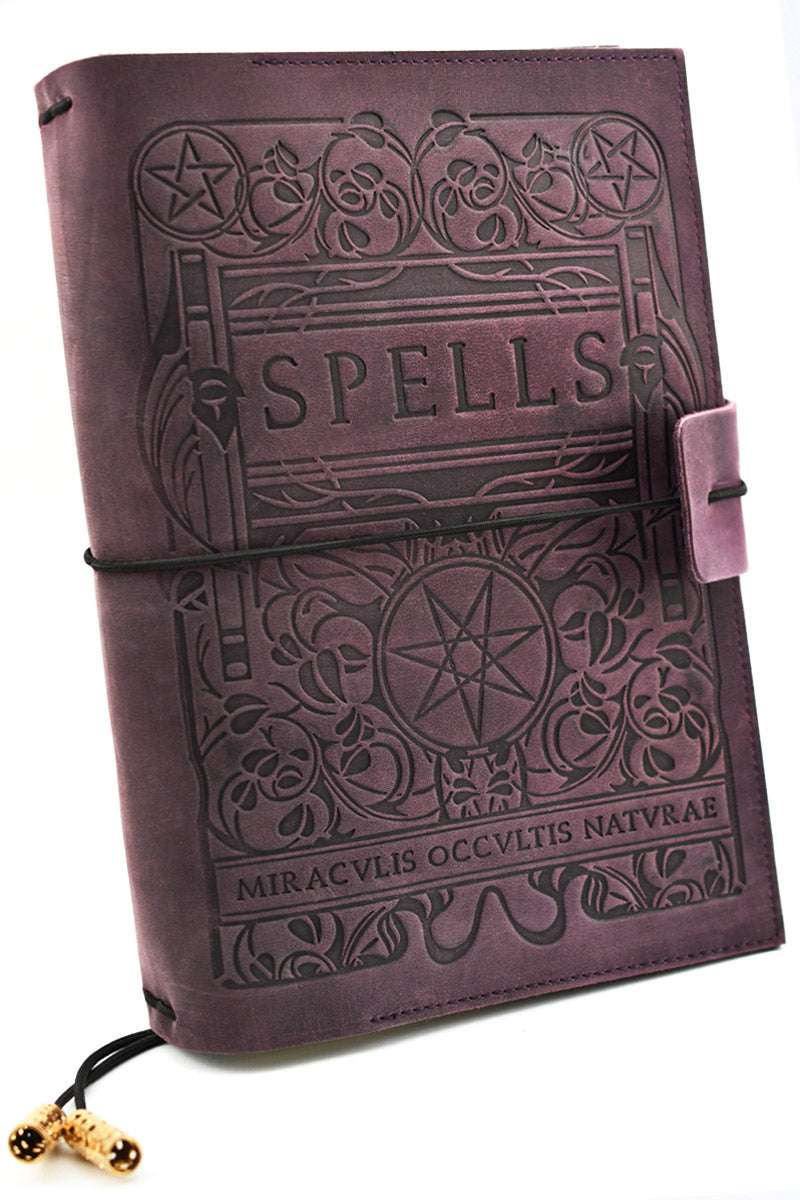 $58.00 $71.00
International Customers benefit from 3-5 Day Flat-Rate International Shipping
Masterpiece Edition. Featuring improved leather thickness and finish. 
The Grimoire of Spells - Dark Edition

Call on the mighty unseen elements of magic and alchemy. Bend time and reality to your will. Heal the living - or rule the undead. Whatever your particular school of sorcery, The Grimoire of Spells Dark Edition will be your Book of Shadows. When your every word is imbued with power you must make certain that none are forgotten. Traverse peril with a spellspeaker's ease, and use the Grimoire as a record of your mystical adventure - the strong elastic cord binding ensures that it remains sealed even when packed full of your writings and sketches.
Reasons to Cherish Your Grimoire

Treasure your gaming memories in our finest Leather Notebooks; Finely hand-crafted from a seamless piece of thick hide, and finished using an ancient method of oak bark tanning, each soft, supple notebook is masterfully embellished with a highly detailed embossing of one of our beautiful designs. Each intricate pattern is gently and permanently applied to the leather, creating raised and relieved designs that are a pleasure to run your fingers across. Created from the finest full-grain leather, retaining the characterful marks of hide, each notebook is left unpolished, ensuring it will develop a desirable rich and natural patina with age.
Key Details
Secure Heavy Duty Elastic-cord Binding
 Sumptuous High Gothic Embossed Detail on Majestic Purple Leather
Inspired by real Ancient Grimoires
 The perfect player roleplay - or real magic - accessory
Refillable Includes four internal notebooks - Lined, Squared, Plain and Craft
Featuring card holders, paper management slots, and pen straps
Intricately detailed draw string caps
Complimentary Accessories and Notebooks


Includes free gilt-embossed drawstring velvet dust bag
Contains four free Internal Notebooks - Lined, Squared, Plain and Craft (Worth £12.99)
Refillable
Each leather notebook contains four interchangeable notebooks - perfect for keeping track of multiple campaigns and characters. They are effortless to remove and replace with similar books of around 210mm x 140mm size - we recommend using our refills, or seeking out books with an optimal width of 145mm. Wider books such as A5 will fit, but may overspill a little depending on their thickness. Customise your journal to your own liking.
Specifications
Part of Gametee: Finest Leather Notebook for Gamers 2nd Edition Collection
Heavyweight 0.6kg
Full-Grain Ethically sourced Bovine Leather
155 x 220 mm / 6 x 8.5 in
Gaming Notebook