Deck of Many Destinies - For 5e DnD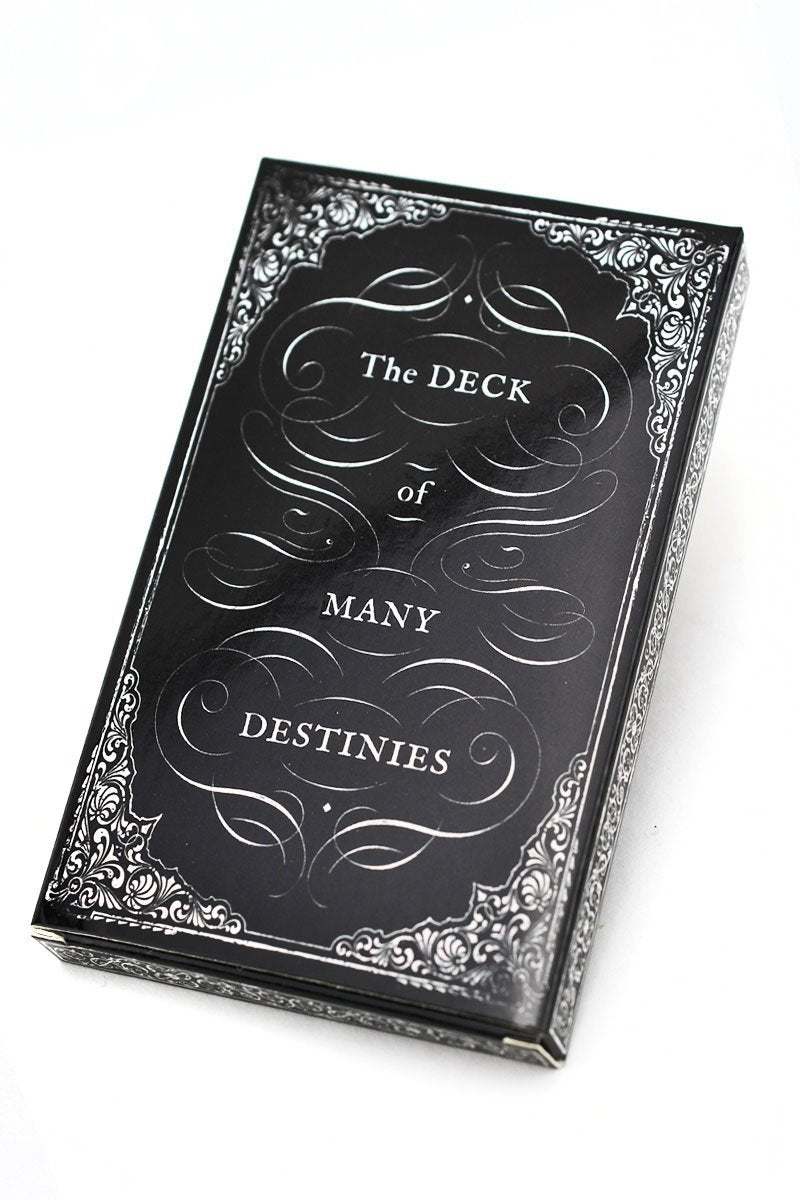 Sold Out
International Customers benefit from 3-5 Day Flat-Rate International Shipping
What began as an Art Card series loved by our many customers worldwide has been enhanced, perfected, and is now available as a full-size, Premium, Silver-Gilded Deck of 22 Exquisitely Illustrated Cards....

The Deck of Many Destinies is a beautiful object to encourage reflection, energise gameplay and create a bridge between you, your characters, and fate. It is a profoundly beautiful artistic exploration of familiar, Tarot-like archetypal concepts.  
Use as a Deck of Many Things or customise rules for each card.
Funded in Just Three Minutes on Kickstarter

Featuring penmanship and historically-inspired artwork by AJ Hateley (Master of Design in Visual Communication, Winner of the Penguin International Design Prize, Art Director of Gametee) the swirling penmanship and meticulous engraving-style illustrations are suited for any campaign or scenario. 

Whether your campaign is Dark, Light, High fantasy, Low Magic, Steampunk, Cthulhu, or Traditional Dungeoneering, this deck-artefact will slip seamlessly into the worlds of your creation to await discovery…  
Reasons to Love This Deck
Discover the Deck as a story telling device, or employ your boundless ingenuity to create random encounters or events using the artwork as inspiration. Create your own home-brewed rules for each card and surprise and delight your players with wealth and honour… Or pitch them headlong into the most pitiful lows of wretchedness and disaster!  
Key Features

- High-Shine Mirrored Silvered Edges
- Matching Lavishly Decorated Tuck Box with Gloss Lamination with Hidden Motto
- Full colour borderless printing Tactile Rounded Edges

- 22 Card Tarot Sized (70mm x 120mm) Cards 350gsm High-Quality Cardstock with Gloss Anti-Scratch, Anti-UV Lamination on Front and Rear 
 Vizier
 Sun
 Moon
 Star
 Comet
 Fates
 Throne
 Key
 Knight
Gem
Talons
Void
Flames
Skull
Idiot
Donjon
Ruin
Euryale
Rogue
Balance
Fool
Jester
- Print your free Printable Rules booklet featuring an accompanying illustration, explanation and verse for every card.