Dark Labradorite Gemstone Dice Set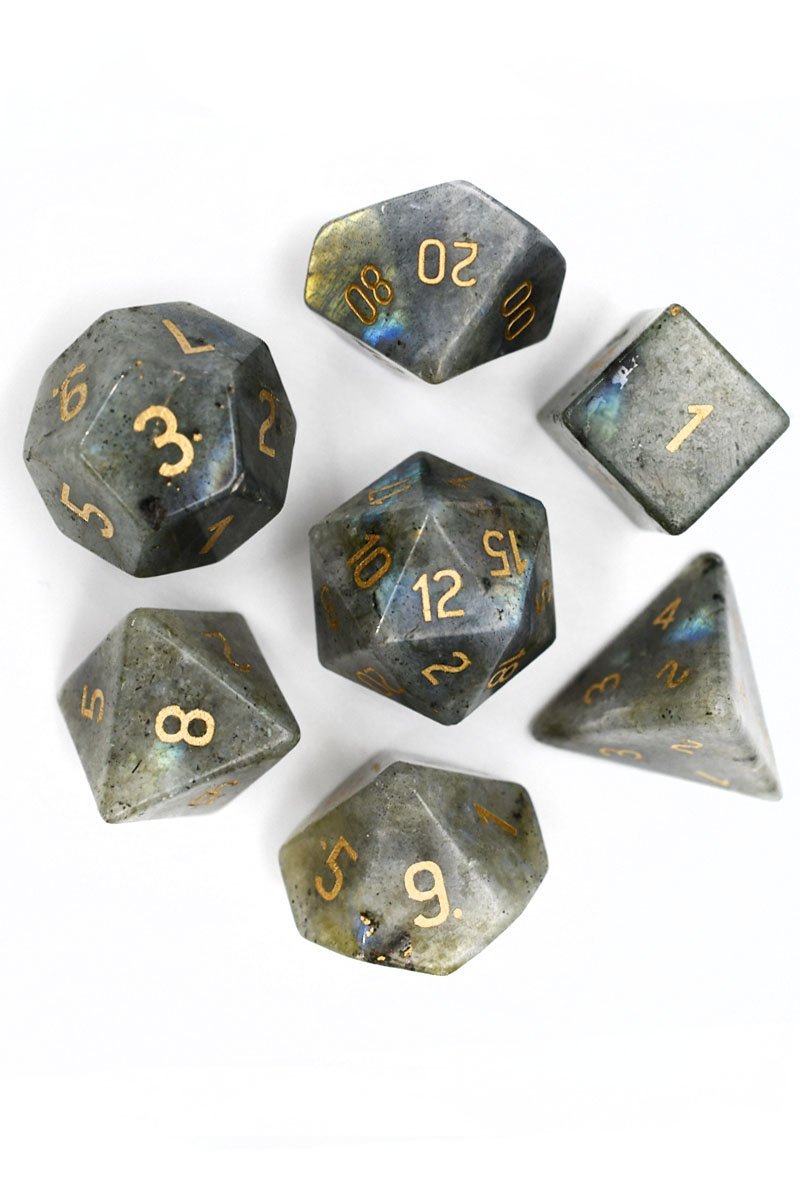 $84.00
International Customers benefit from 3-5 Day Flat-Rate International Shipping
Dark Labradorite
Complete set of seven polyhedral dice hand-carved from naturally darker Labradorite. Each dice is exquisitely shaped by hand, with glittering golden numbers finely engraved - not printed - into the stone itself. Due to the unique beauty of this gemstone, colour, translucency, lustre and finish will differ between each piece - no two sets will ever be alike. Truly, individually, forever your own.

Exhibiting a spectral play of colours, Labradorite is a feldspar that shines with adularesence - the captivating optical effect of bluish light. Inuit legends speak of the Northern Lights shining down upon this stone and being captured within its surface. This phenomenon is quite common in darker Labradorite and you may expect a few facets and spots of this effect in your set. The gemstone also shimmers with another phenomenon - aventurescence, a moonlight-like diffraction of light beneath the surface of the stone.

Reasons to Love this Set

You will appreciate the pearly white moonlight glow of Labradorite, coupled with the rare, beautiful, occasional iridescence that elevates this stone to an almost mystical material with a sheen of magical potential.

Key Details

- Includes complimentary hand crafted Leather Dice Pouch with the Motto 'Amor Fati' - Love Thy Fate - Worth £5.99 and included freely

- Luxury Dark Labradorite Gemstone Dice
- Seven precious polyhedral dice
- Hand-made and hand-engraved
- Recommended for use in dice trays

Director's Notes
Due to the nature of natural minerals, your unique dice may feature differences in colour, texture, and translucency to the set pictures. Importantly, your natural mineral dice are hand-crafted, not machined, and so may have faces that are slightly different in size. Engraved numbers may be off-centre, depending on seams or facets of the stone. There may be small differences in balancing between sets, due to the weight of the gemstone. We encourage you to embrace the individual beauty of natural precious stones and the age-old process of hand-crafting. Hard surfaces may damage your stones; please consider this when rolling.