Coins of Wonder - Digital Print and Play Rules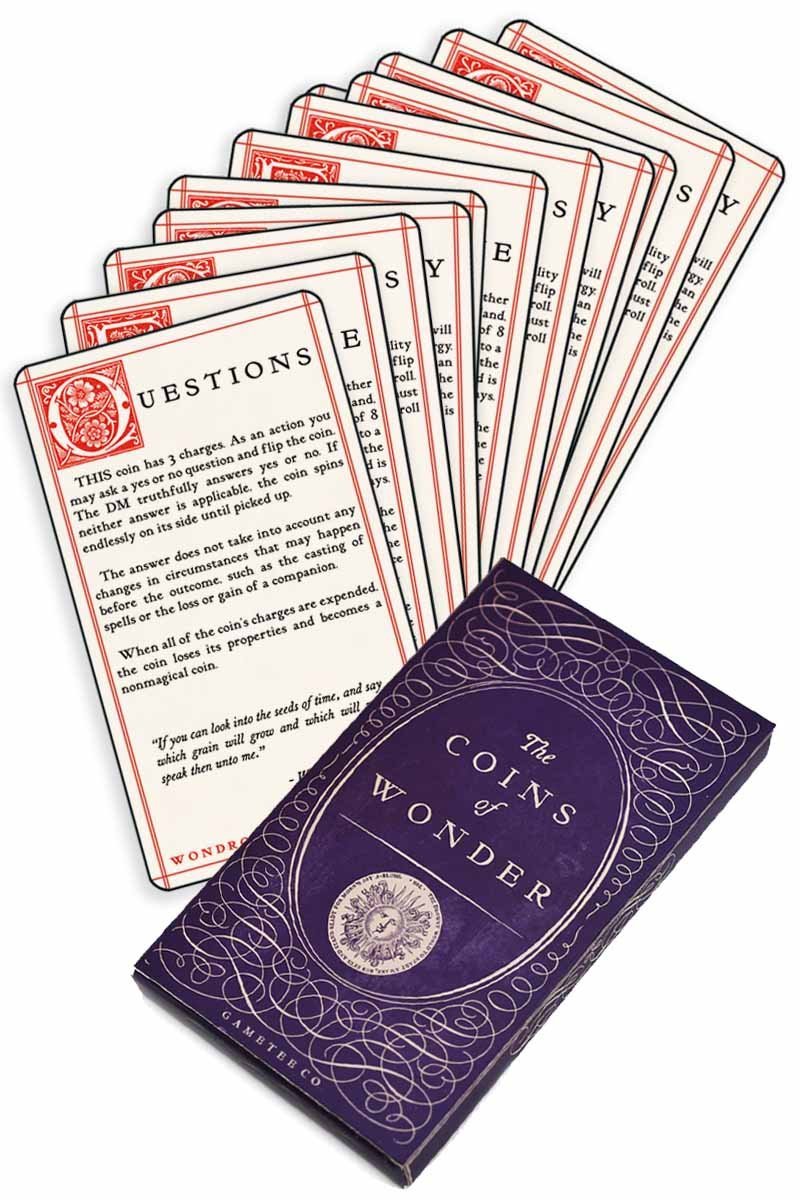 $0.00
International Customers benefit from 3-5 Day Flat-Rate International Shipping
DIGITAL PRINTABLE - Not a Physical Item. Instant Delivery.
16 Print-and-play Cards featuring rules and mechanics to enhance your 5e game. Includes rules for each Coin of Wonder:
Questions
Feast and Famine
Criticals
Alchemy
Sun and Moon
Siren and Safe Passage
Mirrors
Armour
Curses
Vitality
Lovers
Luck
Card-version Supplemental Rules for the Coins of:
Two additional Kickstarter-Unlocked Cards


Distributed under OPEN GAME LICENSE Version 1.0a
Pack Contents
- Compatible 5e DnD SRD Rule Content for our Coins of Wonder

Instant Delivery

- You will receive one Zip File containing a .PDF and .JPG pages of Cards, They can be adjusted to fit your requirements, and cut out if preferred.

- All Digital Printables in your order will be delivered instantly. Physical goods in your order will be processed separately and be subject to normal delivery times.

How to Use Our Gaming Printables
For Printing
- Unzip Zip File using WinZip or similar
- Open PDF - All files are supplied as high resolution A4 dimensions, but can be scaled appropriately to your needs.
- Use Printer Settings before Printing to ensure that relevant paper size is selected.
- Ensure Paper Size is set to 100%, or Actual Size. Do not scale to fit to the page.
- Print on paper of your choice. We recommend a quality cardstock in a quality printer for the best results.
- Please be aware that due to differences in different monitor calibrations and printer outputs, colours may differ slightly when printing.

Digitally
- Simply open the PDF and use however you wish, as an on-the-go resource or an editable base for use in your favourite editing software.
Please ensure you are aware that this item is a digital file. You will receive no physical product. You will receive an immediate delivery to your email address.
Due to the nature of the file sales are final and therefore no refunds/cancellations can be offered.
By buying this item you confirm that you understand that this is not a physical product.

This Printables package is for Personal use only and may not be resold or redistributed in any way. Commercial reuse is strictly prohibited.

- Game rules written by Elizabeth "Blue" Wright
© Gametee Ltd