Coins of Wonder - Companion Rules Deck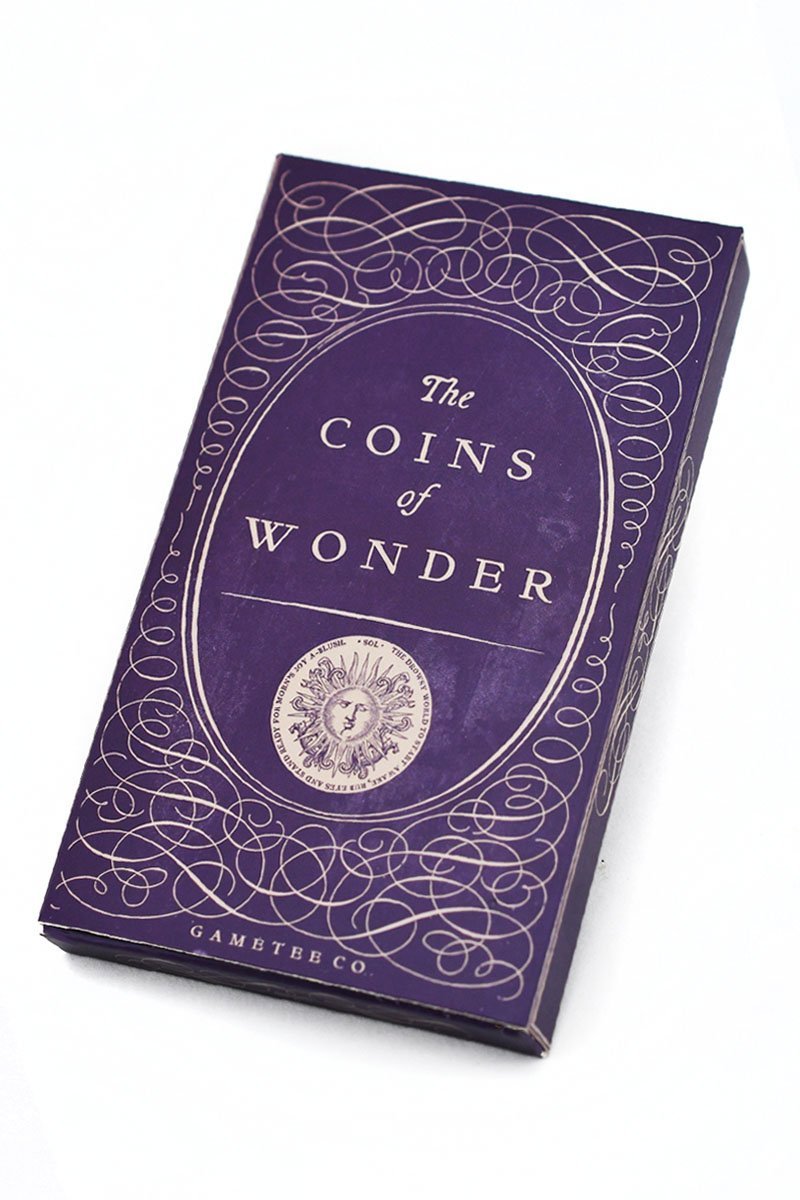 Sold Out
International Customers benefit from 3-5 Day Flat-Rate International Shipping
 
Coins of Wonder - Companion Rules Deck


A deck of Gilded-edge Tarot sized Cards - 16 in total - describe the rules for each Coin of Wonder, with accompanying artwork to heighten immersion and playability, with additional cards featuring a charming Monster of unique devising and a fine and handsome Item card.  

For Every Coin, a Card. The Coins of Wonder Companion Deck features Rules for Instant 5e play for Every Coin of Wonder.

Use with the Coins of Wonder, and Introduce Compelling Mechanics and Gameplay Rules to your 5e Session

Featuring original coin concept artwork and illustrations by AJ Hateley.

Whether your campaign is Dark, Light, High fantasy, Low Magic, Steampunk, Cthulhu, or Traditional Dungeoneering, the Coins of Wonder will create and enhance engaging narratives in-game.

The Deck can also be used without physical Coins - each Card details rules and mechanics for use in play.

Reasons to Love This Deck
The gilded edges of this beautiful deck shine hypnotically. On the reverse of each card, you will find compelling pieces of poetry, quotes, and rules for using the Coins as Wondrous Items in-game. Discover deep narratives and launch engaging arcs as players discover one or more of the Coins in their play. Make game night unforgettable with the Coins of Wonder!

Key Features

- High-Shine Gilded Edges

- Matching Lavishly Decorated Tuck Box with Gloss Lamination with Hidden Motto
- Full colour borderless printing Tactile Rounded Edges
- Maximise the utility of your Coins with Rules and Mechanics to Enhance your Game

- 16 Card Tarot Sized (70mm x 120mm) Cards 350gsm High-Quality Cardstock with Gloss Anti-Scratch, Anti-UV Lamination on Front and Rear 
I - Coin of Questions
II - Coin of Feast and Famine
III - Coin of Criticals
IV - Coin of Alchemy
V - Coin of Sun and Moon
VI - Coin of Siren and Safe Passage
VII - Coin of Mirrors
VIII - Coin of Armour
IX - Coin of Curses
X - Coin of Vitality
XI - Coin of Lovers
XII - Coin of Luck
Unique Item Card
Unique Monster Card
Coin of Fate
Coin of Life and Death
- Designed by AJ Hateley- Game rules written by Elizabeth "Blue" Wright