Clear Quartz Gemstone Dice Set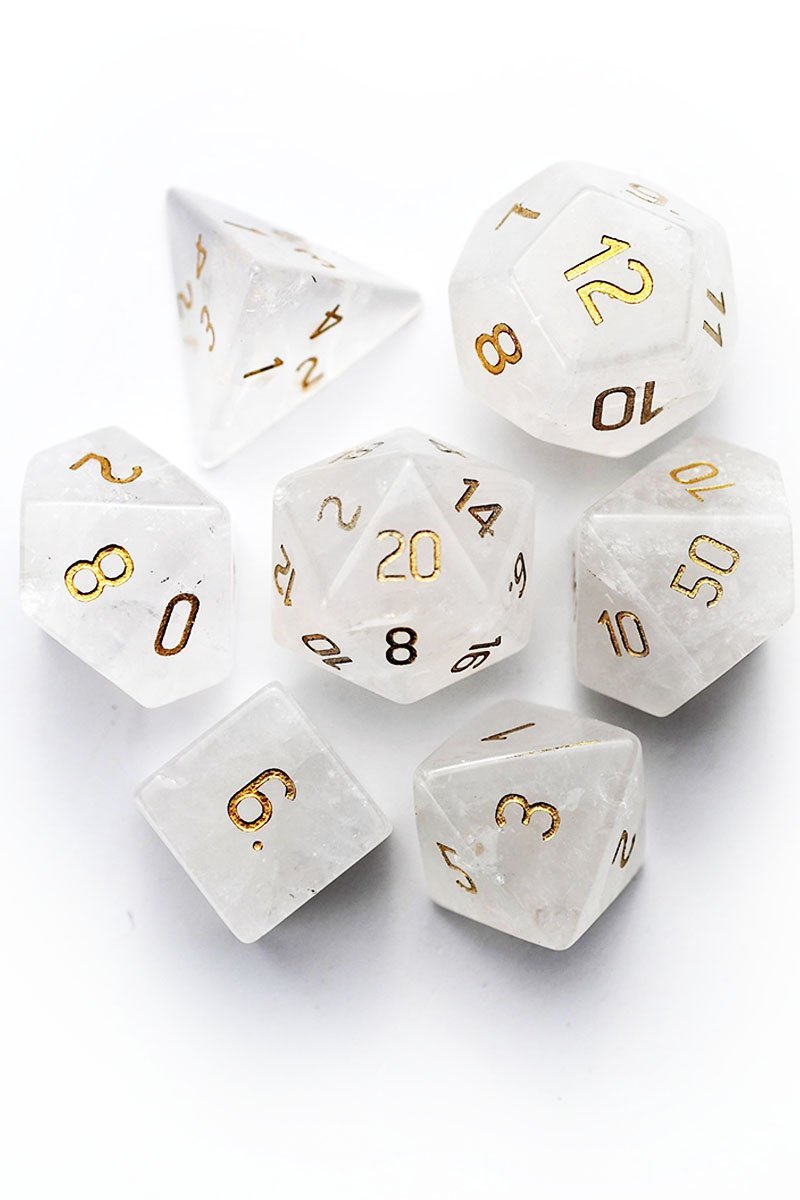 $85.00
International Customers benefit from 3-5 Day Flat-Rate International Shipping
Clear Quartz Gemstone Dice Set
Complete set of seven polyhedral dice hand-carved from precious clear Quartz. Each dice is exquisitely shaped by hand, with glittering golden numbers finely engraved - not printed - into the stone itself.
Due to the unique natural beauty of this gemstone, colour, translucency, lustre and finish will differ between each piece - no two sets will ever be alike. Truly, individually, forever your own. Running from crystal clear, to milky, ice-like occulsions, quartz is a gemstone prized for purity and its scientific utility.
Blessed child, at last you have found me. Who am I? Your divine, your patron, whatever name you have chosen for me. It all means the same thing: I am that which gives you strength when yours fails. That which fills you with hope when your heart is wanting. I speak to your now through these tokens; a gesture of good faith. Your heart is pure, your purpose divine, and together I believe we can aid the cause of righteousness. You need but accept me and become my champion. Ours will be a light in the darkness, leading all mortals to salvation. I shall be your blade, and you shall be my standard-bearer. I sense your hesitance. My beloved hero questions whether they are worthy of such a quest. Take heart, for no journey begins without a leap of faith. You will fall at first, but soon you will fly.
Reasons to Love This Set
Clear Quartz is a stone of healing and calmness. The ancients referred to quartz as krystallos - derived from the Greek kruos meaning ice cold - philosophers and alchemists believed the mineral to be a form of water, frozen so deeply, it would never thaw. The beautiful ice-like patterns that can be found within the crystal and breathtaking to behold.
Key Details
- Luxury Clear Quartz Gemstone Dice
- Includes complimentary hand crafted Leather Dice Pouch with the Motto 'Amor Fati' - Love Thy Fate - Worth £5.99 and included freely
- Seven precious polyhedral dice
- Hand-made and hand-engraved
- Recommended for use in dice trays
Director's Notes Regarding Gemstone Dice
Please Note - We use real minerals to create our dice. Striations, patterns, and differences in the mineral are natural and to be expected. Due to the nature of natural minerals, your unique dice may feature differences in colour, texture, and translucency to the set pictures. Importantly, your natural mineral dice are hand-crafted, not machined, and so may have faces that are slightly different in size. Engraved numbers may be off-centre, depending on seams or facets of the stone. There may be small differences in balancing between sets, due to the weight of the gemstone. We encourage you to embrace the individual beauty of natural precious stones and the age-old process of hand-crafting. Hard surfaces may damage your stones; please consider this when rolling.