Chapel of Summoning- 5e Mini-Module Digital Adventure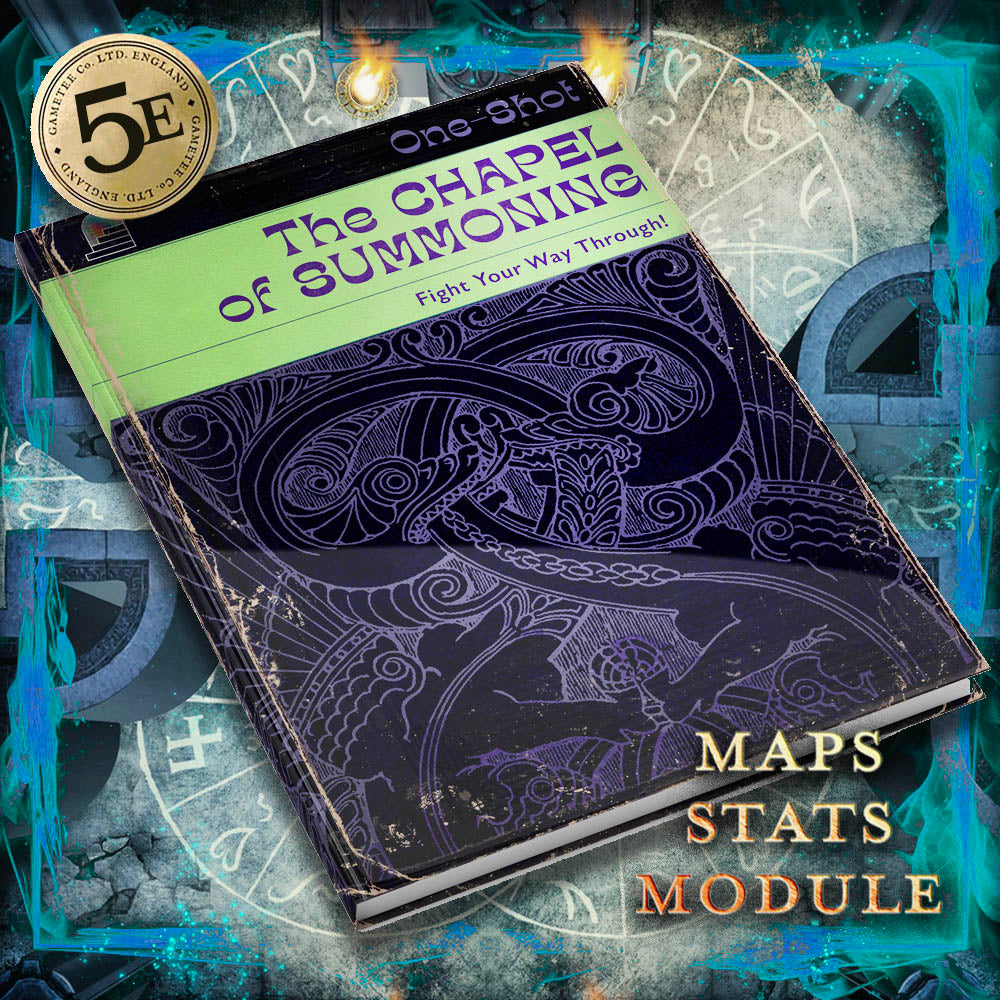 $3.00 $6.00
International Customers benefit from 3-5 Day Flat-Rate International Shipping
Chapel of Summoning - 5e Mini-Module Adventure - Not a Physical Item. Instant Delivery.
Maps presented at 4k resolution.
Embark on an adrenaline-fuelled odyssey that will test your mettle and cunning as you confront the harbingers of darkness in the Chapel of Summoning!
Within the heart of the Titanbane Bluffs, a shadowy secret lies dormant - an ancient holy site concealed amidst the labyrinthine embrace of converging cliffs. A sprawling enigma of architecture and mystery, this colossal structure mirrors the very essence of the dread twin-headed serpentine dragon venerated by the Cult of the Ouroboros. As the cliffs themselves teeter on the precipice of cataclysmic unity, the stakes of fate hang in the balance - a tenuous equilibrium between forces beyond mortal comprehension.

The call to adventure echoes through the ages as you, valiant adventurers, heed the summons to face the impending malevolence that threatens to breach the threshold between worlds. Your quest is a race against time, as the cultists relentlessly work to complete their dark ritual, ushering forth the ancient evil they revere. The very fabric of reality trembles as the sinister dragon stirs, poised to break free from its shackles and unleash untold chaos upon the realm.

Recommended for an average party level of 5.
Pack Contents
- 15 Page Multipage .PDF Booklet suitable for Printing, if you so wish.
Three Areas of Map: Entry Way, Drakehall and Summoning Circle.
- 4K Resolution Chapel of Summoning - 3- Part Digital Map
- 4K Resolution Chapel of Summoning - 3- Part Digital Map (Gridded)
- 4K Resolution Chapel of Summoning- Entry Way (4096x3072px Animated MP4)
- 4K Resolution Chapel of Summoning- Summoning Circle (4096x3072px Animated MP4)
Note: You can add Digital Products and Physical items to your Cart at the same time! No need for different transactions. The Digital Products will be fulfilled instantly after check-out. The rest of your order will be subject to the normal delivery times.


How to Use Our Gaming Maps & Printables
Digitally
- Simply unzip the containing Zip Folder and use however you wish, as an on-the-go resource or an editable base for use in your favourite editing software. Share with friends for online play or use in conjunction with websites such as Roll20.
For Printing
- Unzip Zip File using WinZip or similar
- Open JPG
- Use Printer Settings before Printing to ensure that relevant paper size is selected.
- Ensure Paper Size is set to 100%, or Actual Size. Do not scale to fit to the page.
- Print on paper of your choice. We recommend a quality cardstock in a quality printer for the best results
- Please be aware that due to differences in different monitor calibrations and printer outputs, colours may differ slightly when printing.
Please ensure you are aware that this item is a digital file. You will receive no physical product. You will receive an immediate delivery to your email address.
Due to the nature of the file sales are final and therefore no refunds/cancellations can be offered.
By buying this item you confirm that you understand that this is not a physical product.

This Adventure Pack is for Personal use only and may not be resold or redistributed in any way. Commercial reuse is strictly prohibited.

© Gametee Ltd