Bloodstone Gemstone Dice Set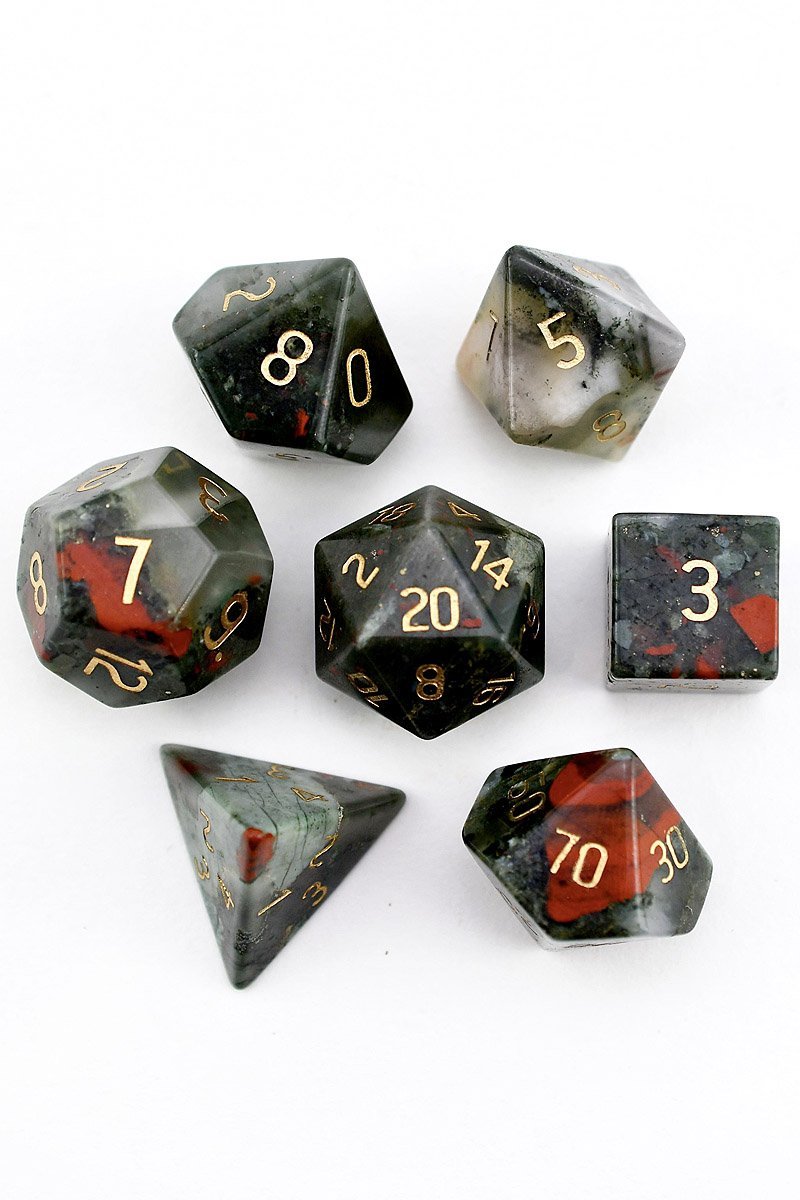 $85.00
International Customers benefit from 3-5 Day Flat-Rate International Shipping
Vitality and blood. Can one truly exist without the other? For her, the answer had already been written. She was beautiful, it was true, with hair as dark as night and lips like frosted berries in the snow. But not without cost. A life for a life. Vitality and blood. Her fate had been sealed millennia ago – a scattering of dice across a table top. Trapped between worlds, suspended in time, with a hunger that was everlasting. She hungered now. Gleaming eyes like polished jasper settled on the unsuspecting traveller. A flurry of black and crimson. From her open palm the precious stones fell, tumbling down, catching the light of the full moon. Splashes of blood across the forest floor...

Bloodstone Gemstone Dice Set

Complete set of seven polyhedral dice hand-carved from jasper, cut through with crimson hematite - giving the gem its distinctive appearance, appearing splashed with blood. Each dice is exquisitely shaped by hand, with glittering golden numbers finely engraved - not printed - into the stone itself. Due to the unique beauty of this gemstone, colour, translucency, lustre and finish will differ between each piece - no two sets will ever be alike. Also known as heliotrope, the gem is a deep, earthy green, and is prized as the most beautiful of all jaspers.

Reasons to Love this Set

Bloodstone is a gem with rich history and many uses for the ancients; called the sun stone by some, storm sorcerers of the ancient world depended on the stone to bring down rains on drought-stricken lands, or guard ships from the ravages of storms and whipping winds. In late antiquity, Pliny wrote that mages employed bloodstone to grant invisibility, crediting divination amongst several other magical properties. Associated with vitality and blood, the stone is a fitting choice for warriors and spellspeakers alike.

Key Details
- Luxury Bloodstone Mineral Gemstone Dice

- Includes complimentary hand crafted Leather Dice Pouch with the Motto 'Amor Fati' - Love Thy Fate - Worth £5.99 and included freely
- Can range from deep green to translucent resinous waxy green
- Seven precious polyhedral dice
- Hand-made and hand-engraved
- Recommended for use in dice trays

Director's Notes
Due to the nature of natural minerals, your unique dice may feature differences in colour, texture, and translucency to the set pictures. Importantly, your natural mineral dice are hand-crafted, not machined, and so may have faces that are slightly different in size. Engraved numbers may be off-centre, depending on seams or facets of the stone. There may be small differences in balancing between sets, due to the weight of the gemstone. We encourage you to embrace the individual beauty of natural precious stones and the age-old process of hand-crafting. Hard surfaces may damage your stones; please consider this when rolling.