Amethyst Gemstone Dice Set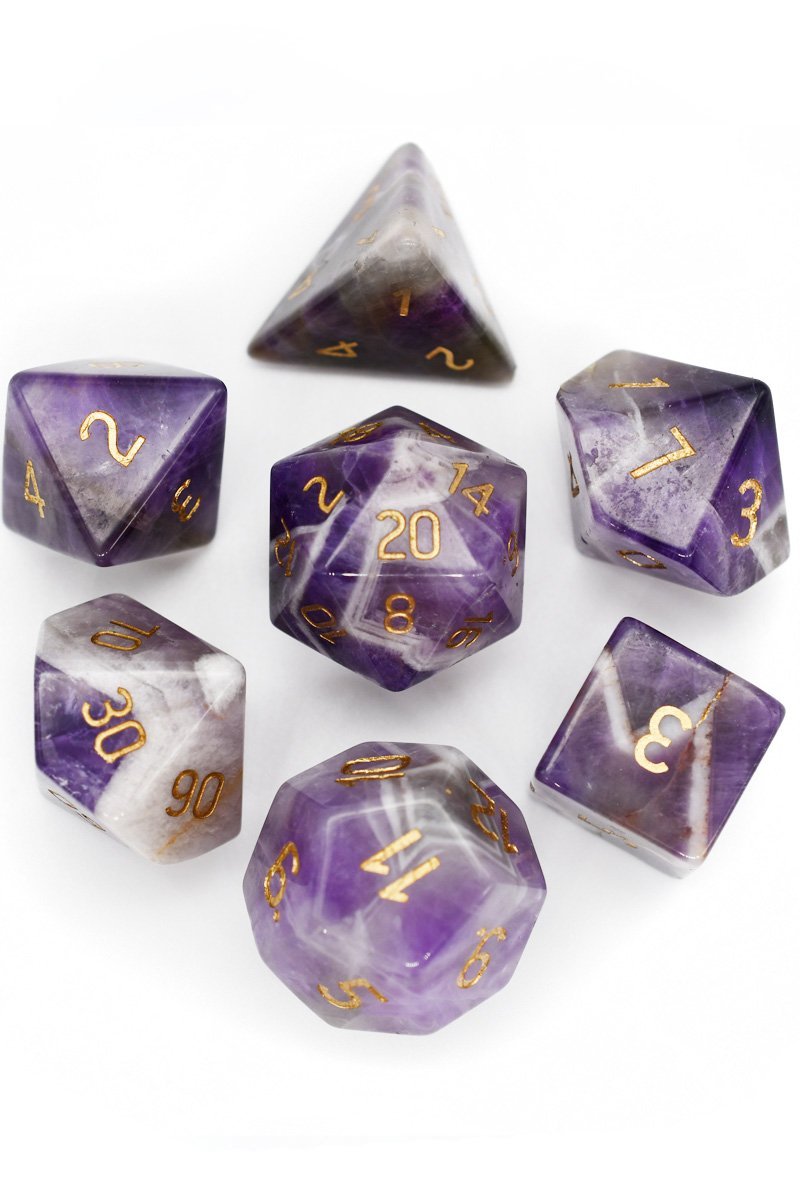 $85.00
International Customers benefit from 3-5 Day Flat-Rate International Shipping
The hands of a monarch have power. To draw iron from stone; to draw pestilence from a wound; to hold a balance between heart and law, between divine and dirt and everything between. These are just stories – of course – but those old myths seem only too real now; here, in this place, wreathed in woven midnight and underlain with polished whorls of lilac stone. There is no sound, not even the click of contact as the dice move across a wide palm, calloused by sword-hilt and stained with bruise-blue ink; flashes of black violet that twist and dance between the regal fingers that stir them to strange life. Eyes like old silver and new blood meet yours, and the world begins to turn. "So, my brave adventurer. How shall we begin…?"
Amethyst Gemstone Dice Set
Complete set of seven polyhedral dice hand-carved from precious Amethyst. Each dice is exquisitely shaped by hand, with glittering golden numbers finely engraved - not printed - into the stone itself. Due to the unique natural beauty of this gemstone, colour, translucency, lustre and finish will differ between each piece - no two sets will ever be alike. Truly, individually, forever your own. Ranging from pale lilac to rich violet, and running from translucent to deep, rich imperial purples, amethyst is distinguished as a stone of royalty - fine examples are set into the British crown jewels. As the stone of bishops, it signifies great temperance and dignity. Holy to the ancient Egyptians, amethyst was carved into heart shaped amulets, and is credited with bringing great calm in the form of prayer beads.
Reasons to Love This Set
Said to strengthen the imagination, amethyst is a talisman of focus and refinement. It is the birthstone of February.
Key Details
- Luxury Amethyst Gemstone Dice
- Includes complimentary hand crafted Leather Dice Pouch with the Motto 'Amor Fati' - Love Thy Fate - Worth £5.99 and included freely
- Seven precious polyhedral dice
- Hand-made and hand-engraved
- Recommended for use in dice trays
- Note, our latest batch of this dice set comes with top-read d4s.
Director's Notes Regarding Gemstone Dice
Please Note - We use amethyst and chevron amethyst to create our dice. Striations, patterns, and differences in the mineral are natural and to be expected. Due to the nature of natural minerals, your unique dice may feature differences in colour, texture, and translucency to the set pictures. Importantly, your natural mineral dice are hand-crafted, not machined, and so may have faces that are slightly different in size. Engraved numbers may be off-centre, depending on seams or facets of the stone. There may be small differences in balancing between sets, due to the weight of the gemstone. We encourage you to embrace the individual beauty of natural precious stones and the age-old process of hand-crafting. Hard surfaces may damage your stones; please consider this when rolling.