A Treasury of Tokens - Volume One - Digital Token Pack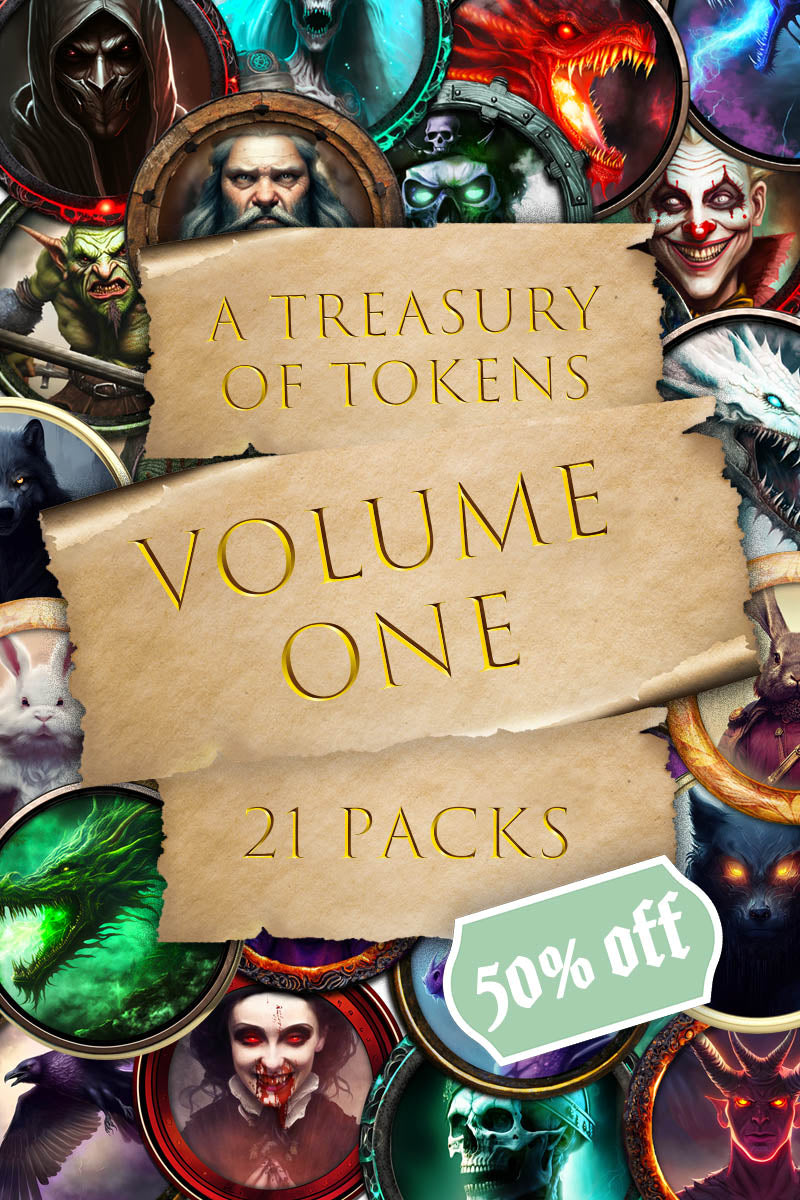 $13.00 $26.00
International Customers benefit from 3-5 Day Flat-Rate International Shipping
A Treasury of Tokens - Volume One - Digital Token Pack
21 Packs of digital Tokens - 310 in total, from our successful Kickstarter Campaign "A Treasury of Tokens."


Finding Artwork and Tokens for games is difficult. That's why our professional artists have created a Treasury of Tokens for you.
You're a hardworking, busy gamer. You're running adventures, or participating in them, very frequently. You're spending time that should be spent gaming trawling the Internet and online shopfronts for tokens and art.  Wouldn't it be nice to have a full, well organised archive of artwork for every purpose, just a click away?

Volume one features a fantastic general mix of commonly encountered enemies and allies, alongside lesser seen species and races. It is an essential, useful, and important resource for any GM. 
Save over £20 when you buy this collection instead of individual packs!
Key Details
Use as character, enemy, or player artwork in game.

Highly compatible with every virtual tabletop system.

System agnostic.

Print

 

and Play for physical tabletop games.

Easy to use transparent .PNGs

Fully approved for use on streaming services, monetised streams, professional adventures, and

 

commercial pay-to-play games.

 

Includes a

diverse cast of characters

 

and foes.

Instantly

 

delivered digital rewards - no hidden shipping costs!
Tokens are 1000px x 1000px
Token Packs are not for commercial resale or use in commercial products for resale. Any such use is prohibited.
What You Receive
You will receive one Zip Folder containing 21 packs of Tokens.
- Includes the following packs: Familiars, Villains, Goblins, Undead, Fey, Dragons, Djinn, Dwarves, Canine Companions, Villagers, Owlkin, Rabbitfolk, Vampires, Dragonborn, Dark Elves, Wood Elves, Guards, Infernal, Pirates and Ghost Pirates, Canines, and Cryptids.

Note: This package does not contain Kickstarter exclusive Christmas pack.
All Digital Printables in your order will be delivered instantly. Physical goods in your order will be processed separately and be subject to normal delivery times.

How to Use Our Gaming Printables
Digitally
- Simply unzip the containing Zip Folder and use however you wish, as an on-the-go resource or an editable base for use in your favourite editing software.
Please ensure you are aware that this item is a digital file. You will receive no physical product. You will receive an immediate delivery to your email address.
Due to the nature of the file sales are final and therefore no refunds/cancellations can be offered.
By buying this item you confirm that you understand that this is not a physical product.