2 Pack - Field Notes 5e Game Master Journals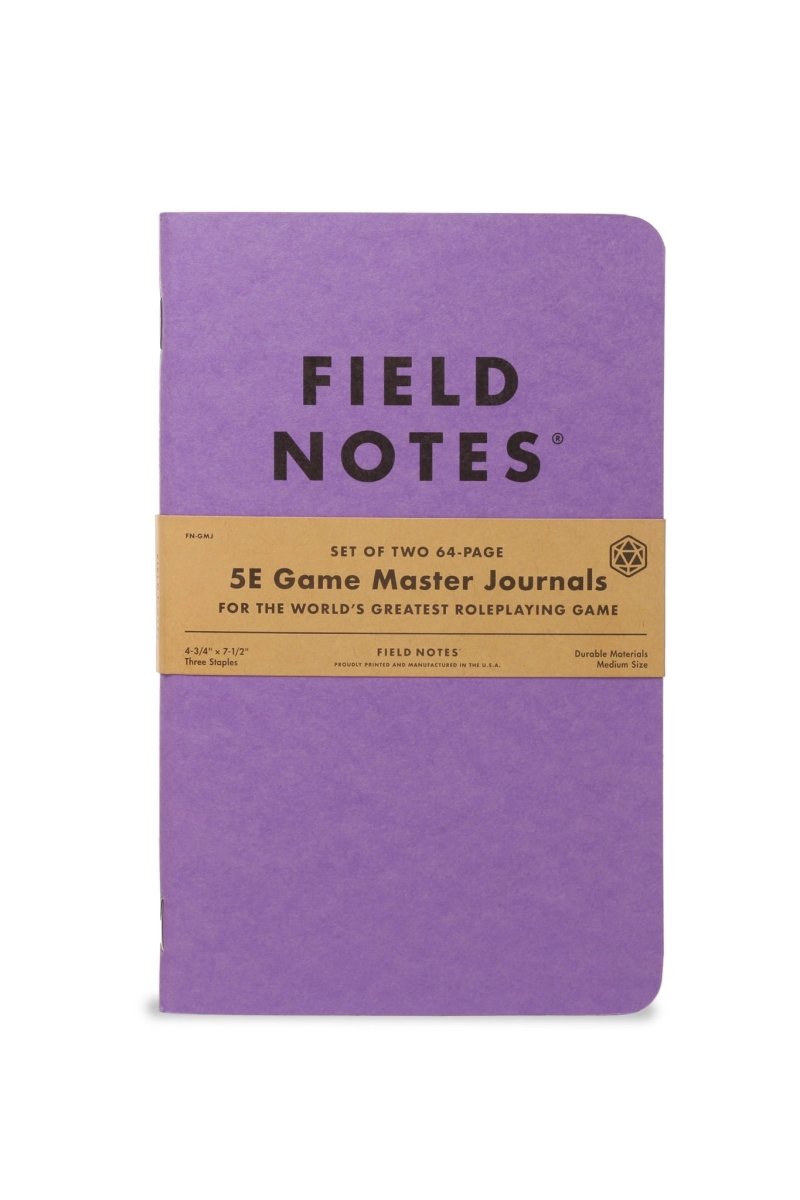 $25.00
International Customers benefit from 3-5 Day Flat-Rate International Shipping
2 Pack - Field Notes 5e Game Master Journals  - NEW

The exceptional American-Made Field Notes quality you expect; now designed specifically for full compatibility with the world's greatest role-playing game.

64 Pages for the Creation of Your Campaign

Whether homebrewing, world-building, or using official sourcebooks, these indispensible journals are pre-printed with everything a Game Master needs to establish or embellish a campaign, with sections neatly divided for fast reference.
The body pages are robust Domtar Lynx Ultra Smooth 70# text with clear-but-subtle "Adventuring Bindle Light Brown" ink. The cover - a stunning shade - is French Pop-Tone 100#C "Grape Jelly."

A useful and beautiful addition to your table. Crystallise your thoughts and keep close track of sprawling, vivid worlds and compelling characters - no Game Master ought to be without a good notebook; and once again Field Notes have demonstrated their expertise and commitment to quality in the creation of this journal.
A most resounding recommendation from our team earns this product a Staff  Favourite.
Each pack contains 2 Journals  - Use one per Campaign

Includes the Following:

Find pages within with the following fields and tables:

Campaign Name / Players
Inspirations
House Rules
World Overview / Principles
Core Assumptions / Genres
Multiverse
Major Pantheon / Minor Pantheon
Calendar
Maps / Kingdoms / Settlements / Locations
Key NPCs / Secondary NPCs
Player Characters
Major Factions / Minor Factions
Key Monsters
Key Magic Items
Artifacts
Downtime Activities Underway
Milestone / XP Awards
Adventures
Random Tables
Key Details
- 2 'Notebook Sized' 5e Game Master Journals

- Measures 12cm x 19cm /  4.75 in x 7.5 in
- Note: Not a plain Notebook. Printed throughout for your use in-game.
All FIELD NOTES memo books are printed and manufactured in the U.S.A. upholding a proud tradition of quality craftsmanship and durable materials.