2 Pack - Field Notes 5e Character Journals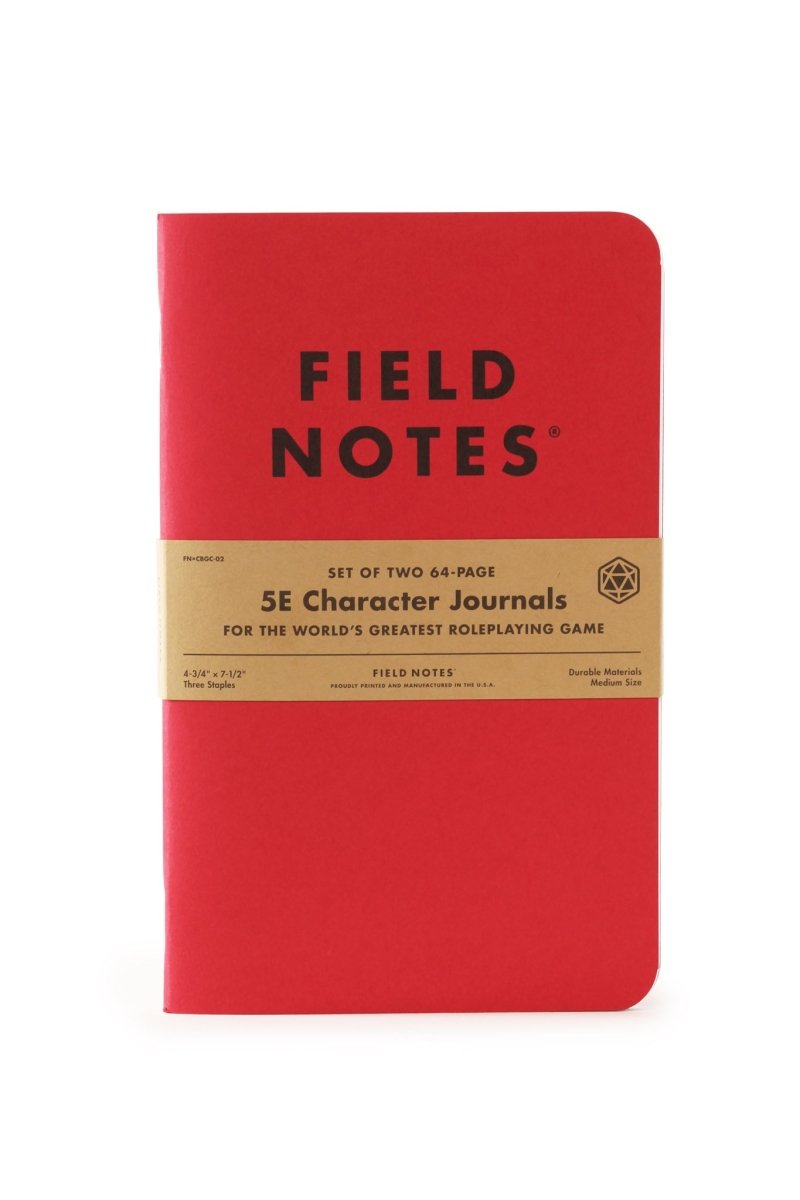 $25.00
International Customers benefit from 3-5 Day Flat-Rate International Shipping
 
2 Pack - Field Notes 5e Character Journals
The exceptional American-Made Field Notes quality you expect; now designed specifically for full compatibility with the world's greatest role-playing game.

64 Pages of Dungeon-Tested Material
      
Each 2-Pack includes two Character Journals with blood-red French Paper Co  covers featuring data, tables, and diagrams for reference. The body pages are exquisite, robust Domtar Lynx Ultra Smooth 70 with unintrustive light brown print.

The pages contain tables, charts, and fields for every character feature, feat, ability and spell and more.
Use one Character Journal per Character.

A Thoroughly Necessary and Quality Journal

Find pages within with the following fields and tables:

Character Elements
Race Details / Ancestry Details
Personality Traits / Bonds / Ideals / Flaws
Background / Backstory
Class / Subclass / Class Table / Character Stats
Attacks / Spellcasting / Languages / Ammunition
Spellcasting Table / Favorite and Frequent Spells
Proficiencies and Skills
Equipment / Money / Treasures
Downtime and Leisure Activity Tracking
Character Level Notes
Allies / Hirelings / Sidekicks
Faction Details
Campaign Quotes and Notes
Behind-the-Scenes / Thoughts / Theories
Session Log
Key Details
- 2 'Notebook Sized' 5e Character Journals

- Measures 12cm x 19cm /  4.75 in x 7.5 in
- Use one Notebook per character.
- Note: Not a plain Notebook. Printed throughout for your use in-game.
All FIELD NOTES memo books are printed and manufactured in the U.S.A. upholding a proud tradition of quality craftsmanship and durable materials.