Queen of All Dragons - Sharp-Edged Resin Dice Set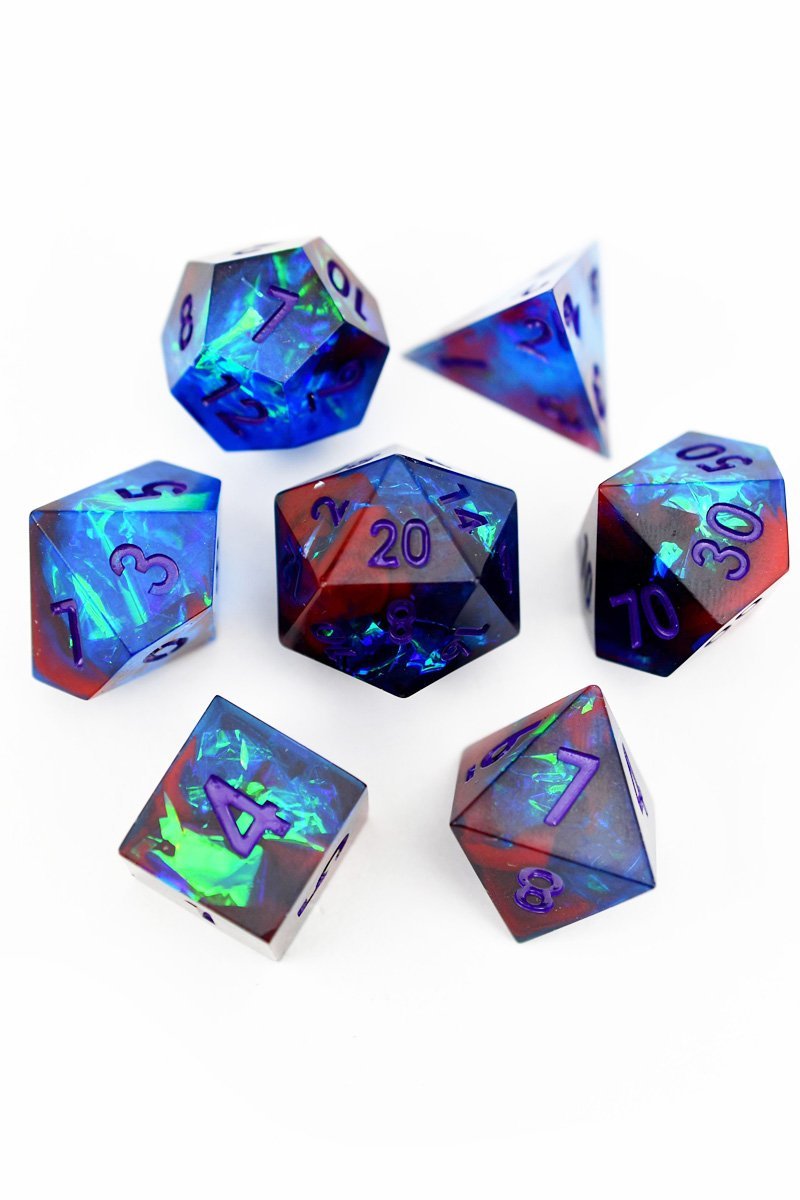 $33.00
International Customers benefit from 3-5 Day Flat-Rate International Shipping
Queen of All Dragons - Sharp-Edged Resin Dice Set
Complete set of seven sharp-edged polyhedral dice, hand poured, polished and sanded to extraordinary fineness.
The hill dwarf had an unforgivable sin among his peers: He was afraid of the dark. What jest they made of him, a miner who was lost in the dark, blubbering like a newborn babe. For hours he cried out for help, begging for rescue. All he wanted was a light. It was only after the sobbing stopped that one of the elders called for a search party. Deep in an abandoned shaft, they shone their torches over the remains of their comrade, face forever stained with unrelenting horror. His blood seeped into the stone beneath; the emeralds for which he had paid so dearly. As the elder reached for the stones, they shone with an eldritch light, extinguishing the torches in its chill. As the sound of scratching claw and guttural moaning encircled them, they learned it was not the dark he had feared. It was what dwelt within.
Reasons to Love this Set
Crafted from hand-poured resin, prepare yourself for the most wonderful play of translucency and light. Sharp edges give the dice a quality similar to that of scientific crystalline prisms; the light within seems bright and lustrous. Collectors will appreciate the clarity of resin and outstanding hand-honed edges.

Unbelievable inner planes of shifting colour. A truly breathtaking set that combines matte colour, with hypnotic inner light caught inside each individual die.
Key Details

- Hand-made, hand-sanded, hand-polished sharp-edged dice.

- Seven polyhedral dice
- Hand-made and hand-engraved
- Recommended for use in dice trays

Director's Notes
Due to the nature of hand-pouring, hand-sanding, hand-inking and hand polishing, sharp-edged dice are as perfect as is achievable by human hands. Some dice might have tiny sprue marks. Unlike acrylic dice sets, which are tumbled and machined for smoothed and even edges, sharp edged dice must be finished by hand in a very demanding sanding process to achieve the very fine sharp planes. There is no means to mass produce these dice. Expect to see tiny variations in faces. They are similar to gemstone dice sets in that we only recommend them for use in a dice tray.

Resin can be delicate. Sharp edges are hazardous and these dice are collector's items unsuitable for children. Please consider this when playing.