Druid's Chronicle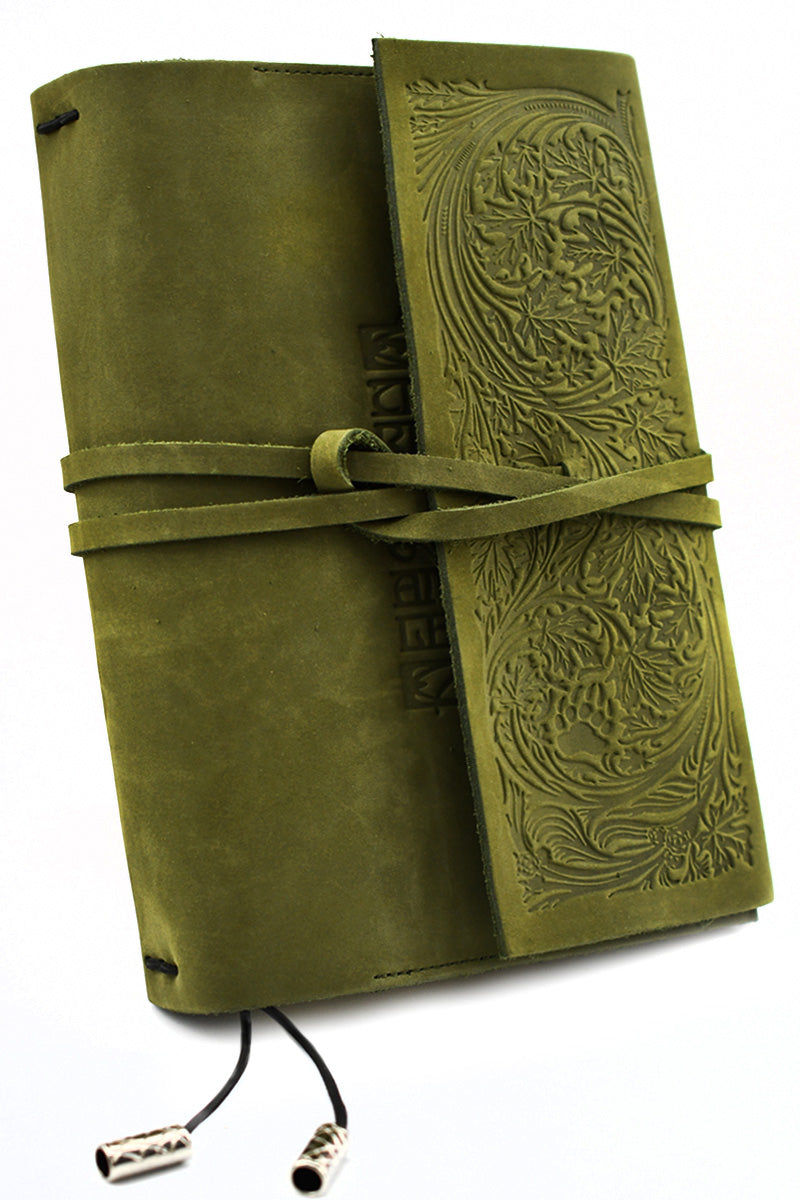 Sold Out
International Customers benefit from 3-5 Day Flat-Rate International Shipping
Masterpiece Edition. Featuring improved leather thickness and finish.  
Druid's Chronicle
Lorekeepers, shapeshifters, guardians and restorers of all things wild, Druids harness the great ebb and flow of nature. Wield the fury of tempests; or know the peace in a growing seed. Chronicle all as you walk the vast wilds of your lands, keeper of all that you behold, be it in human shape or animal. Bound in our softest, vegetable tanned, luxury suede, the Druid's Chronicle is our finest example yet of the exquisite embossing techniques that we have elevated to an art form. Subtly enchanted vines and leaves twist together to form a remarkable frontispiece that conceals a quote from William Blake on the underleaf. An heirloom quality example of art nouveau design that a lover of nature will treasure for their lifetime.
Reasons to Desire a Druid's Chronicle

Treasure your gaming memories in our finest Leather Notebooks; Finely hand-crafted from a seamless piece of thick hide, and finished using an ancient method of oak bark tanning, each soft, supple notebook is masterfully embellished with a highly detailed embossing of one of our beautiful designs. Each intricate pattern is gently and permanently applied to the leather, creating raised and relieved designs that are a pleasure to run your fingers across. Created from the finest full-grain leather, retaining the characterful marks of hide, each notebook is left unpolished, ensuring it will develop a desirable rich and natural patina with age.
Please Note - Small marks on the Green Suede are natural, and to be expected from this beautiful, bark-tanned, hand-made product.
Key Details
Historial Wrap Binding in Soft Green Suede Finish Leather
Inspired by the Beauty of Natural Forms and Art Nouveau
Refillable
Includes four internal notebooks - Lined, Squared, Plain and Craft
Featuring card holders, paper management slots and pen straps
Silver end caps
Features secret embossed bear paw print and internal message
Complimentary Accessories and Notebooks

Includes free gilt-embossed drawstring velvet dust bag
Contains four free Internal Notebooks - Lined, Squared, Plain and Craft (Worth £12.99)
Refillable
Each leather notebook contains four interchangeable notebooks - perfect for keeping track of multiple campaigns and characters. They are effortless to remove and replace. Customise your journal to your own liking.
Specifications
Part of Gametee: Finest Leather Notebook for Gamers 2nd Edition Collection
Heavyweight 0.6kg
Full-Grain Ethically sourced Bovine Leather
155 x 220 mm / 6 x 8.5 in
Gaming Notebook