2 Pack - Field Notes Pitch Black Notebook - Dot-Graph Paper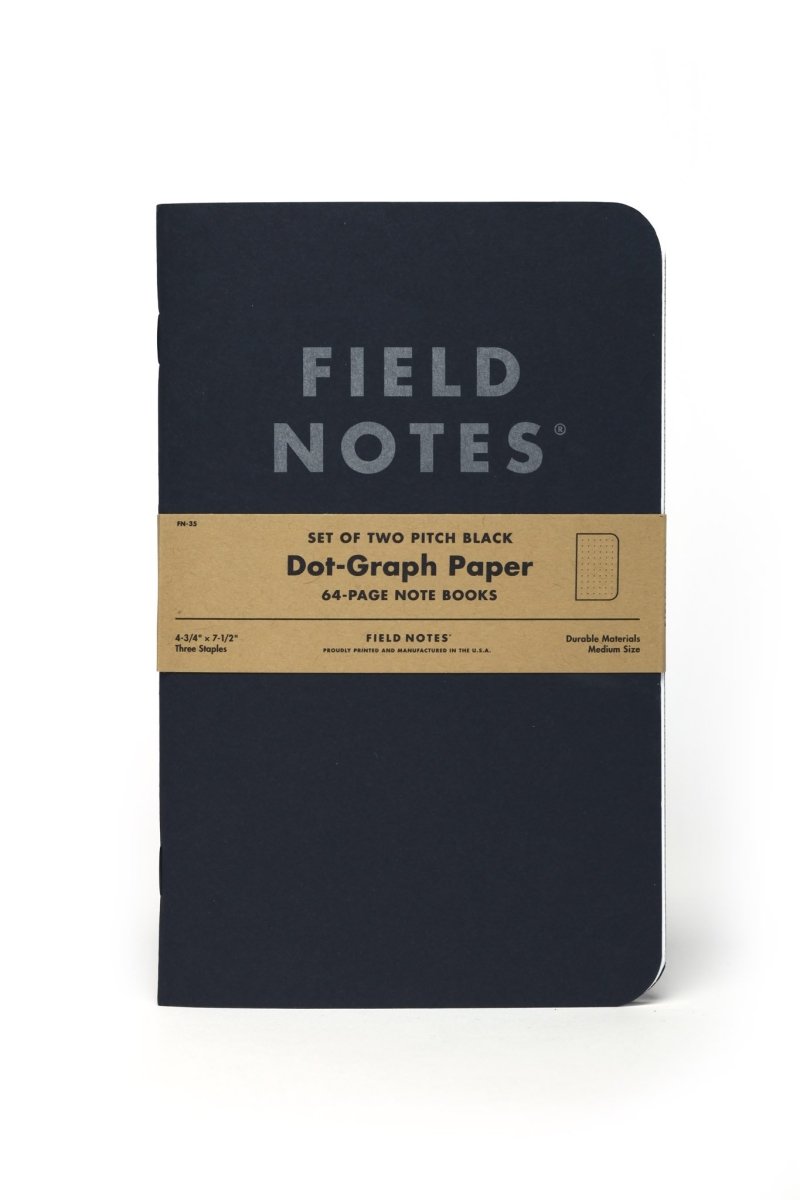 $22.00
International Customers benefit from 3-5 Day Flat-Rate International Shipping
2 Pack - Field Notes Pitch Black Notebook - Dot Graphed Paper
Highly recommended for dungeon and campaign map-making and general use. A reliable choice for players and DMs.

64 Pages of Dot Graphed Paper
      
An eternally stylish darker version of Field Notes' classic Note Book with subtle, useful dot-graph paper and covers printed with pertinent and intreguing information on the nature of light and darkness.

Cover: French Paper Co. custom-made 118#C "Pitch Black Duplex" ("Blacktop" and "Packing Brown Wrap") with a brute force application of "Stephanite" (outside) and "Dachshund Nose Black" (inside) soy-based Saphira inks.
Innards: Finch Paper Opaque Smooth 60#T "Bright White," with a fine, 1-color application of "Light Mist Gray" soy-based Saphira ink.
Bound with gloss black staple wire on a Heidelberg Stitchmaster ST 270 5-pocket saddle stitcher with cover feeder/scorer & Rima RS 10S in-line stacker.
Dot-Graph grid: 3/16" × 3/16" (4.7mm × 4.7mm). Ruled lines: 1/4" (6.4mm).

Key Details
- 2 'Note Book' Sized Books

- Measures 12cm x 19cm /  4.75 in x 7.5 in
- Map drawn is an example for illustration purposes only, and is not included. If you would like to draw something similar, download our free Map Maker's Friend Printable
We also highly recommend taking a look at the gaming cartography guides in How to Draw Fantasy Art and RPG Maps
All FIELD NOTES memo books are printed and manufactured in the U.S.A. upholding a proud tradition of quality craftsmanship and durable materials.