Mandrake - T - Shirt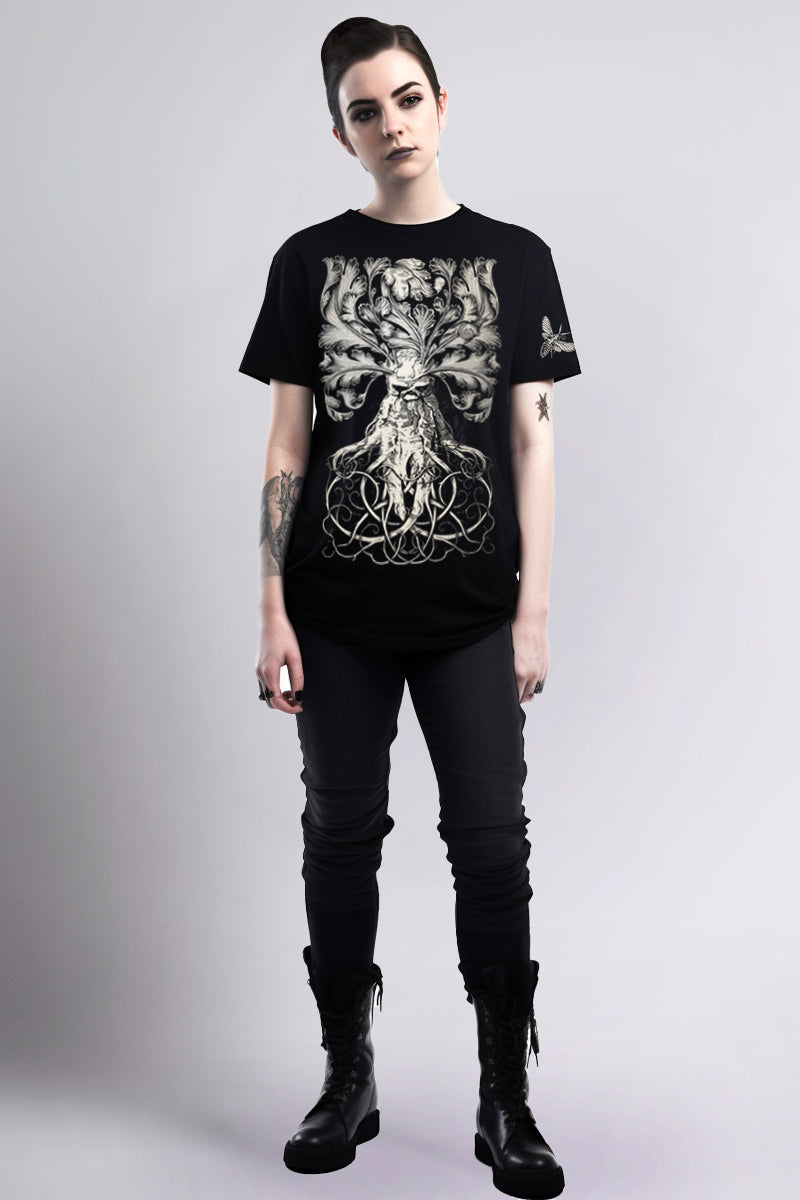 $26.00
International Customers benefit from 3-5 Day Flat-Rate International Shipping
Mandrake T-Shirt
The Mandrake - Tuberous, twisting, and humanoid, this strange folkloric plant has seeded a thousand myths across Northern Europe and further still.

Famed for its long roots which frequently appear to take a human form, the Mandrake has long been associated with herbalism, magic, and devilment. Certainly, it is both a potent poison and a herb capable of easing pain, a plant they say grows freely in the shadow of gallows, but the most notable feature of the Mandrake is its reputed deadly shriek - issuing forth upon being heaved up from the stony soils it prefers.

It is believed the fatal scream of the Mandrake can be circumvented if one uses iron or ivory to dig it up; and then attaches the root to a dog. The animal will pull it up, and the forager spared certain death. In French folklore, the tale is different, and instead of rudely unearthing the root, one should instead present the mandragora with bread and nourishment, in return for a doubling of whatever has been offered. Just don't miss a day - the Mandrake's vengeance will be swift.
Beautiful Botanicals

You will be pleased to know that in many cultures, the Mandrake is a sign of good fortune, and carrying a piece will bring good luck. Instead of disturbing their tuberous slumber, we suggest wearing this garment - a far safer means of including a little ancient herbal magic and folklore in your life.
100% Plastic Free Printing
Gametee exclusively uses solvent-free water based organic inks when printing, and no plastic inks or plastic film positives are used in the creation of our silk screens. This not only results in a higher quality and environmentally sound product, but also one that prevents damaging PVC and solvents from entering our environment. This method of printing gives a soft-feel t-shirt that has a much longer lifespan than a digital or plastic print. 
Each T-Shirt is individually silk-screened in our renewable-energy powered printing studio.
Key Points
- Individually silk screened in England.
- Regular Fit
- Moth print on shoulder
Our Plastic Free Printing Ensures this Garment is Fully Recyclable.
Every year, tons of plastic waste enters our environment on the front of t-shirts. Our permanent, water-based organic inks dye the fibre, rather than sitting on top of the fabric. This means that when you eventually come to recycle your t-shirt at the end of its lifespan, every fibre can be respun into new yarns and fabrics or be used to create durable new papers. Recycling one tonne of cotton can save 765 cubic metres (202,000 US gal) of water.